1995 Ducati 916 Grants Pass, Oregon 97526 For Sale
THIS ITEM HAS BEEN SOLD!
Please click "back" or on the top menu for other listings.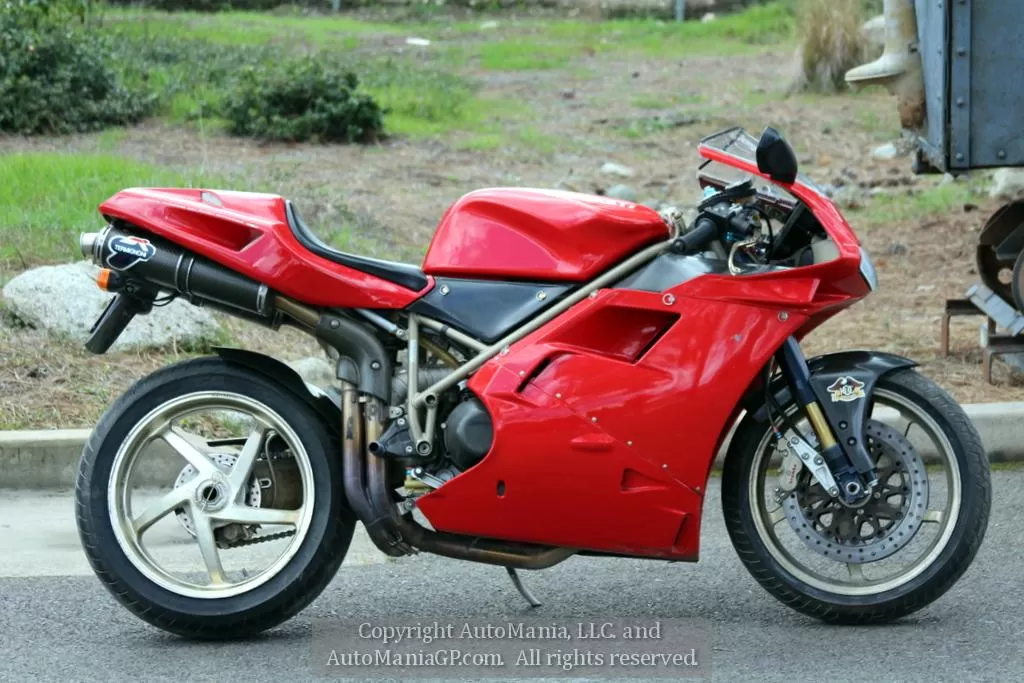 1995 Ducati 916
Grants Pass, Oregon 97526
Price: $5695 USD
- PREVIOUSLY SOLD
One of the unfortunate facts of Mike Canepa passing away is that he took with him the history and specific information about the motorcycles he had been holding on to for decades. It has been a challenge to uncover some of the brands and models that Mike owned and we have done so pretty successfully with over twenty-five bikes sold.

Mike told me the story of this 1995 Ducati 916, but it was years ago and for the life of me I do not remember exactly what it was. The gist of it was that Mike bought the bike new and while racing the Britten with Michael Barnes in the saddle during the 90's, it became the backup plan during a AMA race where the Britten was tossed down the track during an event. I do not remember where or when, but Mike told me that they stripped his 916 down, got race bodywork and ran it when the Britten was a no show for that event. I am sort of hoping someone will read this and fill in the blanks for us.

What I can tell about the bike is that the tank is Carbon Fiber, the Rear Swing Arm is the factory long version, the Triple Clamps are magnesium and along the Wheels which are also magnesium. The bike starts and runs and Mike was riding it eight months ago before things went badly for him.

Doing a visual inspection, the bike's magnesium parts have surface corrosion and need to be refinished. The left front fork leg is weeping from the seal and the body work is worse for wear. The tires are about 50%.

What I do not know is if the bike was a limited production version of the first 916 series of bikes or if Mike just added all of the go fast parts. It is not a Corsa, which were race only. The front forks do not appear to be stock along with the rotors and the caliper hangers.

Miles are 5,885 according to the speedometer. The VIN number is ZDM1SB8SX5V000629. The selling price is $5,695. For other interesting bikes and collectable vehicles, visit our web site http://www.automaniagp.com , 541 479 8888 or come by and see us at 895 SE Gladiola Drive, Grants Pass, Oregon, 97526. Oregon Dealer DA1287

Automania LLC is a Consignment Oregon Dealer selling quality, privately owned vehicles including Aprilia, Buell, BMW, Citroen, Ducati, Harley Davidson, Honda, Hummer, Kawasaki, Moto Guzzi, MV Agusta, Nissan, Ossa, Piaggio, Suzuki, Triumph, Vespa, Classic Hot Rods, Buick, Dodge, Ford, Chevrolet, Lamborghini, MG, Packard, Porsche, Rover, Shelby, Toyota, Triumph, Volkswagen and any other vehicle of interest.

[click on a thumbnail to view a larger photo - and click BACK to return to this page]