2002 Harley-Davidson Road King Grants Pass, Oregon 97526 For Sale
THIS ITEM HAS BEEN SOLD!
Please click "back" or on the top menu for other listings.


[click on the image below or scroll to the thumbnail images at bottom to view the gallery.]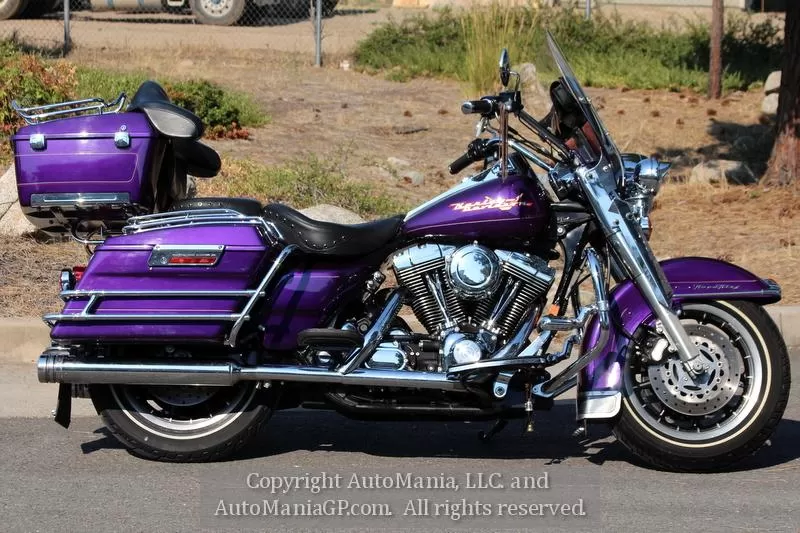 2002 Harley-Davidson Road King
Grants Pass, Oregon 97526
Price: $5,495 USD
- PREVIOUSLY SOLD
We have had several Road Kings here at the shop and they have all looked so, well, pedestrian. This 2002 Harley is not. It is bright, screaming purple and it looks outstanding, especially in the sun. Going over the bike stem to stern I did not find a single sign of damage or mark anywhere. The chrome was so bright, it made taking images tough. It has miles showing, but good miles and good experiences.

This is a one owner bike that has seen it's share of travels with the folks that rode it. In the 15 years it was ridden, it covered 102,000 miles two up. It has been cross country, to Canada and everywhere in between. The husband was a retired machinist and was fastidious about upkeep, doing the basics himself and the rest done by Steve Hodgson at S&D in Grants Pass. He is no longer with us and there is the reason for it being sold today.

The bike rides great, starts instantly (being Fuel Injected does not hurt…) and is ready to go. It also priced accordingly for it's condition and miles. Serious shoppers will see the value and appreciate the potential, no matter what direction they go. The bike was equipped with Harley's Tour-Pac and there is a ton of storage space available. This is a great way to get into a full size bike for touring for a reasonable value.

The selling price is $5,495. The VIN# is 1HD1FBW112Y613309 and miles are 102,052. Please come by and see at Automania, 895 SE Gladiola Drive, Grants Pass, OR 97526. http://www.automaniagp.com 541 479 8888 Oregon Dealer DA1287.

Automania is a Consignment Oregon Dealer selling quality, privately owned vehicles including Aprilia, Buell, BMW, Citroen, Ducati, Harley Davidson, Honda, Hummer, Kawasaki, Moto Guzzi, MV Agusta, Nissan, Ossa, Piaggio, Suzuki, Triumph, Vespa, Classic Hot Rods, Buick, Dodge, Ford, Chevrolet, Lamborghini, MG, Packard, Porsche, Rover, Shelby, Toyota, Triumph, Volkswagen and any other vehicle of interest.


[click on a thumbnail below to view a larger photo - IF you don't see thumbnails then your browser is blocking them.
You can either turn off ad-blocking or try clicking on the top graphic in order to thumb through the photos.]