2004 Harley-Davidson custom Chopper Grants Pass, Oregon 97526 For Sale
THIS ITEM HAS BEEN SOLD!
Please click "back" or on the top menu for other listings.


[click on the image below or scroll to the thumbnail images at bottom to view the gallery.]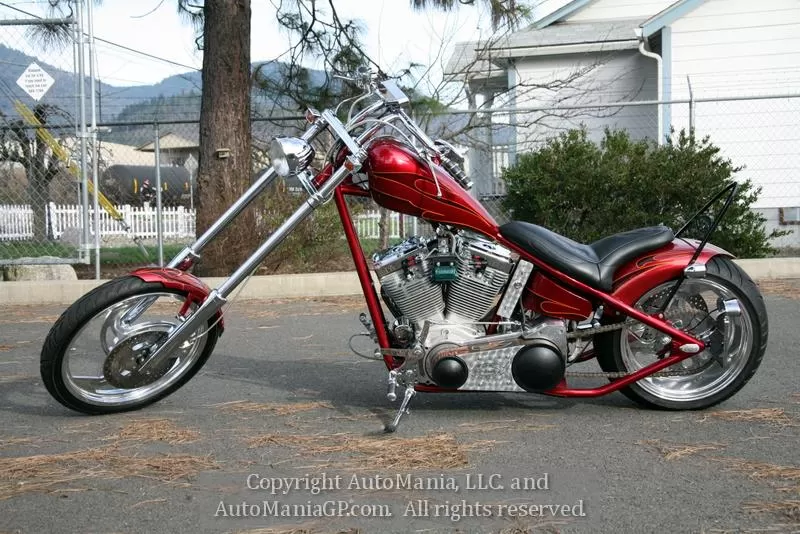 2004 Harley-Davidson custom Chopper
Grants Pass, Oregon 97526

Never let it be said that here at Automania we like only one type of car or motorcycle exclusively. This is our first Custom Chopper and to be clear, it is up the standards we have looked for when a bike is brought to for us to sell. The workmanship and final assembly are a knockout and if the images don't show it, then a quick visit to the shop is in order.

The bike was built by it's owner for show and expression. It was a time of Orange County Choppers and all of the media hysteria of "Custom" builds as expressions of not just building transportation, but a theme with the parts and presentation an expression of the mission. As the builder had found his way through his beliefs, he wanted to create this build as a positive statement glorifying God. There are subtle references through out the bike as you see and it is testament to his sincerity the time and attention he took creating his vision.

It started out with a 42 Degree, Stretched, Hard Tail, Rolling Thunder Frame. The engine was from Ultima and was their 96" build and 5 Speed Transmission with external belt drive. The wheels were built by Vision and the rear tire is a 250 series. The pin stripping and graphics were done by the owner who has done Design and painting for decades, now more as a hobby. Paint was applied by California Auto Image.

From what we were told, the bike has been ridden less then 60 miles since completion. I did fire it up and rode around the block here at the store. Had to do it! It definitely draws attention and I did not find fault with the way it operated. It is definitely finely focused and touring is not going to be on it's horizon.

The selling price is $12,995 and the VIN is 2RTMCO7264M074201 with a clear, clean California title. See at Automania, 895 SE Gladiola Drive, Grants Pass, OR 97526. http://www.automaniagp.com
541 479 8888 Oregon Dealer DA1287.

Automania is a Consignment Oregon Dealer selling quality, privately owned vehicles including Aprilia, Buell, BMW, Citroen, Ducati, Harley Davidson, Honda, Hummer, Kawasaki, Moto Guzzi, MV Agusta, Nissan, Ossa, Piaggio, Suzuki, Triumph, Vespa, Classic Hot Rods, Buick, Dodge, Ford, Chevrolet, Lamborghini, MG, Packard, Porsche, Rover, Shelby, Toyota, Triumph, Volkswagen and any other vehicle of interest.