2005 Harley-Davidson Electraglide Grants Pass, Oregon 97526 For Sale
THIS ITEM HAS BEEN SOLD!
Please click "back" or on the top menu for other listings.


[click on the image below or scroll to the thumbnail images at bottom to view the gallery.]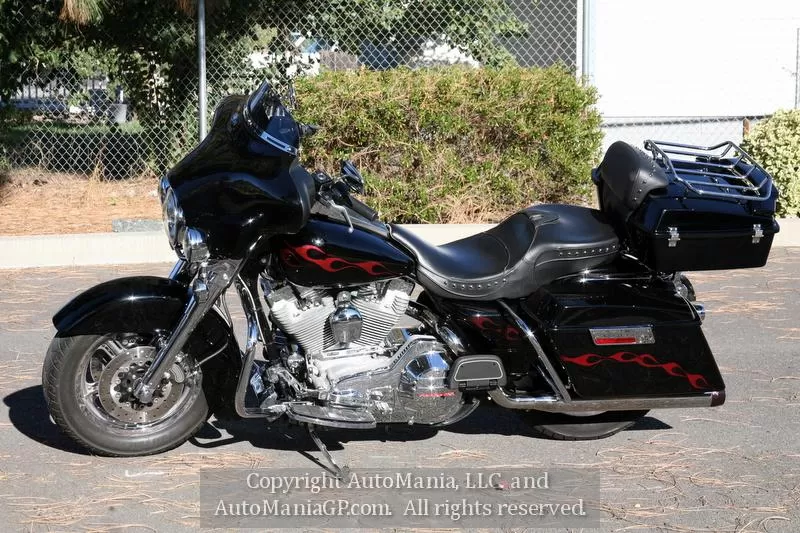 2005 Harley-Davidson Electraglide
Grants Pass, Oregon 97526

I said this recently and here I go again, "You have to take a deep breath sometime working here, the stories that come through the front door just stop you in your tracks for a reality check". Not only that, this bike is owned by the same family with the 2002 Road King with 86 miles from new.

OK, a 2005 Harley Davidson Electra Glide. But not just a stock bike, I mean nothing stock. The bike had every badge and Harley light removed while keeping the stock classic look of the Electra Glide. The paint is unbelievable in the sunlight, the flames matched and flowing from the tank to the Hard Bags. There is not a view of this bike that does not hold your attention until you move around looking to another panel.

The stock engine was pulled and an S&S 103 SE Cubic Inch motor with Andrews Gear Drive Cams, Paul Branch Ported Heads with Compression Releases, Daugherty Machine Mist Eliminators, Airas Pistons and a S&S Scavenger Oil Pump to deal with crankcase pressure in the valve covers installed. The primary chain adjuster hydraulically, automatically adjusts, eliminating having to have it done during service. Electronics is a programmable Thunder Max ECM with wide band 02 Sensors that allows fuel and timing adjustments through the entire RPM range and to eliminate the exhaust, Rinehart True Dual Mufflers. An S&S 6 Speed tranny is bolted the back of the motor to let the engine loaf at cruising speeds.

While the motor was being reinstalled, the frame was Laser Aligned and lowered 1". Full floating rotors were installed and are stopped by Carbon Metallic Brake Pads. Almost new Meltzer's are mounted front and rear on custom Polished rims. Lighting is all after market chrome and billet and seating is by Corbin. A Sony Marine Radio and hidden antenna can be controlled by remote or handle bar mounted controls.

Miles are 23,166 and the VIN# is IHD1FVW145Y659139. The selling price is $10,895. For other interesting bikes and collectable vehicles, visit our web site http://www.automaniagp.com 541 479 8888 or come by and see us at 895 SE Gladiola Drive, Grants Pass, Oregon, 97526. Oregon Dealer DA1287.