2014 Harley-Davidson Street Glide Special FLHXS Grants Pass, Oregon 97526 For Sale
THIS ITEM HAS BEEN SOLD!
Please click "back" or on the top menu for other listings.


[click on the image below or scroll to the thumbnail images at bottom to view the gallery.]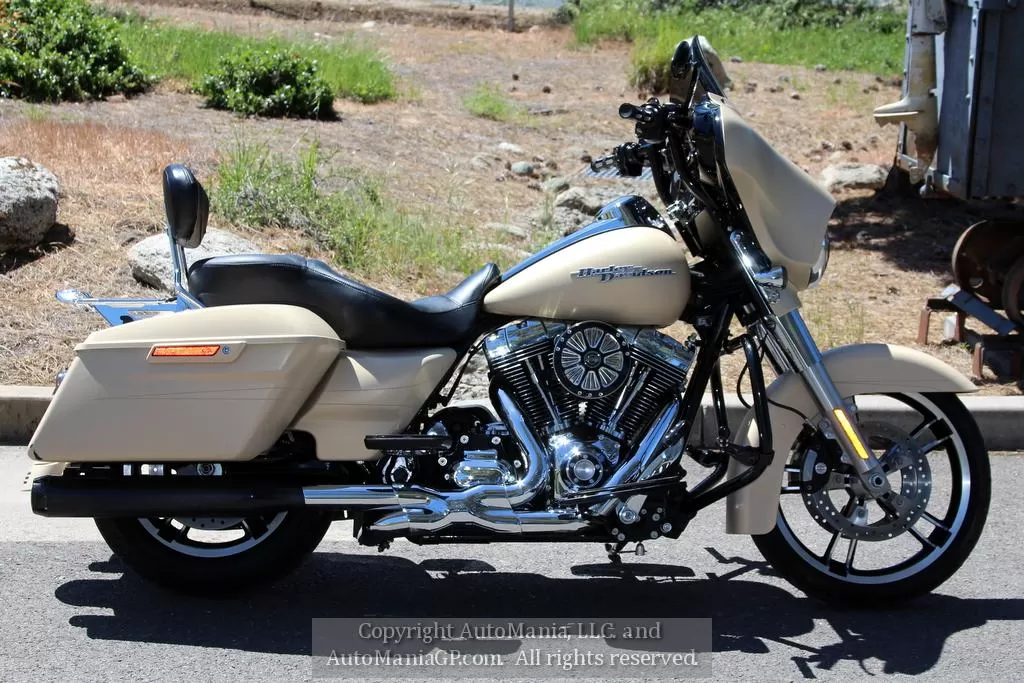 2014 Harley-Davidson Street Glide Special FLHXS
Grants Pass, Oregon 97526
Price: $15,995 USD
- PREVIOUSLY SOLD
Every time we get a call to check on our Harley inventory, it usually starts with. "Do you have a Street Glide?" With the hundreds of models and thousands of used bikes out there, this model seems to be the one folks are genuinely interested in finding. Well, we have one sitting here on the showroom floor.

The 2014 model was the announcement of the Mount Rushmore Project that revisited over 100 changes including the High Output version of the Twin Cam 103 engine, a sophisticated, linked ABS system, upgraded suspension and a state-of-the-art infotainment "Boom Box" system. There were new fairings and bagger systems, the bikes were as upgraded as Harley does and the end result had dye in the wool Harley riders flocking back to the dealer for the newest and bestest Street Glide to date. Harley didn't change anything cosmetically drastically, not wanting to outrage the "Faithful", but it was referred to as the "most significant product launch in the entire 110 years of the company's history." Can't wait to hear what they say the next change!

This 2014 Harley-Davidson Street Glide Special FLHXS is has been left relatively alone other than the pegs and handle bar grips. The exhaust is a real nice set of Two Brother Exhaust System pipes. It is remarkable in appearance because of the unstated Morocco Gold Pearl paint. A new rear tire was just installed to replace the original before consignment which still had 50% thread life but had worn the center flat after 6,100 miles of freeway riding. You will need an evening with the owner's manual to sort out the entertainment system and navigation, but they did not miss a single feature.

The selling price is $15,995. The VIN# is 1HD1KRM10EB707521 and miles are 6,515. Please come by and see it at Automania LLC, 895 SE Gladiola Drive, Grants Pass, OR 97528. http://www.automaniagp.com 541 479 8888 Oregon Dealer DA1287.

Automania LLC is a Consignment Oregon Dealer selling quality, privately owned vehicles including Aprilia, Buell, BMW, Citroen, Ducati, Harley Davidson, Honda, Hummer, Kawasaki, Moto Guzzi, MV Agusta, Nissan, Ossa, Piaggio, Suzuki, Triumph, Vespa, Classic Hot Rods, Buick, Dodge, Ford, Chevrolet, Lamborghini, MG, Packard, Porsche, Rover, Shelby, Toyota, Triumph, Volkswagen and any other vehicle of interest.

[click on a thumbnail below to view a larger photo - IF you don't see thumbnails then your browser is blocking them.
You can either turn off ad-blocking or try clicking on the top graphic in order to thumb through the photos.]