1994 Harley-Davidson 883 Sportster Grants Pass, Oregon 97526 For Sale
THIS ITEM HAS BEEN SOLD!
Please click "back" or on the top menu for other listings.


[click on the image below or scroll to the thumbnail images at bottom to view the gallery.]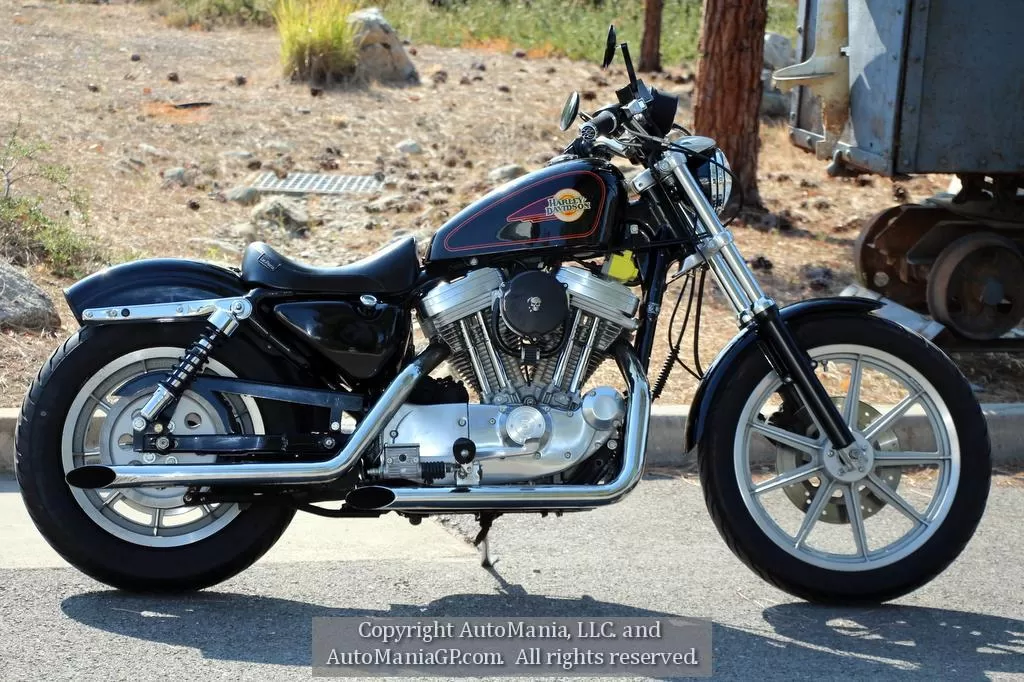 1994 Harley-Davidson 883 Sportster
Grants Pass, Oregon 97526
Price: $2,895 USD
- PREVIOUSLY SOLD
We got a call from a local attorney about this 1994 Harley-Davidson 883 Sportster from an estate that is settling. The bike's owner has recently passed and a new home for the bike should be found. When we picked the bike up, it was a bit dusty, but it started well with full choke and a little bit of cranking.

It has a really nice stance and for the money being asked, is a lot bike. Not only does it come with the solo seat, it has a second seat set up for a passenger that is easily swapped out. It starts easily after warmed up and the choke off and drove ran great. Tires look to be have at least 80% of their life and there was only a very small oil seep when the bike had been parked for several days. Miles showing are 12,997. It seems in pretty good order.

We always recommend an inspection by a qualified shop prior to making a purchase decision. We were unable to speak with the previous owner about service work and will be glad to transport the bike to a local shop of your choice for an inspection you would like to order. Please do not hesitate to ask.

The selling price is $2,895. The VIN# is 1HD4CA3XRY206622. Miles are 12,997. Please come by and see it at Automania LLC, 895 SE Gladiola Drive, Grants Pass, OR 97528. http://www.automaniagp.com 541 479 8888 Oregon Dealer DA1287.

Automania LLC is a Consignment Oregon Dealer selling quality, privately owned vehicles including Aprilia, Buell, BMW, Citroen, Ducati, Harley Davidson, Honda, Hummer, Kawasaki, Moto Guzzi, MV Agusta, Nissan, Ossa, Piaggio, Suzuki, Triumph, Vespa, Classic Hot Rods, Buick, Dodge, Ford, Chevrolet, Lamborghini, MG, Packard, Porsche, Rover, Shelby, Toyota, Triumph, Volkswagen and any other vehicle of interest.

[click on a thumbnail below to view a larger photo - IF you don't see thumbnails then your browser is blocking them.
You can either turn off ad-blocking or try clicking on the top graphic in order to thumb through the photos.]