1951 Harley-Davidson Servi Cycle Model G For Sale
THIS ITEM HAS BEEN SOLD!
Please click "back" or on the top menu for other listings.


[click on the image below or scroll to the thumbnail images at bottom to view the gallery.]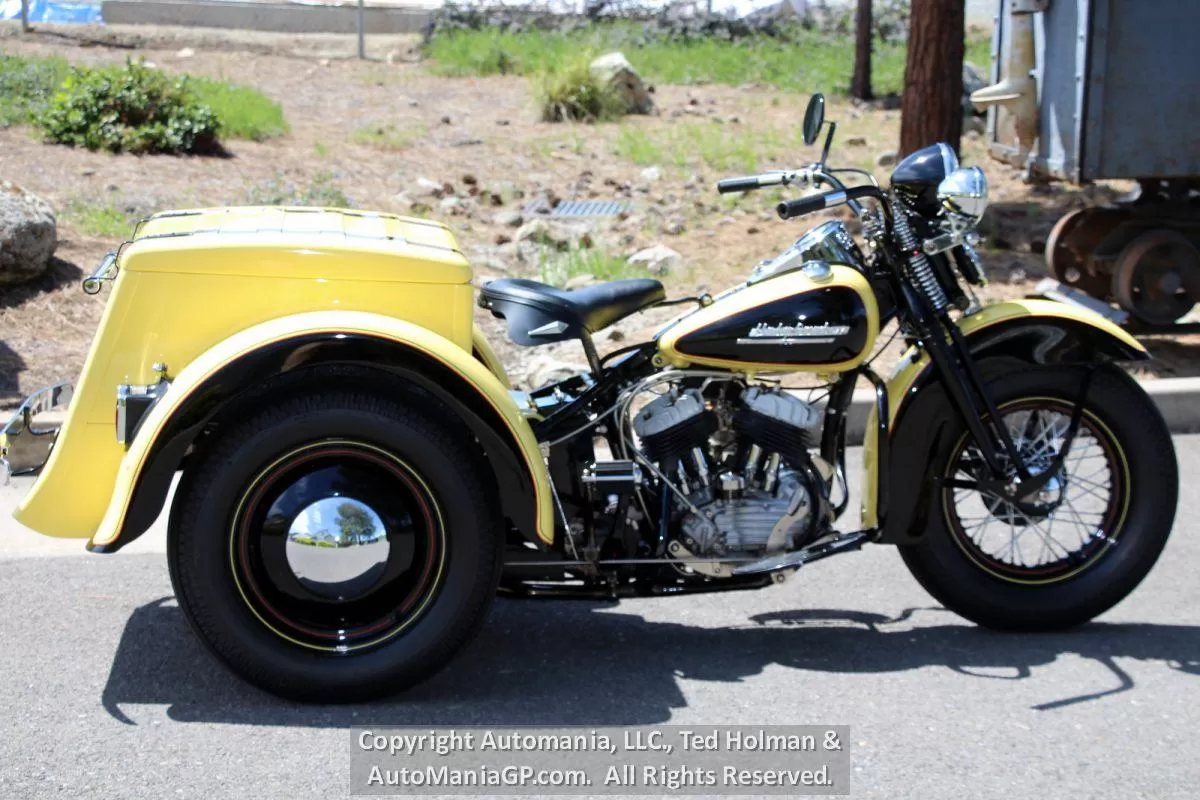 1951 Harley-Davidson Servi Cycle Model G
Price: $16,995 USD
- PREVIOUSLY SOLD


REDUCED to SELL

OK, can anyone not say, "Cool bike"? Without hearing it run or throwing your leg over the saddle, this is a cool bike. Whether it is the Model G Box or the 45 cu. Flathead, the combination is museum quality attractive, something you want to get closer to and check out just so you can see how really well the builder got the details and finish.

A short history on the Model G Servi-Cycle. First introduced in 1932, the bike sourced it's drive-train from current Harley rolling stock until the model run ended in 1973. Harley was trying to shore up it's numbers in the depression by offering the combined benefits of their motorcycles and inexpensive cars of the day. They were designed to be towed behind a car, making them attractive to the automotive service industry as both delivery and customer pickup and delivery service. Numerous other businesses saw their appeal over the decades, finally in police departments around the country as meter maids and traffic control. Most were eventually cut up and used for all variations of custom choppers or just for parts. Few are remaining in stock or original condition today.

How did the bike get to the shop? Owning the matching numbers, original bike since 1996, the owner spent the better part of sixteen years researching, preparing and restoring the Servi-Car to almost better than new condition. Completion lead to numerous bike and car shows, tons of trophies and the pleasure of seeing how really well his work was received by everyone who laid eyes on it. In all, 347 miles were added to the odometer in the seven years of display and short rides, careful steps made each time it was parked to ensure it's upkeep. It has been a great experience to achieve, but retirement has had it's financial issues and the bike's sale will ease some of the burden for a bit.

Not being overly complicated, the restoration can be covered here without to much length. All of the hardware (nuts and bolts), brackets and exhaust system were Black Chromed. The Frame, Wheels, Handle Bars, Crash Bars were all powder coated. The Axles were painted in Black Ceramic Paint. All of the Pin-Stripping and Lettering was hand applied. The Wheel Spokes are referred to as Diamond Cut, giving a special optical appearance when turning. Obviously new Tires were installed but an original front wheel is included with the bike.

The drive-train was completely refurbished. The front suspension was rebushed using Teflon Bushings while others were replaced using the original brass style. The Engine and Transmission were completely rebuilt by Central Valley Cycle of Eugene who also did most of the reassembly. Paint and Pin-Stripping were applied by Todd's Paint of Springfield. Included with the bike are numerous extra parts and the factory tow bar, if you inclined to pull it behind your car.

Miles showing are 347 and the selling price is $16,995. The VIN# is 51G2135. For other interesting bikes and collectible vehicles, visit our web site http://www.automaniagp.com 541 479 8888 or come by and see us at 895 SE Gladiola Drive, Grants Pass, Oregon, 97526. Oregon Dealer DA1287.

Automania is a Consignment Oregon Dealer selling quality, privately owned vehicles including Aprilia, Buell, BMW, Citroen, Ducati, Harley Davidson, Honda, Hummer, Kawasaki, Moto Guzzi, MV Agusta, Nissan, Ossa, Piaggio, Suzuki, Triumph, Vespa, Classic Hot Rods, Buick, Dodge, Ford, Chevrolet, Lamborghini, MG, Packard, Porsche, Rover, Shelby, Toyota, Triumph, Volkswagen and any other vehicle of interest
.


[click on a thumbnail below to view a larger photo - IF you don't see thumbnails then your browser is blocking them.
You can either turn off ad-blocking or try clicking on the top graphic in order to thumb through the photos.]