2017 Harley-Davidson CVO Street Glide FLHXFE For Sale
THIS ITEM HAS BEEN SOLD!
Please click "back" or on the top menu for other listings.


[click on the image below or scroll to the thumbnail images at bottom to view the gallery.]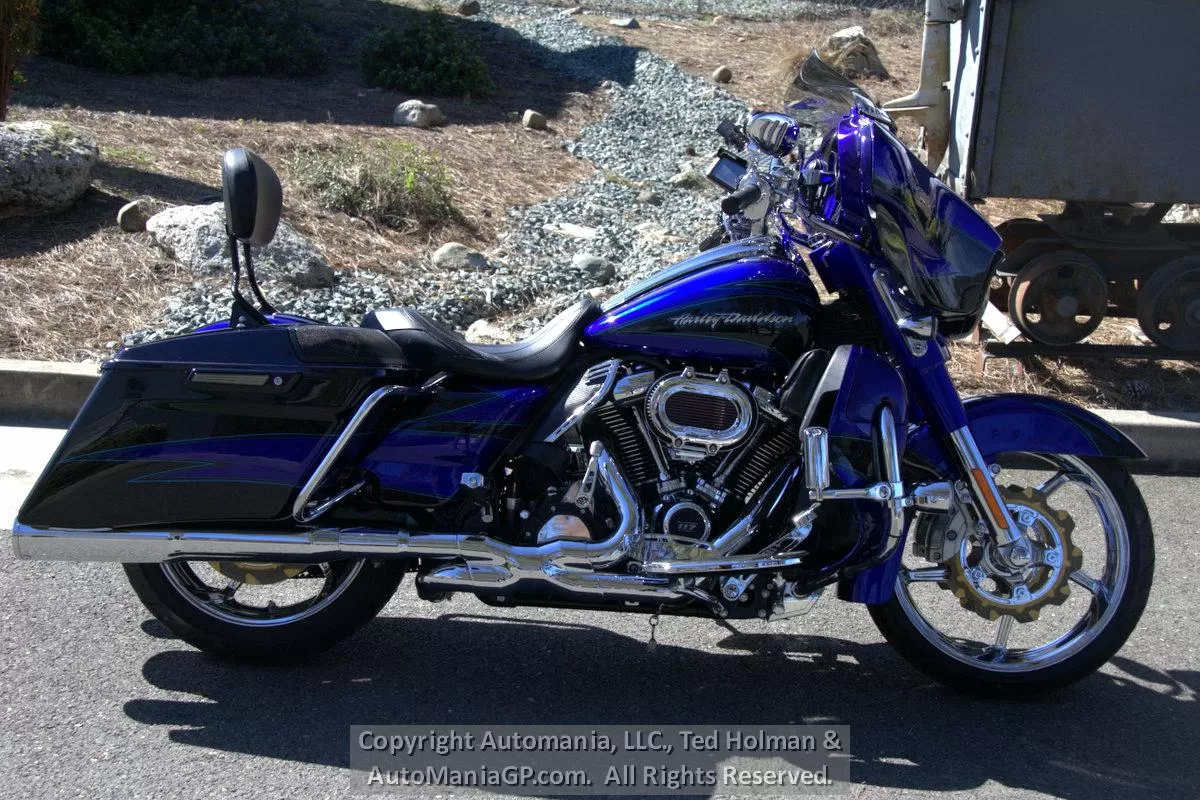 2017 Harley-Davidson CVO Street Glide FLHXFE
Price: $27,695 USD
- PREVIOUSLY SOLD
There have occasions that I have grossly underestimated the work and value that an owner has given to his motorcycle. You walk up to a bike and it appears to be normal, even though there are a couple of things you do not recognize.

There have occasions that I have grossly underestimated the work and value that an owner has given to his motorcycle. You walk up to a bike and it appears to be normal, even though there are a couple of things you do not recognize.

What I focus on usually is it's visual impression, that is what buyers are going to see, not the in depth work that has created a mechanically upgraded machine. What I saw the first time I looked at this bike was Clear Bra all over the bike, not necessarily done to an industry standard. We carefully removed the covering and the paint is excellent. There is a touch up on the right side of the dash, but everything else is beautiful. Some of the gold leaf lifted with the Clear Bra, but it was minor. It is only when I got back to the shop and was going through the two inch thick packet of receipts that I had an inkling of what the bike was. Hopefully you will see it also, a marvel of Harley and aftermarket accessories way beyond just Chrome and glitter.

This 2017 Harley Davidson FLHXSE CVO with 7,021 miles was bought used with 428 showing at Latus Motors in Eugene just about three years ago. The owner started almost right away building the perfect bike starting with a Screamin Eagle Milwaukee-Eight Stage 1V Kit topped by Screamin Eagle PRO CNC Ported Cylinder Heads held on by Feuling's Cylinder Head Stud Kit. A Trask Performance Billet Clutch Basket and Barnett Clutch Plates were added at the same time a MMD Reverse Gear Kit was installed. As a redundant warning, a Warning Horn and Flashing light were wired in when the Reverse Lever was engaged. A Dyna Tuner plus Jet Target Tune for Power Vision is designed for FI and Ignition tuning. All of this exits through a set of Vance & Hines Pipes with removable Baffles.

The exterior of the bike got the full treatment. Probeam LED Lights were installed which look great on the Saddle Bags and back of the bike. These Milwaukee-Eight motors tend to run hot and a powerful cooling fan system was installed that directs volumes of air from the left side across the cylinder heads. They are also known for cooking the right foot and a heat guard was installed. Adjustable OBERON Brake and Clutch Levers make for custom reach from the Harley Heated Hand Grips regulated by the left grip controller.

This is the list supplied by the owner:

Screamin' Eagle Milwaukee-Eight Engine Stage IV Kit - 114 to 117CI

Kit includes CNC Ported Cylinder Heads, 64mm Throttle Body,
High Flow Injectors (5.5g/s),
4.075" Bolt-On Cylinders, Forged 11:1 High Compression
S&S Cycle Premium High-Performance Tappets
Fueling ENDURANCE BEEHIVE VALVE SPRING KIT
Aluminum Coated Pistons and Rings
Screamin' Eagle Timer Cover Base
Screamin' Eagle 117 Stage IV Insert
Coolant Pump Cover, Chrome
Feuling Stud/Head Bolt Kit
Screamin' Eagle Timer Cover Base-
Chrome Lower Belt Guard Cover
Screamin' Eagle Spark Plugs
Screamin' Eagle 10mm Phat Spark Plug Wires
Screamin Eagle Ventilator Air Cleaner
Inner Primary Cover Trim
Cylinder Base Cover
Chrome lower drive belt cover
Finned Spark Plug Covers
Deltran Battery Tender
New Lithium Ion Battery
Legend Suspension AXEO FLH Front End Suspension
Mighty-Mite Cooling Fans
Willie G Skull Heated Hand Grips
117 CVO – Gold Touring Engraved Primary Cover
Paul Yaffe Stealth Heel Shift Lever
Wide Solo seat w/backrest, Black Ostrich Vinyl, Gel installed, Heated Seat
Bagger Nation "8 Monkey Bagger Bars
Super Clamp 1 Piece Riser Clamp
Boom-Box Wireless Headset Interface Module (WHIM)
Sequential LED Turn Signal Motorcycle Mirror Set
2017 Harley Touring Service Manual Repair with Electrical Diagnostic & Parts
Vance and Hines High Output Exhaust System
Headers and Exhaust pipes are coated with Jett Hot Ceramic Coating
Willamette Harley-Davidson Accessories Installed when bike was purchased Fog Lamp Bullet, Chrome, Fog light mounting kit, fog light wire harness, cool flow fan kit, rear saddle back guards, Detachable Solo Luggage rack, stick, gear shift cover, Jiffy Stand Extension Kit, Switch assembly for fan,
Mid-Frame Air Deflectors
MMD 6 speed Reverse Gear Kit for Harley Davidson motorcycle
Throttle Servo Motor Cover
MiniMag waterproof documents holder
Vance & Hines Quiet Baffle
Ciro 50114 Handlebar Mount (1-1/4" Chrome Accessory Handlebar Mount
Kuryakyn 7509 Motorcycle Foot Control Component
Hopnel H50-109BK Deluxe Fairing Pouches
Klock Werks 'Flare' Windshield for 2014 and Newer Harley Davidson FLH
K&P Engineering S44 PDC Polished with Diamond Cut Edges Lifetime Oil Filter
Kuryakyn Extended Chrome Brake Pedal
Legend Revo Arc Remote Reservoir Rear Suspension
Fueling HP+ ONE PIECE PUSHRODS
Custom Dynamics - ProBeam - Light Pro Fillerz (Smoke Lens/Gloss Black)
Custom Dynamics ProBeam Amber/White Dynamic Ringz with Smoke Lens
Custom Dynamics Magic Strobes Plug-N-Play Brake Light Flasher
Big Bear Performance AXLE LOCK FOR TOURING
Feuling Vented Dipstick Polished M8 FLH
Baker Armored Attitude Primary Adjuster
Baker Compensator Sprocket
Rekluse Clutch TORQ-DRIVE CLUTCH FLH/FLT 16-UP
Trask Clutch Basket
Lyndall Brakes 1204-3047 Smooth Gold 11.8 7mm Rear Chrome BST
Lyndall Front Rotor × 27254 Harley Davidson Brake (Front or Rear) × 3
Two New Saddle bag liners
New Harley-Davidson bike cover
HD Fuel Tank Cover and Front Fender Cover
Dimple Motor Oil Magnets
HD Cooling Fan
HD Daymaker Led Fog Lamps
Jet-Hot High Performance Exhaust Coating
HD Mid Frame Air Deflectors
HD Saddle Bag Storage Stand
Paul Yaffe Stealth Licenses Plate holder
Oberon Adjustable Brake and Clutch Levers
HD Heated Hand Grips
Feuling Vented Dipstick
DK Products discrete External Breather System
Ciro Headlight Bezel
Remote Control Garage Door Opener—flip high-beam switch on and off


The images we took cover all of the parts and accessories I did not mention. Start with $43,000 bike and keep on adding the money. We got the call to sell the bike because of medical issues are going to make riding the bike impossible. A dream bike that will never get to be ridden again. A project that you could only dream of completing on your own.

The selling price is $27,695. VIN# is 1HD1PXF1XHB954519. Miles are 7,021. For other interesting bikes and collectible vehicles, visit our web site http://www.automaniagp.com 541-479- 8888 or come by and see us at 895 SE Gladiola Drive, Grants Pass, Oregon, 97526. Oregon Dealer DA1287.

Automania LLC is a Consignment Oregon Dealer selling quality, privately owned vehicles including Aprilia, Buell, BMW, Citroen, Ducati, Harley Davidson, Honda, Hummer, Kawasaki, Moto Guzzi, MV Agusta, Nissan, Ossa, Piaggio, Suzuki, Triumph, Vespa, Classic Hot Rods, Buick, Dodge, Ford, Chevrolet, Lamborghini, MG, Packard, Porsche, Rover, Shelby, Toyota, Triumph, Volkswagen and any other vehicle of interest.

[click on a thumbnail below to view a larger photo - IF you don't see thumbnails then your browser is blocking them.
You can either turn off ad-blocking or try clicking on the top graphic in order to thumb through the photos.]