1994 Harley-Davidson FXDWG Dyna Wide Glide For Sale
[click on the image below or scroll to the thumbnail images at bottom to view the gallery.]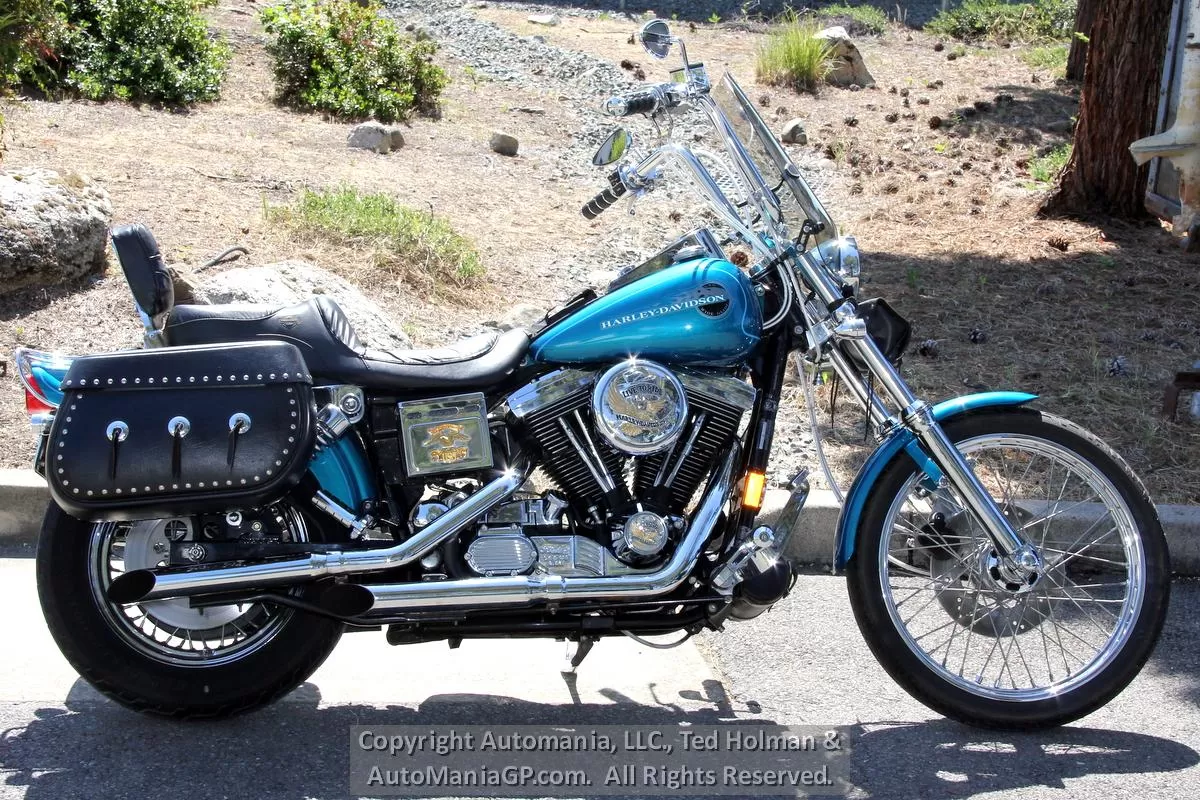 1994 Harley-Davidson FXDWG Dyna Wide Glide
Price: $6,495 USD

The family member of the local Harley repair shop decided to sell their 1994 Harley-Davidson FXDWG Dyna Wide Glide which just had a complete service and inspection this winter. Attached to the images is the inspection report done prior to bike being delivered to the shop to be sold. Looks like the only thing will be needed in the near future is fuel!

The Dyna Wide Glide offered the basic Hog architecture (big twin mill, twin shock 'Dyna' rear end) starting in gets the full-on 'bro' treatment with raked out, widely-splayed (hence the Wide moniker) forks, 21-inch wire front wheels, pull-back Ape-hangers, 'bobtail' rear fender and forward-mounted 'highway' pegs.

As a style statement, the Harley-Davidson Dyna Wide Glide is unique and style setter. The bike was intended to be a simple design used as a blank canvas for Harley Davidson accessories and aftermarket parts. The development and use of the Evolution 1340cc engine (the EVO) was the motor that some say saved Harley Davidson from bankruptcy back in 1984. It is one of the favorite engines in modern Harley history and much preferred over those that came after.

Our bike is cosmetically excellent with few signs of it's vintage or miles ridden as you can see in the images. It has been professionally serviced and maintained by one of the best shops in the Rogue Valley is ready for what ever ride or trip the new owner can decide on.

The Motorcycle shows 25,550 miles and the VIN# is 1HD1GEL14RY306990. The selling price is $7,495. For other interesting bikes and collectable vehicles, visit our web site http://www.automaniagp.com 541 479 8888 or come by and see us at 895 SE Gladiola Drive, Grants Pass, Oregon, 97526. Oregon Dealer DA1287.

[click on a thumbnail below to view a larger photo - IF you don't see thumbnails then your browser is blocking them.
You can either turn off ad-blocking or try clicking on the top graphic in order to thumb through the photos.]