2016 Can-Am Spyder F3 T Limited For Sale
THIS ITEM HAS BEEN SOLD!
Please click "back" or on the top menu for other listings.


[click on the image below or scroll to the thumbnail images at bottom to view the gallery.]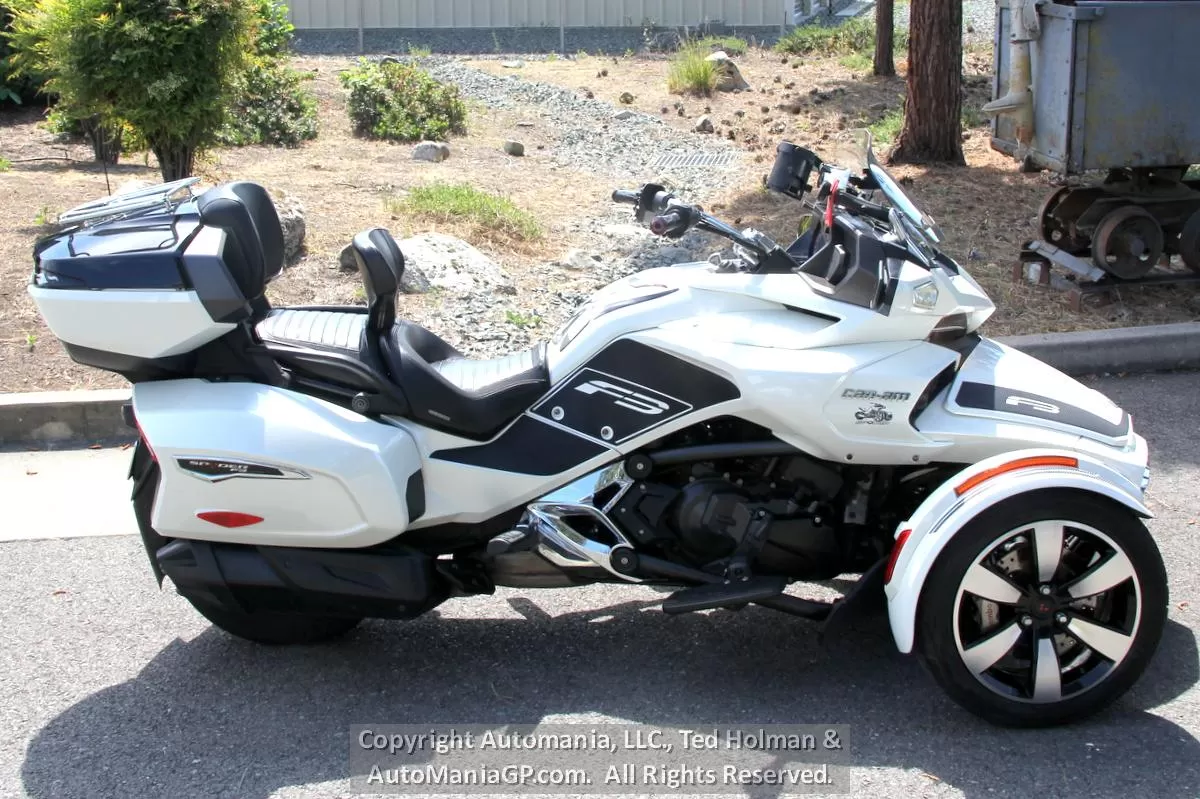 2016 Can-Am Spyder F3 T Limited
Price: $10,995 USD
- PREVIOUSLY SOLD
Can-Am Spyders are intended for riders who want the motorcycle experience without the perceived inherent dangers presented by balancing on two wheels. They are designed to haul luggage and passengers that would normally crush the average touring bike. There are a whole range of bikes for every conceivable rider, the Spyder F3 is the middle of those bikes, lots of luggage carrying capacity yet not the bulk and size of the RT's.

Having ridden Can-Am Spyders, I was blown away by the brakes. Even after driving the Lamborghini Superleggera several years ago, the Spyders stop better then almost anything I have driven. I am pretty sure they peel asphalt up. It does steer differently then anything I have ever ridden, more car-like than motorcycle-like and normally takes a few miles to understand and anticipate how the bike reacts, but dyed in the wool Can-Am riders are probably laughing at the idea.

Our F3 is a one owner bike that has been serviced regularly by Can-Am dealers diligently during its use. There are receipts of all the work that has been done including recent services at Water World in Medford, our local Can-Am dealer. The bike presents it's self in excellent cosmetic and mechanical condition, demonstration the care and upkeep the owner showed. This was not a bike that sat in the garage or under a carport, it was ridden. Most of the miles were freeway driven going between San Diego and Grants Pass visiting friends and family.

Our selling price is $10,995 and the miles are 46,529. The VIN# is 2BXREDD24GV002465. For other interesting bikes and collectable vehicles, visit our web site http://www.automaniagp.com 541 479 8888 or come by and see us at 895 SE Gladiola Drive, Grants Pass, Oregon, 97526. Oregon Dealer DA1286.

[click on a thumbnail below to view a larger photo - IF you don't see thumbnails then your browser is blocking them.
You can either turn off ad-blocking or try clicking on the top graphic in order to thumb through the photos.]