2016 KTM 1290 Super Adventure Grants Pass, Oregon 97526 For Sale
THIS ITEM HAS BEEN SOLD!
Please click "back" or on the top menu for other listings.


[click on the image below or scroll to the thumbnail images at bottom to view the gallery.]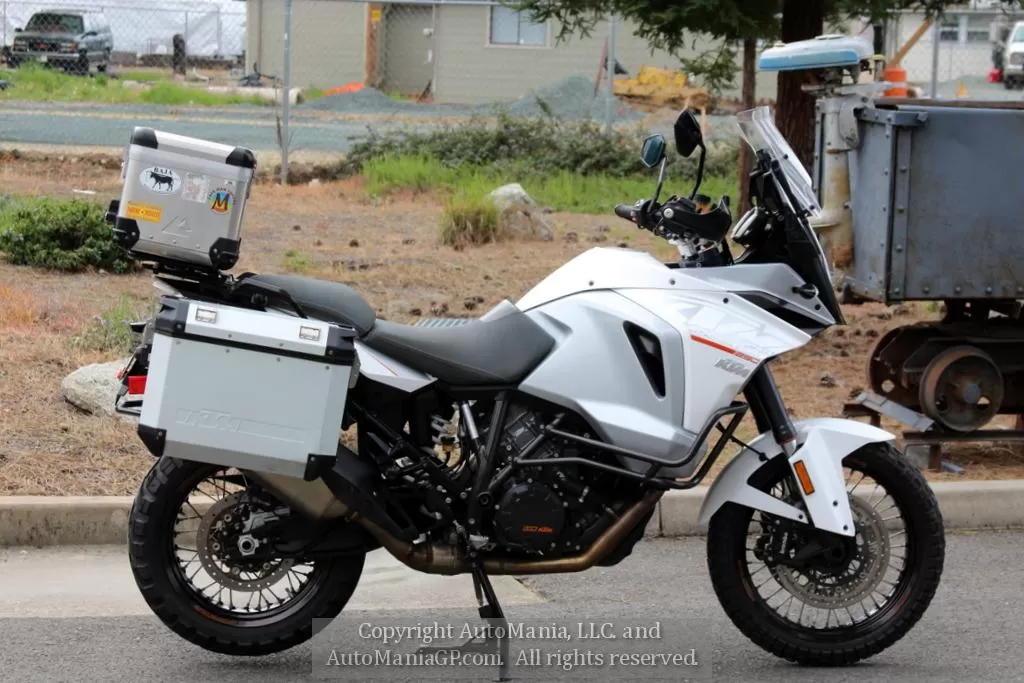 2016 KTM 1290 Super Adventure
Grants Pass, Oregon 97526
Price: $13,795 USD
- PREVIOUSLY SOLD
You would think that there are no other adequate ADV Bikes than the KTM 1290 Super Adventure if you go on to the Internet to see all of the superlatives. From the power, to the electronic menu of suspension adjustments, cruise control and heated grips, the bike has every electronic feature I have ever heard of and then some.

Ok, the LC8 based, 160hp, V-Twin does suggest arm stretching power, but along with a 19" front wheel does have the basic ingredients for a crushing off road experience where finesse is not going to be the first thing that jumps to mind. Many riders say that the bike is the most comfortable touring motorcycle they have ridden and some how KTM has gotten the compromise right using the electronic menu right through their Ride-by-Wire technology. The semi-active Suspension system, Motorcycle Traction Control (MTC), ABS/Cornering-ABS, Ride Modes, and Cruise Control are all products of this system and set the new standard in rider assistance. Old school guys (or gals) may balk at all of this hardware, but when the rubber hits the ground, it is a game changer. Along with all of that are Heated Grips and Tire Monitoring

All then there is the 7.9 gallon tank. A guess is that you might be able to sit in the saddle for 250 miles or more. That might leave a mark to the rest of us, but there are those who can do 800 mile days one after the other. Best of luck…

I will leave the off road arena of the Super Adventure to those who are more experienced. Reading about the bike it sounds like it is the best in class and not by a little bit. Sounds like a perfect bike for Alaska or Jordan Valley's hundred's of mile of dirt roads.

This particular bike is a one owner bike owned by an inseam challenged rider. In order to make the bike work for them, a replacement rear spring was ordered and the front forks dropped in the triple clamp by the KTM Dealer. Still not enough adjustment was found and after 10,438 miles, another bike is on the horizon. Two sets of hard bags come with the bike, the stock plastic style and aluminum panniers along with the tail trunk that are shown in the images. The rear tire is showing wear and as part of the sale, a new tire will be installed.

The selling price is $13,795. The VIN# is VBKV59403GM941417. Miles are 10,438. Please come by and see it at Automania LLC, 895 SE Gladiola Drive, Grants Pass, OR 97528. http://www.automaniagp.com 541 479 8888 Oregon Dealer DA1287.

Automania LLC is a Consignment Oregon Dealer selling quality, privately owned vehicles including Aprilia, Buell, BMW, Citroen, Ducati, Harley Davidson, Honda, Hummer, Kawasaki, Moto Guzzi, MV Agusta, Nissan, Ossa, Piaggio, Suzuki, Triumph, Vespa, Classic Hot Rods, Buick, Dodge, Ford, Chevrolet, Lamborghini, MG, Packard, Porsche, Rover, Shelby, Toyota, Triumph, Volkswagen and any other vehicle of interest.


[click on a thumbnail below to view a larger photo - IF you don't see thumbnails then your browser is blocking them.
You can either turn off ad-blocking or try clicking on the top graphic in order to thumb through the photos.]