2007 KTM 525 EXC Plated For Sale
THIS ITEM HAS BEEN SOLD!
Please click "back" or on the top menu for other listings.


[click on the image below or scroll to the thumbnail images at bottom to view the gallery.]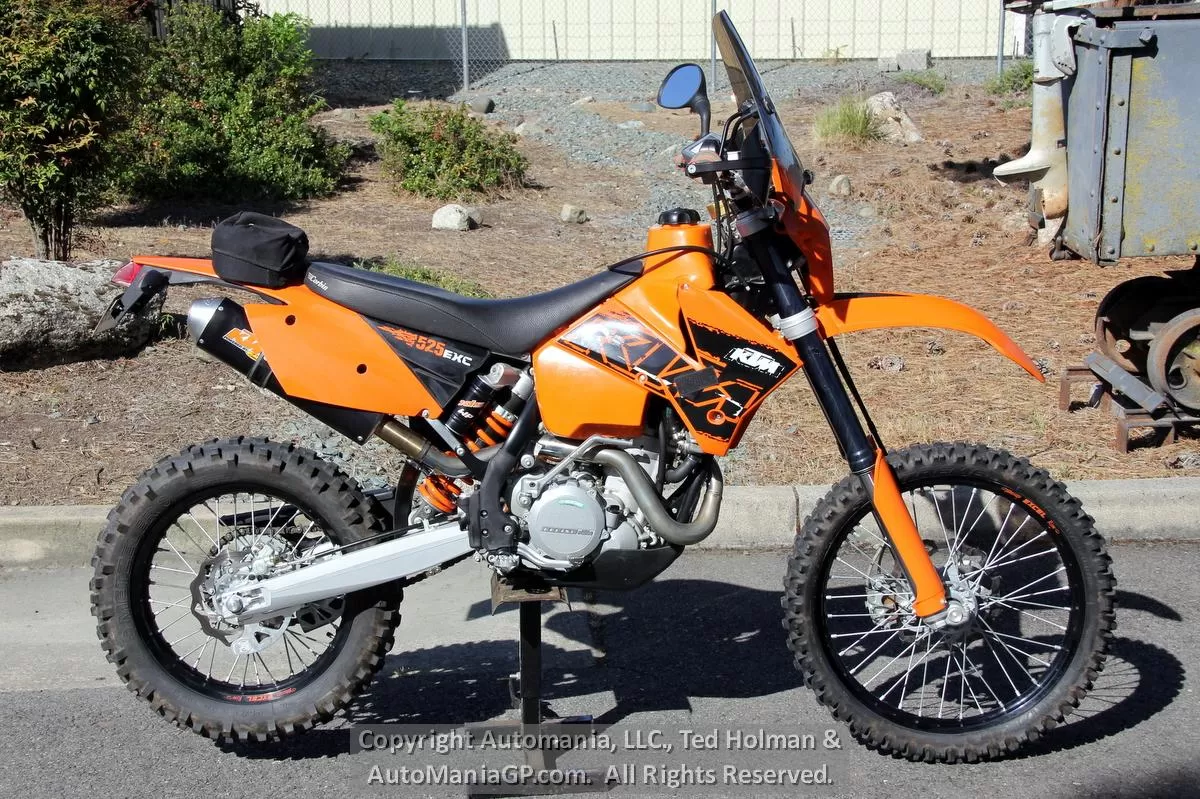 2007 KTM 525 EXC Plated
Price: $5,995 USD
- PREVIOUSLY SOLD
A very long time, great customer has been planning for retirement the past twenty years and has accumulated during that time period different bikes and cars that fit that picture that particular moment even though retirement still has not arrived. A growing collection of bikes, cars, boats and motor homes eventually overwhelmed his garage and have come through our doors the past few years finding new homes. This explains the 2007 KTM 525 EXC coming into the shop with 380 miles on it from new, loaded with every known touring accessory available the year it was sold including the oversize fuel tank.

A little digging around on the internet gives the specifications and dimensions of the EXC. The KTM 525 EXC uses a liquid-cooled, single-cylinder 4-stroke SOHC engine with a balancer shaft. It has a bore-stroke ratio of 95 x 72 mm (3.74 x 2.83 inches) and a compression ratio of 11:1. Engine displacement is 510 cm3 (31.12 in3), supplemented by a forged piston aluminum alloy. A Keihin FCR-MX 3900B, with an Air Cut Valve (ACV) for de-acceleration enrichment, handles air-fuel mixture.

Overall engine configuration lends to a horsepower of 61 hp (44.5 kW) @ 8,000 RPM, a maximum torque of 61 Nm (6.2 kgf-m, 45 ft-lb), and a top speed rating of 111.8 mph (180 km/h). Moreover, the dirt bike shares similar jetting (#178 main; #85 starting; #42 idling) and needle position (3rd from top) with the 450-cc EXC Racing/MXC-G/Six Days series.

So much for the hard parts, what was added after to make the bike capable of longer distance travel? A Corbin Seat was added along with a Spitfire Windscreen and Handle Bar Navigation Roll Chart and a Moose Tail Bag. A MSF Muffler was bolted on, Scott Steering Damper added, a Front Brake Rotor Guard ordered. All of the stock parts were kept and go with the KTM.

The selling price is $5,995, miles are 380 from new. The VIN is VBKEXM4027M452391. For other interesting bikes and collectible vehicles, visit our web site http://www.automaniagp.com 541 479 8888 or come by and see us at Automania LLC, 895 SE Gladiola Drive, Grants Pass, Oregon, 97526. Oregon Dealer DA1287.

Automania LLC is a Consignment Oregon Dealer selling quality, privately owned vehicles, motorcycles and any other vehicle of interest.

[click on a thumbnail below to view a larger photo - IF you don't see thumbnails then your browser is blocking them.
You can either turn off ad-blocking or try clicking on the top graphic in order to thumb through the photos.]