2021 KTM 390 Duke For Sale
THIS ITEM HAS BEEN SOLD!
Please click "back" or on the top menu for other listings.


[click on the image below or scroll to the thumbnail images at bottom to view the gallery.]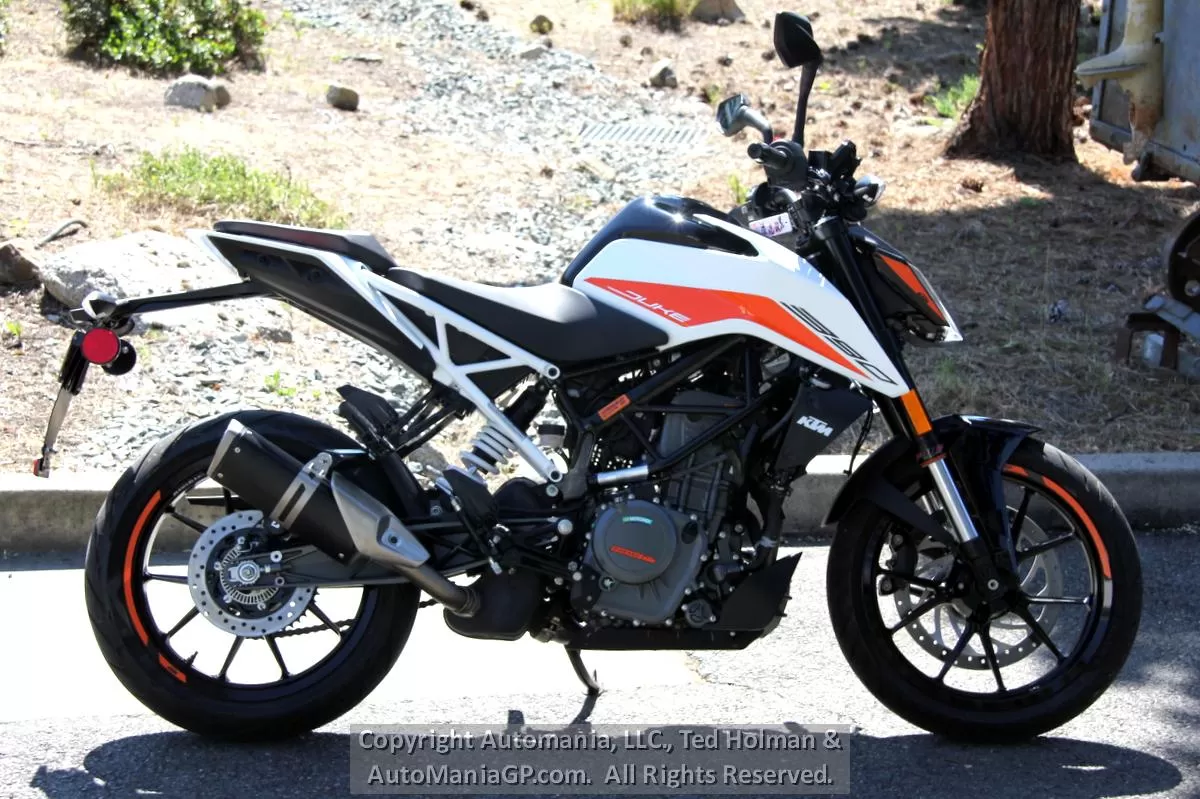 2021 KTM 390 Duke
Price: $5,295 USD
- PREVIOUSLY SOLD
This 2021 KTM 390 Duke is as close to being in new condition as it could be without rolling out of the dealer showroom. It has 165 miles from the time of delivery! In fact, it has such low miles, the first service has not been completed which is announced on the dashboard as a warning the bike is in need of service. It has timed out, not run over any mileage service requirement limits.

Reading over the specs on the 390, it appears that it has the same factory horsepower as some of the older Harley that come through the shop over the years. Amazing what a clean sheet of paper and 35 years can do!

The internet reviews of the 390 read about the same everywhere. I found this on line from Rider Magazine and would not be able to do better:

"The 390 Duke is a blast to ride and punches well above its weight class. Tipping the scales at just 359 pounds wet and offering outstanding maneuverability and usable performance, the 390 will appeal to a broad spectrum of riders and was universally loved by our testers. Despite its power deficit, the 390 was able to keep up with the larger Dukes on tight, twisty sections of road, only falling behind when the pavement straightened out.

New riders, including those who want to go fast, will have years of enjoyment ahead of them on the 390 Duke. This is the sleeper bike, the one that might get overlooked by seasoned riders but packs a ton of fun into a small, affordable package. It can be a carefree, fuel-efficient commuter during the week, and on weekends it's just a throttle twist away from being a canyon-carving dragon slayer."

Pretty much sums it up. And our bike has 165 mile from new on it!

The motorcycle shows just 165 miles from new and the VIN# is MD2JPJ40XMC246844. The selling price is $5,295. For other interesting bikes and collectable vehicles, visit our web site http://www.automaniagp.com 541 479 8888 or come by and see us at 895 SE Gladiola Drive, Grants Pass, Oregon, 97526. Oregon Dealer DA1287.



[click on a thumbnail below to view a larger photo - IF you don't see thumbnails then your browser is blocking them.
You can either turn off ad-blocking or try clicking on the top graphic in order to thumb through the photos.]