2013 Triumph Bonneville Scrambler Grants Pass, Oregon 97526 - Triumph Motorcycle - Off Road - Adventure BikeFor Sale
THIS ITEM HAS BEEN SOLD!
Please click "back" or on the top menu for other listings.


[click on the image below or scroll to the thumbnail images at bottom to view the gallery.]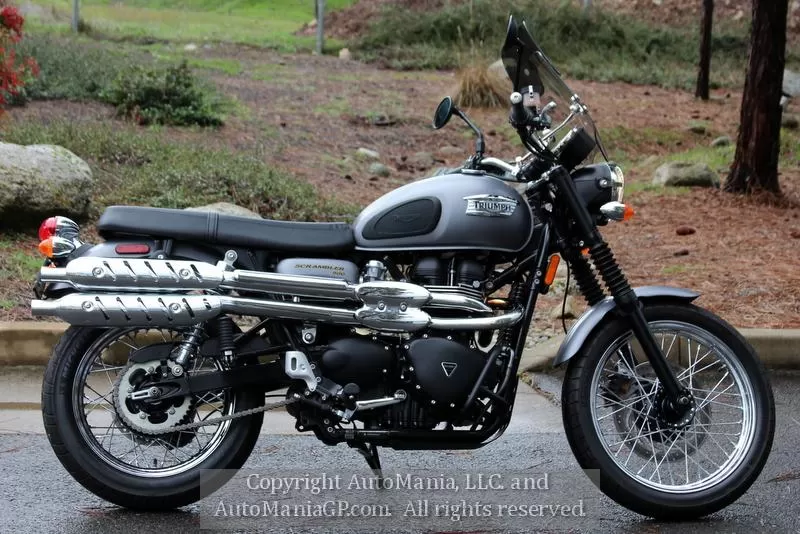 2013 Triumph Bonneville Scrambler
Grants Pass, Oregon 97526
Price: $6,895 USD
- PREVIOUSLY SOLD
Until I started selling motorcycles full time, I occasionally heard of a used bike in someone's garage with barely break in miles on that was going for a third of what it sold new for. There were always rumors about bikes I could not afford when they were new, wanted them anyway and that someone else bought because they found it first. Drat, double Drat!

So, when we got a call to look at a 2013 Triumph Scrambler with 747 miles on it from new, we did not spend time thinking about what to do next. The bike is everything the owner said it would be including Triumph and After Market Accessories. It has the Black Skid Plate, Engine Crash Bars, Head Light Grill and the Paint Protecting Kit installed by the selling dealer, Hansen's BMW in Medford. We have the receipt for the first and only oil change so far, done at 535 miles in 2013. Everything else is as it was delivered. The buyer also had an accessory Shooter-Solar windscreen added that bolts to the handle bars, a 15 minute process if you decide to ride without during the summer. The bike is without any marks or blemishes. As close to buying one new as you are going to get today.

Miles are 747 and the VIN# is SMT925RNDT568649. The selling price is $6,895. For other interesting bikes and collectable vehicles, visit http://www.automaniagp.com , call 541 479 8888 or come by and see us at 895 SE Gladiola Drive, Grants Pass, Oregon, 97526. Oregon Dealer DA1287.

Automania is a Consignment Oregon Dealer selling quality, privately owned vehicles including Aprilia, Buell, BMW, Citroen, Ducati, Harley Davidson, Honda, Hummer, Kawasaki, Moto Guzzi, MV Agusta, Nissan, Ossa, Piaggio, Suzuki, Triumph, Vespa, Classic Hot Rods, Buick, Dodge, Ford, Chevrolet, Lamborghini, MG, Packard, Porsche, Rover, Shelby, Toyota, Triumph, Volkswagen and any other vehicle of interest.
[click on a thumbnail below to view a larger photo - IF you don't see thumbnails then your browser is blocking them.
You can either turn off ad-blocking or try clicking on the top graphic in order to thumb through the photos.]