2019 Triumph Scrambler XE For Sale
THIS ITEM HAS BEEN SOLD!
Please click "back" or on the top menu for other listings.


[click on the image below or scroll to the thumbnail images at bottom to view the gallery.]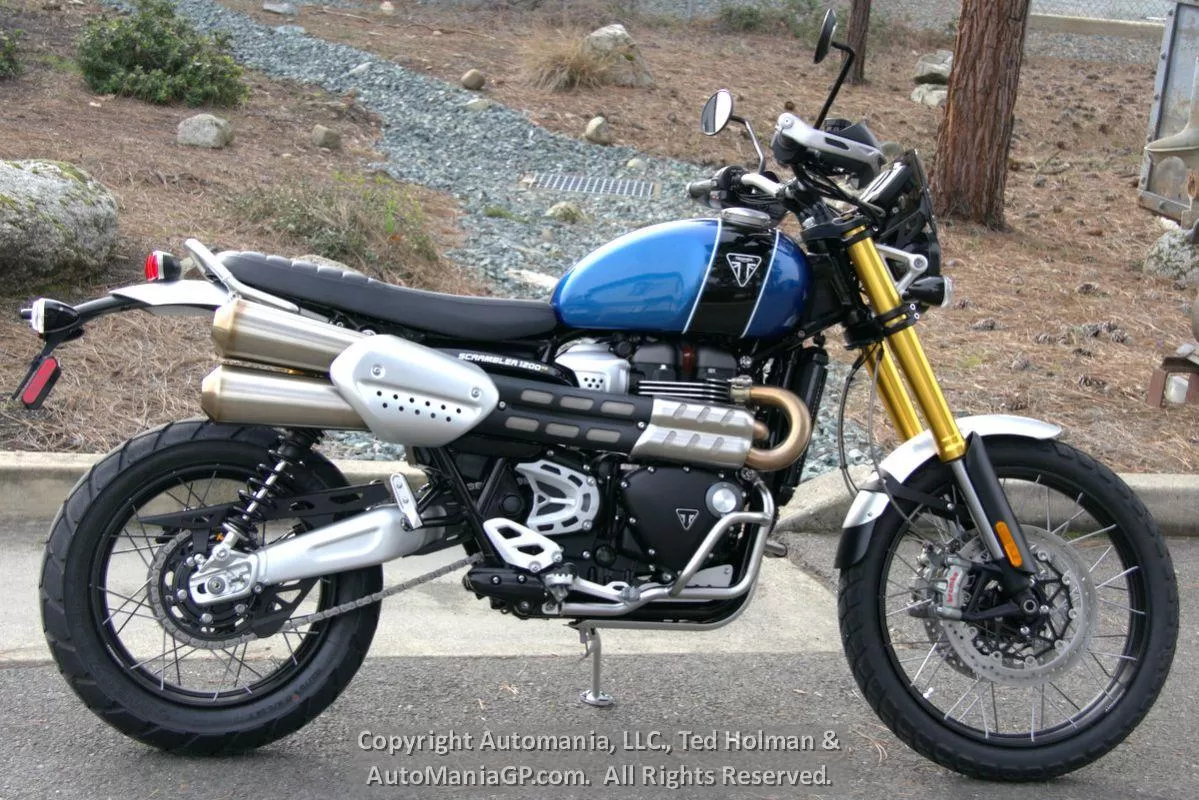 2019 Triumph Scrambler XE
Price: $12,495 USD
- PREVIOUSLY SOLD


Wade has a new bike!!!

There are rewards running Automania LLC beyond a pay check and the possibility of riding this 2019 Triumph Scrambler XE will be the bonus this month. When I first saw the bike, I realized everything that I had come not like to in the Air Cooled version, this bike was the real thing, Ohlins, Showa Forks, all of the other ingredients that make up this motorcycle may it instantly clear that I miss not having a Triumph Dealer in Southern Oregon.

The latest version of the Scrambler is not only water cooled, it is 1200cc, a 25% increase in displacement over the preceding model it replaced. The Ohlins rear shocks are Piggy Back style, the Front Showa 45mm upside down forks have adjustable rebound, compression and preload to suit almost any rider's style and weight. It was like they ran the bike through a Tuner's store before they rolled it out on to the showroom floor.

It is too wet to take someone else's motorcycle out for a ride so I did research the lazy way, on line. The entire motorcycle community seems to be in love with the XE, with 9.8 inches of travel controlled by Ohlins rear Shocks and upside-down Showa cartridge forks in front. The motor puts out 90hp and 81#'s of torque at 4,000 RPM. It weights just short of 500 pounds, but it does not seem to be wasted pounds with handle bar controlled, multi-mode Traction Control, Cornering ABS and Off-Road Pro for those who want no electronic inputs. It even comes with Heated Grips!

The first thing our owner wanted to show was the instruments and Speedometer Display. All of it is digital with the different riding Modes shown clearly and with easy access to choose from. It was as unTriumph as any bike I have seen, modern and easy to ride yet looking like a Scrambler and competent. He has just completed the 600 mile crankcase and oil filter change but apparently you need the dealer to turn off the service light shown. He also added a couple of accessories to make it his own, a Front Fender Extension, Crash Bars, and a Fly Screen along with the Side Stand Pad. There is even a second Electronic Key Fob (though it will need to be programmed by the dealer to operate).

Retirement promised many miles of riding and use until medically issues arose, the bike is being sold, a product of these events along with other bikes.

The selling price is $12,495. The VIN# is SMTD51NG8KT941953 and miles are 427 from new. Please come by and see at Automania LLC, 895 SE Gladiola Drive, Grants Pass, OR 97526. http://www.automaniagp.com 541 479 8888 Oregon Dealer DA1287.

[click on a thumbnail below to view a larger photo - IF you don't see thumbnails then your browser is blocking them.
You can either turn off ad-blocking or try clicking on the top graphic in order to thumb through the photos.]