1972 Yamaha DS7 Racebike Grants Pass, Oregon 97526 For Sale
THIS ITEM HAS BEEN SOLD!
Please click "back" or on the top menu for other listings.


[click on the image below or scroll to the thumbnail images at bottom to view the gallery.]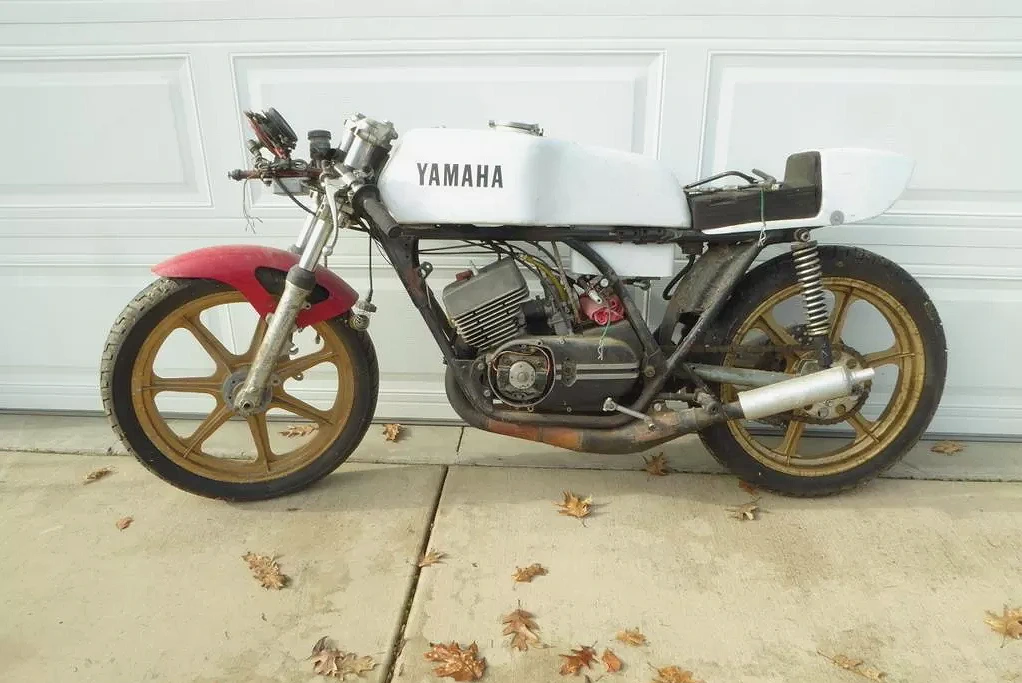 1972 Yamaha DS7 Racebike
Grants Pass, Oregon 97526
Price: $3500 USD
- PREVIOUSLY SOLD
One of the unfortunate facts of Mike Canepa passing away is that he took with him the history and specific information about the motorcycles he had been holding on to for decades. It has been a challenge to uncover some of the brands and models that Mike owned and we have done so pretty successfully with over twenty-five bikes sold.

What is being offered is a 1972 Yamaha DS7 Racebike that Mike had for decades. What is extremely rare about the bike is the engine which has a dry clutch. The frame number gives the identification, but Mike modified along the way as he race it in the ARHMA series and it is no longer in original condition. It was a racebike, a tool and what he knew would make it better is the direction he went. There are a couple of sets of Morris Mag's as seen in the images. Everything that comes with the bike is shown in the images. The engine is partially disassembled and we may have new parts for it. I am unable to identify them myself, so please look at Mike's parts page for more information on them.

The VIN number is DS79909. The selling price is $3,500. For other interesting bikes and collectable vehicles, visit our web site http://www.automaniagp.com , 541 479 8888 or come by and see us at 895 SE Gladiola Drive, Grants Pass, Oregon, 97526. Oregon Dealer DA1287

Automania LLC is a Consignment Oregon Dealer selling quality, privately owned vehicles including Aprilia, Buell, BMW, Citroen, Ducati, Harley Davidson, Honda, Hummer, Kawasaki, Moto Guzzi, MV Agusta, Nissan, Ossa, Piaggio, Suzuki, Triumph, Vespa, Classic Hot Rods, Buick, Dodge, Ford, Chevrolet, Lamborghini, MG, Packard, Porsche, Rover, Shelby, Toyota, Triumph, Volkswagen and any other vehicle of interest.

[click on a thumbnail below to view a larger photo - IF you don't see thumbnails then your browser is blocking them.
You can either turn off ad-blocking or try clicking on the top graphic in order to thumb through the photos.]