1984 Yamaha RZV500R Grants Pass, Oregon 97526 For Sale
THIS ITEM HAS BEEN SOLD!
Please click "back" or on the top menu for other listings.


[click on the image below or scroll to the thumbnail images at bottom to view the gallery.]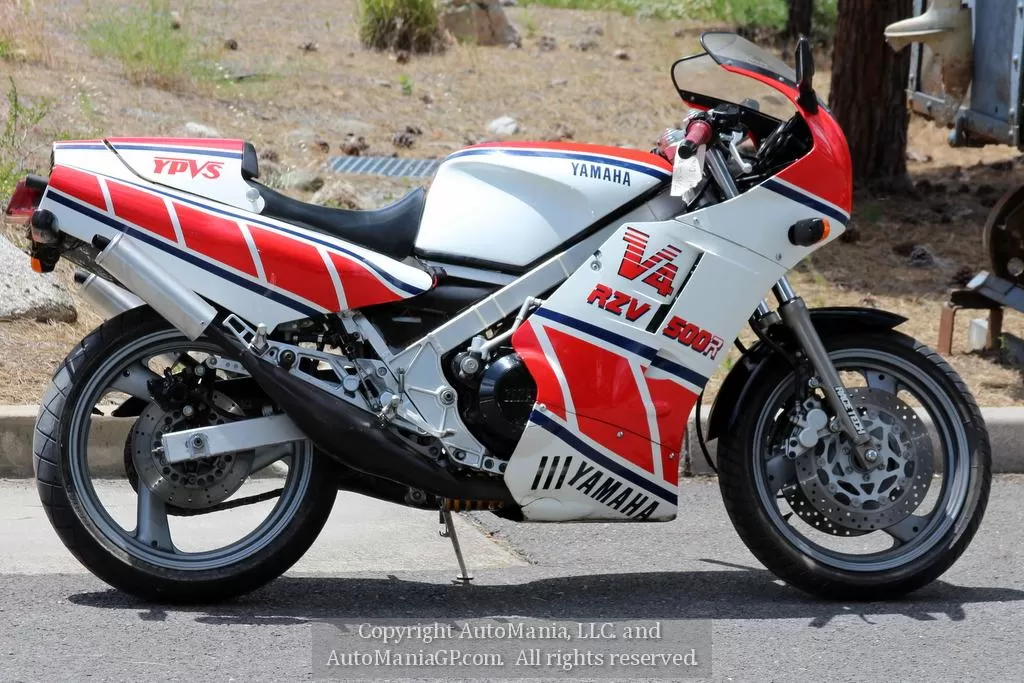 1984 Yamaha RZV500R
Grants Pass, Oregon 97526
Price: $12,000.00 USD
- PREVIOUSLY SOLD
Entering the world of RZ500's has introduced me to several collectors who have shared some of their incredible knowledge of the Yamaha model. RZ500's were built by Yamaha in model years 1984 and 1985. They were never sold new in the US and any that are currently here were brought in as Grey Market Vehicles. Yamaha Canada imported the RZ500 model which was also sold in Australia. The United Kingdom model was named the RD500 and came with a different color scheme than the RZ.

All of these models had steel frames and were delivered in what was considered unrestricted versions with higher horsepower than the domestic Japanese version of the motorcycle. The Japanese bikes with restricted horse power had smaller carburetors and exhaust systems to that end. In an attempt to balance the lost of power, the Japanese bikes were equipped with aluminum frames which were considerably lighter, but again, only for Japanese domestic consumption. That model of the RZ was called the RZV500, is model of bike being offered here. Our bike has the aluminum frame, different mirrors and decals identifying it as the RZV, the most desirable version of the bike if unrestricted. In this case that has been done with a set of Tommy Crawford Expansion Chamber Exhausts. The pipes are said to work well, are rare to find and are no longer made. A perfect storm so to speak.

This bike has been modified additionally with what we assume are a period FZR Front Forks and a set of matching wheels. There is also an Ohlin's rear Shock Absorber in the back.

The owner of the bike was a huge enthusiast of Road Race bikes and at the time was doing some club racing. Being in the Service, when it was time to be stationed at another post, the Service took care of moving his personal property including his motorcycles. As per regulations, vehicles that were transported with personal property were to have all of their fuel removed, which was done with a tag hanging from the handle bar noting this. Unfortunately, medical issues evolved that prevented the bike from being recommissioned and it been in this state for over ten years. Sadly for the owner, he never was able to ride again and his family is selling the bike as part of his estate.

Collectors with an interest in the bikes have warned us about trying to start the bike without a serious inspection and reconditioning. Crank seals, carburetors and possibly other work may be needed and we are not in a position or capable of any of it. The bike, in running order, would most likely bring over $20,000 and is now priced accordingly to accommodate the possible needed work. It has an Oregon clear and clean title of ownership.

The selling price is $12,000. The VIN# is 51X002446. Kilometers are 26,591. Please come by and see it at Automania LLC, 895 SE Gladiola Drive, Grants Pass, OR 97528. http://www.automaniagp.com 541 479 8888 Oregon Dealer DA1287.

Automania LLC is a Consignment Oregon Dealer selling quality, privately owned vehicles including Aprilia, Buell, BMW, Citroen, Ducati, Harley Davidson, Honda, Hummer, Kawasaki, Moto Guzzi, MV Agusta, Nissan, Ossa, Piaggio, Suzuki, Triumph, Vespa, Classic Hot Rods, Buick, Dodge, Ford, Chevrolet, Lamborghini, MG, Packard, Porsche, Rover, Shelby, Toyota, Triumph, Volkswagen and any other vehicle of interest.


[click on a thumbnail below to view a larger photo - IF you don't see thumbnails then your browser is blocking them.
You can either turn off ad-blocking or try clicking on the top graphic in order to thumb through the photos.]