1967 Vespa Sears - Vespa VMAT 125 For Sale
[click on the image below or scroll to the thumbnail images at bottom to view the gallery.]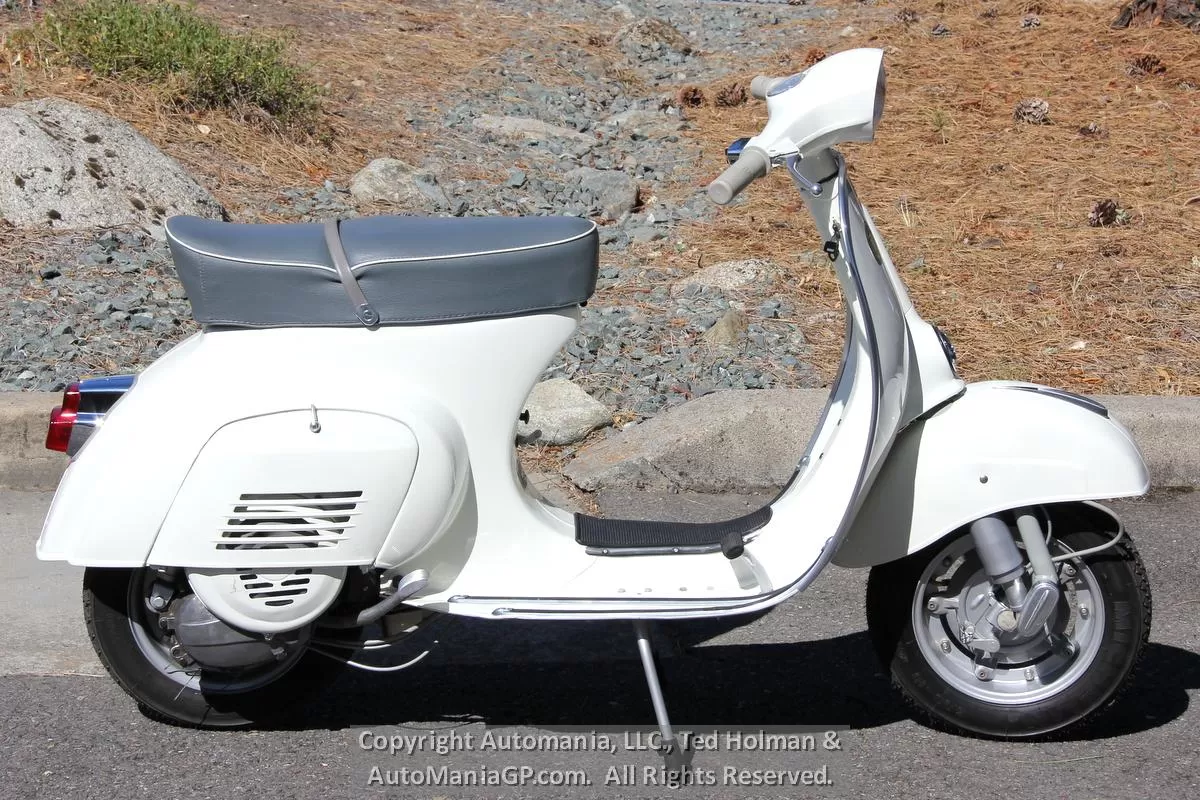 1967 Vespa Sears - Vespa VMAT 125
Price: $3,995 USD

Sears looked to offer mail order Scooters starting back in 1952 by bringing in and rebadging Vespa Scooters which was owned by Piaggio. Shortly after, in 1953, Piaggio saw the value of the US market and began directly importing the Vespa brand. A similar story followed with a bike designed by John Penton, built by KTM and imported as a Penton starting in 1968 with KTM importing their brand directly in 1978. The difference with Vespa and KTM is that Sears was allowed to continue selling their rebranded scooters alongside the Vespa brand until Sears dropped the line in 1967.

This 1967 Sears Scooter was tagged as a 788.94370 model, also known as the 125 VMAT. It was built by Vespa which was part of the Piaggio group and imported by Sears to be sold directly through their catalog sales program. This small frame Scooter was powered by a standard Vespa 125 engine and, with the exception of badging by the 1967 model year, it was the same Scooter as sold by Vespa USA.

There is a web page that gives more complete information about the Sears and Allstate scooters if you follow this link:

https://scooterlounge.com/vespa/buyers-guide/vespa-sears.shtml

Our Scooter was found as a collection of parts in Medford about three years ago by our consigner as can be seen in the images on our site. Because the Scooters were mail ordered, most of them ended up surviving in rural settings around the country where room was found for long term storage, most finding themselves disassembled with good intentions. Hundreds of projects are undertaken by somewhat naive hobbyists and never completed, either the effort or the cost brings them to a premature ending. Our tenacious consigner wrestled his bike to it's present finished and running state. Once completed, we were asked to find a owner for his long term project. The tires are new and there miles and miles of smiles ahead on this Scooter's horizon!

Along with the Scooter comes a tub or extra and original, replaced parts. There are the receipts for the work and parts purchased along with a workshop manual. There are also two small touchup bottles of matching paint.

I rode the Scooter around work and it is a hoot. The gear shift on the left hand grip along with the clutch lever are a new skill set for me. Took about 30 seconds to get comfortable with it.

2,574 miles are showing on a 56 year old bike so making an assumption about original miles is up the new owner. The selling price is $3,995. The VIN is 1GM3040M. Please come by and see at Automania LLC, 895 SE Gladiola Drive, Grants Pass, OR 97526. http://www.automaniagp.com 541 479 8888 Oregon Dealer DA1287.

Automania LLC is a Consignment Oregon Dealer selling quality, privately owned motorcycles and cars of interest.


[click on a thumbnail below to view a larger photo - IF you don't see thumbnails then your browser is blocking them.
You can either turn off ad-blocking or try clicking on the top graphic in order to thumb through the photos.]