2006 BMW K1200GT Grants Pass, Oregon 97526 For Sale
THIS ITEM HAS BEEN SOLD!
Please click "back" or on the top menu for other listings.


[click on the image below or scroll to the thumbnail images at bottom to view the gallery.]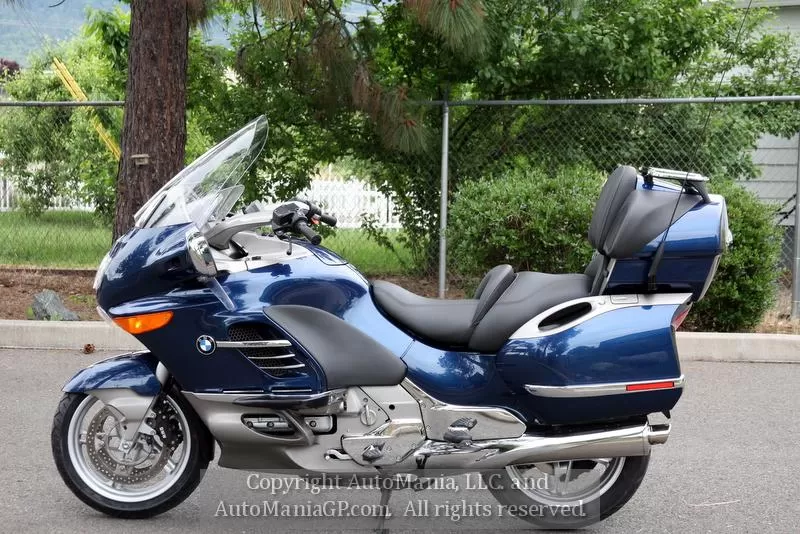 2006 BMW K1200GT
Grants Pass, Oregon 97526

This beautiful blue 2006 BMW K1200LT looks and drives as if it were new. The bike is powered by one of my favorite BMW engines, the "Flying Brick" which have a reputation for covering 100,000's miles without issue following normal service intervals. Mechanical it is a case of major overbuild. I did a little research and when new with the 417 Connivance Package, the bike's selling price was originally just under $23,000 as delivered! Ouch.

The bike has every option possible with the LT, ABS Brakes, Cruise, Heat Grips, Cruise Control, Electronically adjustable Front Windscreen, full electronics including a CD player, "REVERSE", electrically operated Center Stand, just push the button and up it goes, tons of 12 volt outlets, trunk mounted Luggage Rack and Audio Controls, Central Locking system, Heated Front and Rears Seat plus the back rest. There is also a Garmin sourced BMW Motorrad Street Pilot 2820 for those who find map folding more then just a challenge. There are probably even more options, but you really need to come by and take a look at this package. Show me what I missed!

So what does all of this mean to riding the bike? I thought for sure it would handle like a Gold Wing or ST1300. Wrong! This bike is a kick to ride. Not only does it get down the freeway in extreme comfort, but once the road gets a little narrow and the turns arrive, it is a hoot. I was shocked at how enjoyable it was, in fact I almost did not come back to the shop. The tires are brand new with the nubs still showing, the oil has just been changed, it is ready for what ever trip you have planned, preferably two up.

The selling price is $8,295. Miles are 32,931 and the VIN# is . Please come by and see at Automania, 895 SE Gladiola Drive, Grants Pass, OR 97526. http://www.automaniagp.com 541 479 8888 Oregon Dealer DA1287.

Automania is a Consignment Oregon Dealer selling quality, privately owned vehicles including Aprilia, Buell, BMW, Citroen, Ducati, Harley Davidson, Honda, Hummer, Kawasaki, Moto Guzzi, MV Agusta, Nissan, Ossa, Piaggio, Suzuki, Triumph, Vespa, Classic Hot Rods, Buick, Dodge, Ford, Chevrolet, Lamborghini, MG, Packard, Porsche, Rover, Shelby, Toyota, Triumph, Volkswagen and any other vehicle of interest.