2013 BMW R1200R Grants Pass, Oregon 97526 For Sale
THIS ITEM HAS BEEN SOLD!
Please click "back" or on the top menu for other listings.


[click on the image below or scroll to the thumbnail images at bottom to view the gallery.]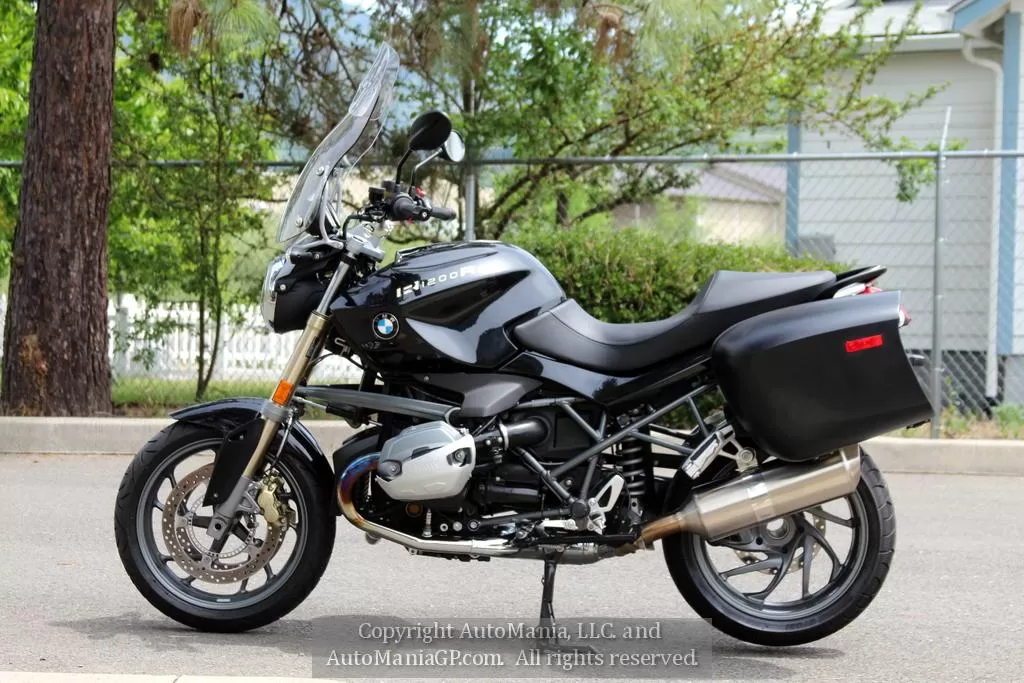 2013 BMW R1200R
Grants Pass, Oregon 97526
Price: $8,695 USD
- PREVIOUSLY SOLD
The owner of this almost new 2013 BMW R1200R has been a long time consignor of ours, in fact one of our first customers. He is someone that is always looking for that right fit which he has searched for decades through several motorcycles, boats and trailers. How do you really know if you like a vehicle until you have lived with it awhile? Motorcycle magazine articles make them look good on paper, but reality is that we are not the ones voicing written opinions and theirs is often times flavored by their own vision of what is right or not (or satisfying advertisers).

So, our customer has been through a lot of new motorcycles. Some he puts miles on, many of them less than 500 total. This 2013 BMW he liked a lot, or so he thought, and it managed to get 1,781 miles from buying it new at Hansens. The truth is that it was too large a motorcycle for his trips around town, the very factors that make it such a great open road sport touring motorcycle. He had it serviced at Hansen's , treated the fuel and kept a battery tender on it, but he has not put 100 miles on the bike in the last twelve months. In the mean time he also bought two other new bikes and finally found the one he has been after all of these years. Success, but that left two on battery tenders and here we are.

The 2013 R1200R is the closest thing to a R100/7 I have seen in years. It has the simplicity and look of the older bike but with the new drive train, modern tire sizes, heated grips and ABS Brakes. This is the standard motorcycle that does it all, all of comfort and options of the RT but without the weight and bulk of a full on touring bike. A couple of standard accessories were added to the bike, a set of ROX Bar Back adapters, BMW Cylinder Head Guards and a Laminar Windscreen along with the Keyed Hard Bags. The stock windshield also is with the bike.

The selling price is $8,695. VIN# is WB1049008DZX97492. Miles are 1,781. For other interesting bikes and collectible vehicles, visit our web site http://www.automaniagp.com 541-479- 8888 or come by and see us at 895 SE Gladiola Drive, Grants Pass, Oregon, 97526. Oregon Dealer DA1287.

Automania is a Consignment Oregon Dealer selling quality, privately owned vehicles including Aprilia, Buell, BMW, Citroen, Ducati, Harley Davidson, Honda, Hummer, Kawasaki, Moto Guzzi, MV Agusta, Nissan, Ossa, Piaggio, Suzuki, Triumph, Vespa, Classic Hot Rods, Buick, Dodge, Ford, Chevrolet, Lamborghini, MG, Packard, Porsche, Rover, Shelby, Toyota, Triumph, Volkswagen and any other vehicle of interest.

[click on a thumbnail below to view a larger photo - IF you don't see thumbnails then your browser is blocking them.
You can either turn off ad-blocking or try clicking on the top graphic in order to thumb through the photos.]