2015 BMW C650 Sport Grants Pass, Oregon 97526 For Sale
THIS ITEM HAS BEEN SOLD!
Please click "back" or on the top menu for other listings.


[click on the image below or scroll to the thumbnail images at bottom to view the gallery.]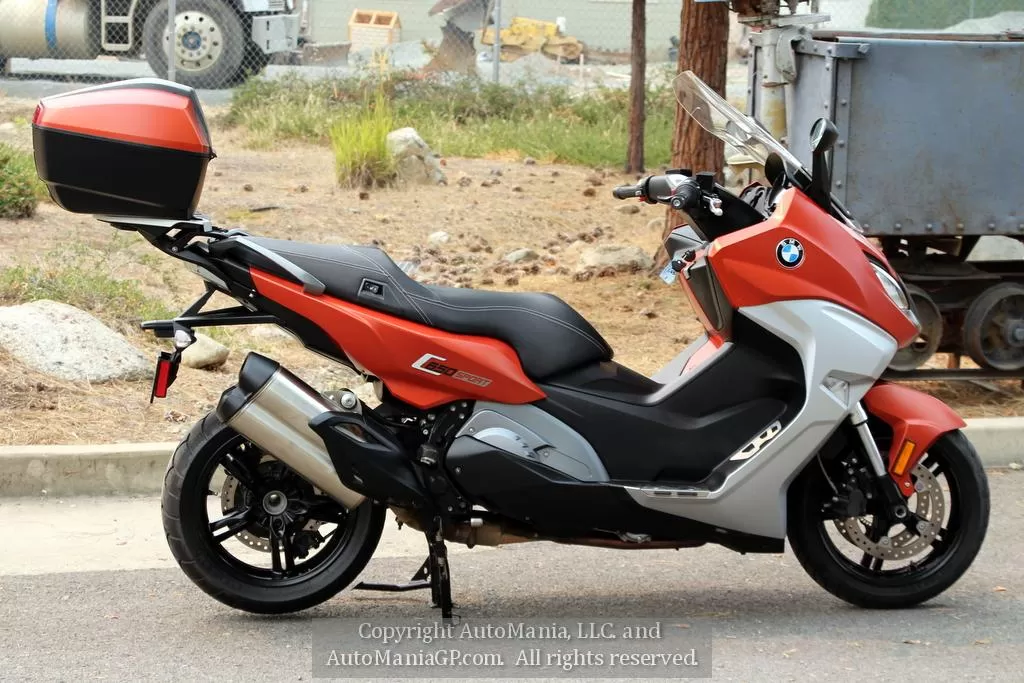 2015 BMW C650 Sport
Grants Pass, Oregon 97526
Price: $6,995 USD
- PREVIOUSLY SOLD
The BMW C650 was dropped into the scooter market to be the "BMW" of the "Urban Mobility Vehicles" that have seen steady growth here in the states the past 10 years. It is intended to give all of the flexibility and versatility scooters provide with a driver quality BMW has mastered with it's road bikes. For it's first foray into the market place, BMW hit the nail right on the head. Everyone who has ridden the bike has come away astounded at its build quality, its storage and finally the handling and power provided by the 650cc Twin. It is designed to be used as a tool, for running around town, being parked anywhere and when the time comes, being able to hit the Freeway and keep up with traffic with a top speed over 100 MPH!

This Sport was sold new by Hansen's BMW. It has the premium package including ABS, Heated Seat and Hand Grips. The owner also purchased the BMW Top Box. Between the under seat storage and the Trunk, you could probably pack enough for an extended road trip or a restrained visit to COSTCO. Two weeks after taking delivery of the Scooter, the owner had back surgery due to an injury. After a lengthy recovery, he was advised to give up riding and another passion, sailing. In the short time he had the scooter, the owner could not be peeled away from it. He loved riding the bike so much, he added 9,823 miles to the odometer of trouble free miles until recent medical issues interfered. The bike has no signs of use and is damage free, ready to go at a discounted price from new.

The selling price is $6,995. Beats paying over $11,000 out the door for a new bike that is exactly alike. VIN# WB10C1406GZ314505. For other interesting bikes and collectable vehicles, visit our web site http://www.automaniagp.com 541 479 8888 or come by and see us at 895 SE Gladiola Drive, Grants Pass, Oregon, 97526. Oregon Dealer DA1287.

Automania LLC is a Consignment Oregon Dealer selling quality, privately owned vehicles including Aprilia, Buell, BMW, Citroen, Ducati, Harley Davidson, Honda, Hummer, Kawasaki, Moto Guzzi, MV Agusta, Nissan, Ossa, Piaggio, Suzuki, Triumph, Vespa, Classic Hot Rods, Buick, Dodge, Ford, Chevrolet, Lamborghini, MG, Packard, Porsche, Rover, Shelby, Toyota, Triumph, Volkswagen and any other vehicle of interest.

[click on a thumbnail below to view a larger photo - IF you don't see thumbnails then your browser is blocking them.
You can either turn off ad-blocking or try clicking on the top graphic in order to thumb through the photos.]