2016 BMW R1200R For Sale
THIS ITEM HAS BEEN SOLD!
Please click "back" or on the top menu for other listings.


[click on the image below or scroll to the thumbnail images at bottom to view the gallery.]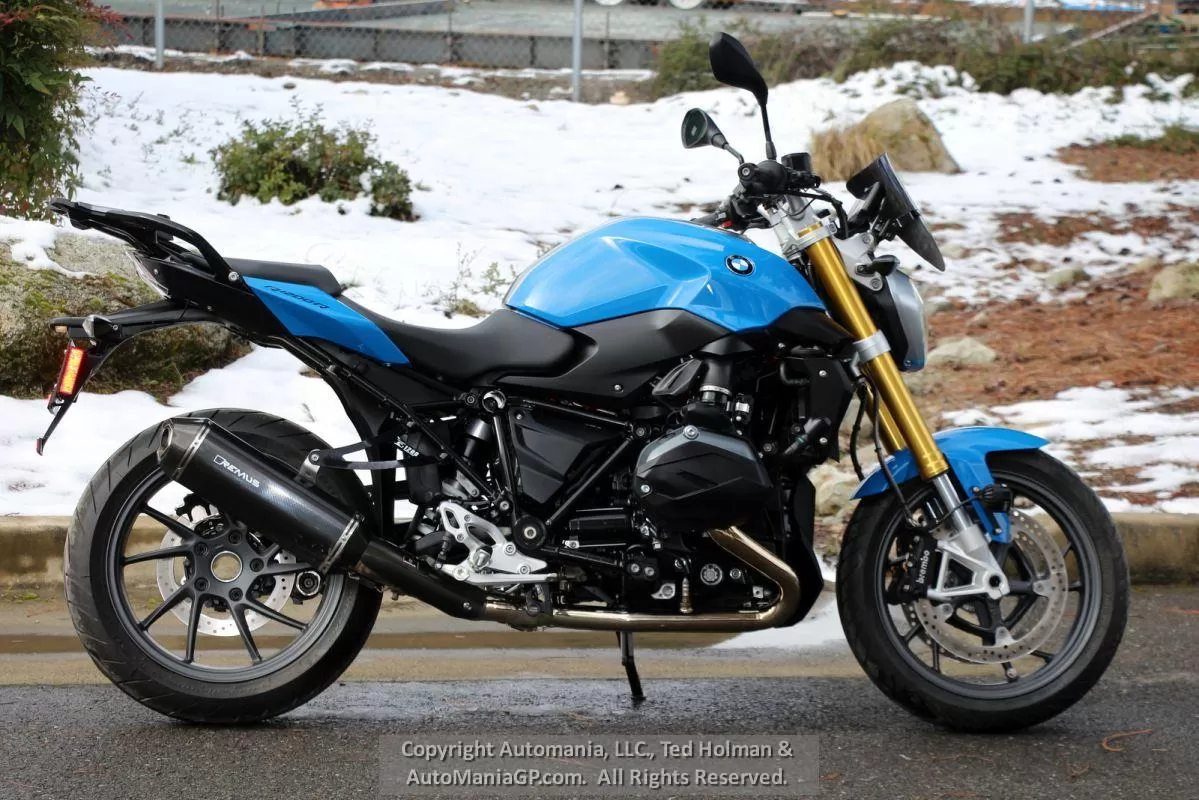 2016 BMW R1200R
Price: $11,295 USD
- PREVIOUSLY SOLD


Sold to a flower child of the 70's, a fellow comfortable in his own leathers….

In 2015 BMW came full circle and reintroduced the R1200R with standard forks and the H2O engine, weighing 100 pounds less than the comparable RT model with similar features. All the Hoot and no Boot.

This 2016 R was the second year Roadster to be powered by the Water Cooled, Wet Clutch version of BMW's long running twin layout. The offered a whole range of electronic features that were new to the model and had previously only been available on their full touring models. The owner of this 2016 R1200R got to nodding his head while checking off the accessories at Hansen's BMW and bought the GPS, Fly Screen, Full System Remus Exhaust System, Clearwater Darla Driving Lights and AEGIS Mechanical Failure Contract (good through 08/16/2023). This Contract even covers flat repair! And standard, it comes with ABS Braking, Traction Control, Heated Grips, Keyless Ignition and Cruise Control and the best feature BMW has offered as far as I am concerned, ESA!

ESA, Electronic Suspension Adjustment. While at a stand still, you can electronically control the suspension pre-load for single riders, riders with bags and 2 up riding. On the fly, you can adjust the Dampening for Comfort, Normal and Sport just by hitting the button. It is outstanding. What a fabulous bike wearing the Boxer Lay-out Engine.

Our bike has only 1,143 miles showing from new. The buyer possibly had not looked at the weather reports for his neighborhood at 3200 feet and it snows, a lot apparently. In fact too much and he is moving on to a dirt bike (it will still be snowing…). So rather than having a part time bike, he is going to a full time Dual Sport

The selling price is $11,295. The VIN# is WB10A1400GZ197770 and miles are 1,143. Please come by and see it at Automania LLC, 895 SE Gladiola Drive, Grants Pass, OR 97528. http://www.automaniagp.com 541 479 8888 Oregon Dealer DA1287.

Automania LLC is a Consignment Oregon Dealer selling quality, privately owned vehicles including Aprilia, Buell, BMW, Citroen, Ducati, Harley Davidson, Honda, Hummer, Kawasaki, Moto Guzzi, MV Agusta, Nissan, Ossa, Piaggio, Suzuki, Triumph, Vespa, Classic Hot Rods, Buick, Dodge, Ford, Chevrolet, Lamborghini, MG, Packard, Porsche, Rover, Shelby, Toyota, Triumph, Volkswagen and any other vehicle of interest.



[click on a thumbnail below to view a larger photo - IF you don't see thumbnails then your browser is blocking them.
You can either turn off ad-blocking or try clicking on the top graphic in order to thumb through the photos.]