2012 BMW K1600 GTL For Sale
THIS ITEM HAS BEEN SOLD!
Please click "back" or on the top menu for other listings.


[click on the image below or scroll to the thumbnail images at bottom to view the gallery.]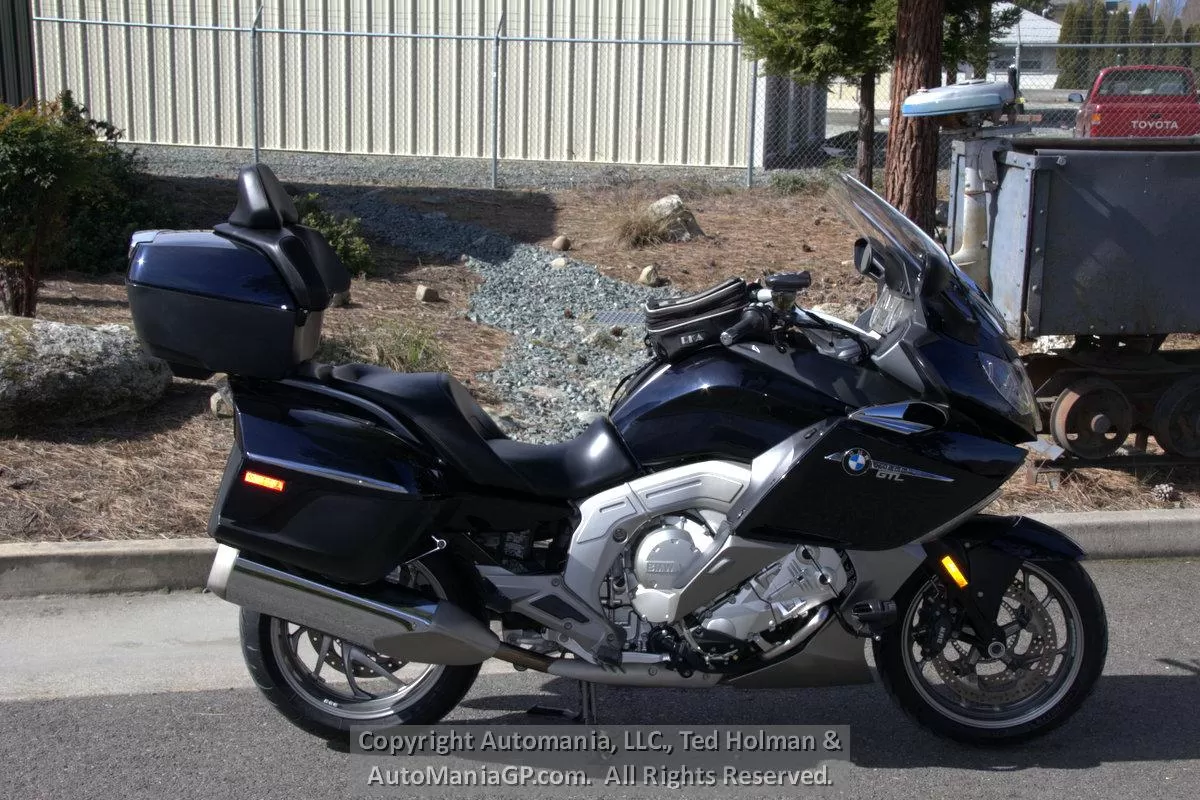 2012 BMW K1600 GTL
Price: $9,295 USD
- PREVIOUSLY SOLD


Images coming soon...

The first time I saw the K1600GTL it made no sense that any motor could make it handle and perform well. Over the years I have watched at least 50 of them at the track and on the street doing really, no sport bike but fast and smooth. To be honest, until I rode one they just appeared to be somewhat like a Goldwing.

A customer called and asked about helping with his 1600 GTL Exclusive which he that that had bought brand new at Hansen's BMW and had ridden 37,274 miles. Looking at the bike, I saw those 6 exhaust outlets and it got me to remembering my '83 Honda CBX I bought new here in Grants Pass (which now resides in upstate New York).

After about twenty minutes of fiddling with the electronic control wheel on the left bar got me Suspension Adjustment, Heated Grips, Stereo and Navigation. It was incredible the amount of information and adjustments that can be made sitting in the saddle. But this is coming from a guy (me) that could never master setting the clock on a VCR. On top of all of that was the Radar Detector mounted on the handle bar.

I rode up Highland along side I-5 south. That noise, the pull, it was going back 30 years. A 6 cylinder!!! They sound so GOOD! Oh, and it pulled so seamlessly, it was hard to imagine it was a touring bike. I set the suspension to Normal and briskly rode to Rogue River. Brakes were good and the SOUND! Getting in to Rogue River meant turning around or hitting the Freeway.

With no cars in front I blended up the on ramp at cruising speed long before I merged into the lane. The sound of the engine going through the gears is worth the price of admission. I quickly adjusted to the pace traffic and settled down into a smooth, comfortable ride, radio going, windshield up a bit to deflect the wind and started heading towards Nelson, British Columbia. Exit 55 turned up quickly and reality to boot. Back to the shop.

So about this particular bike. It has 37,274 miles showing. There are Driving Lights, Tank Bag, Bag Liners and all of the factory accessories that come with the GTL, ESA, Cruise, Heated Seats, and an Electronic Smorgasbord of devices that I am sure Craig at Hansen's would be glad to explain. I am the guy that, again, never learned to program his VCR, so he is the guy!. The bike just had an oil change and new rear tire installed at Hansen's. They have all of their service records since the bike was sold new. Cosmetically, it is beautiful. The front tire has about 1,500 miles on it. The bike is ready. I was wish I was…..

Miles are 37,274 and the VIN# is WB1061209CZZ20840. Our selling price is $9,295. For other interesting bikes and collectable vehicles, visit our web site http://www.automaniagp.com 541 479 8888 or come by and see us at 895 SE Gladiola Drive, Grants Pass, Oregon, 97526. Oregon Dealer DA1287.

Automania LLC is a Consignment Oregon Dealer selling quality, privately owned vehicles including Aprilia, Buell, BMW, Citroen, Ducati, Harley Davidson, Honda, Hummer, Kawasaki, Moto Guzzi, MV Agusta, Nissan, Ossa, Piaggio, Suzuki, Triumph, Vespa, Classic Hot Rods, Buick, Dodge, Ford, Chevrolet, Lamborghini, MG, Packard, Porsche, Rover, Shelby, Toyota, Triumph, Volkswagen and any other vehicle of interest

[click on a thumbnail below to view a larger photo - IF you don't see thumbnails then your browser is blocking them.
You can either turn off ad-blocking or try clicking on the top graphic in order to thumb through the photos.]