2018 BMW R1200RS For Sale
THIS ITEM HAS BEEN SOLD!
Please click "back" or on the top menu for other listings.


[click on the image below or scroll to the thumbnail images at bottom to view the gallery.]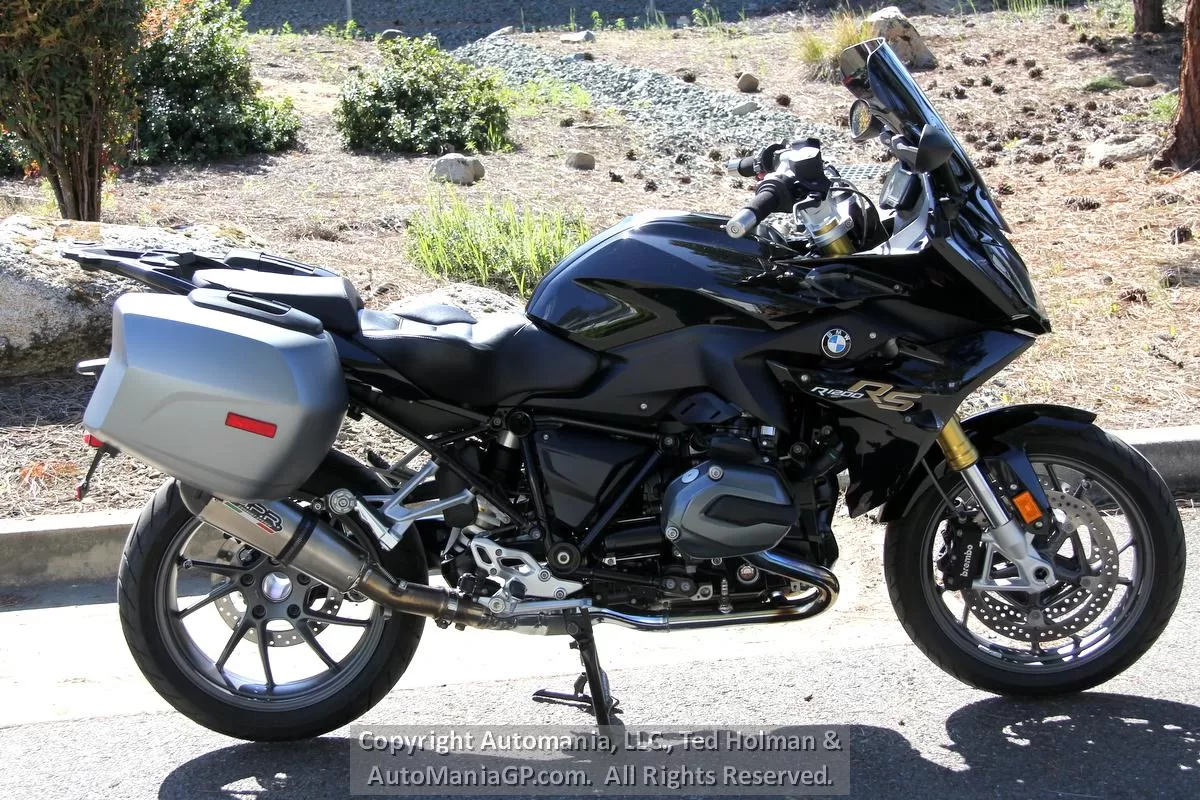 2018 BMW R1200RS
Price: $12,995 USD
- PREVIOUSLY SOLD
How could anyone not love the 2016-2018 BMW R1200 RS with the Factory optional Touring Package? All of what makes BMW Twin Engines great, their Electronic Suites and with Telescopic Front Forks in place of BMW's normal Telelever setup. Before you bring out the stakes and light the Bonfire, Telelever front ends are great for what they are intended. They are predictable and safe but by their design loose front feel sensitivity that Telescopic Forks can provide. None of this comes to play until you are riding at an assertive pace, not a huge percentage of your riding time, but a time when the difference can be dramatic.

Not only does it have the 125hp of the H2O Engine, it comes with Cruise Control, ABS Brakes, Stability Control, 3 different Rider Modes, and Heated Grip along with our customer added accessory custom Seat, Windscreen, Heli Bar Backs and GPR Exhaust Pipe. Some have referred the R1200 RS as having a split personality, a sort of Jekyll and Hyde character actual adults will enjoy riding.

And so to our bike at hand. With the above mentioned Telescopic Forks and BMW's ESA (Adjustable Suspension Control that is included with the Touring Package), the bike is probably one of BMW's best handling factory built Twins ever. With the additional Factory Bags attached, what a great way to cross the country if you were setting your GPS to exclude Freeways. With 3,624 miles from new showing, the bike is barely broken in.

The selling price is $12,995. VIN# WB10A1505JZ379440, miles are 3,624. For other interesting bikes and collectible vehicles, visit our web site http://www.automaniagp.com 541 479 8888 or come by and see us at 895 SE Gladiola Drive, Grants Pass, Oregon, 97526. Oregon Dealer DA1287.

Automania LLC is a Consignment Oregon Dealer selling quality, privately owned vehicles including Aprilia, Buell, BMW, Citroen, Ducati, Harley Davidson, Honda, Hummer, Kawasaki, Moto Guzzi, MV Agusta, Nissan, Ossa, Piaggio, Suzuki, Triumph, Vespa, Classic Hot Rods, Buick, Dodge, Ford, Chevrolet, Lamborghini, MG, Packard, Porsche, Rover, Shelby, Toyota, Triumph, Volkswagen and any other vehicle of interest.

[click on a thumbnail below to view a larger photo - IF you don't see thumbnails then your browser is blocking them.
You can either turn off ad-blocking or try clicking on the top graphic in order to thumb through the photos.]