2017 BMW F800GS For Sale
THIS ITEM HAS BEEN SOLD!
Please click "back" or on the top menu for other listings.


[click on the image below or scroll to the thumbnail images at bottom to view the gallery.]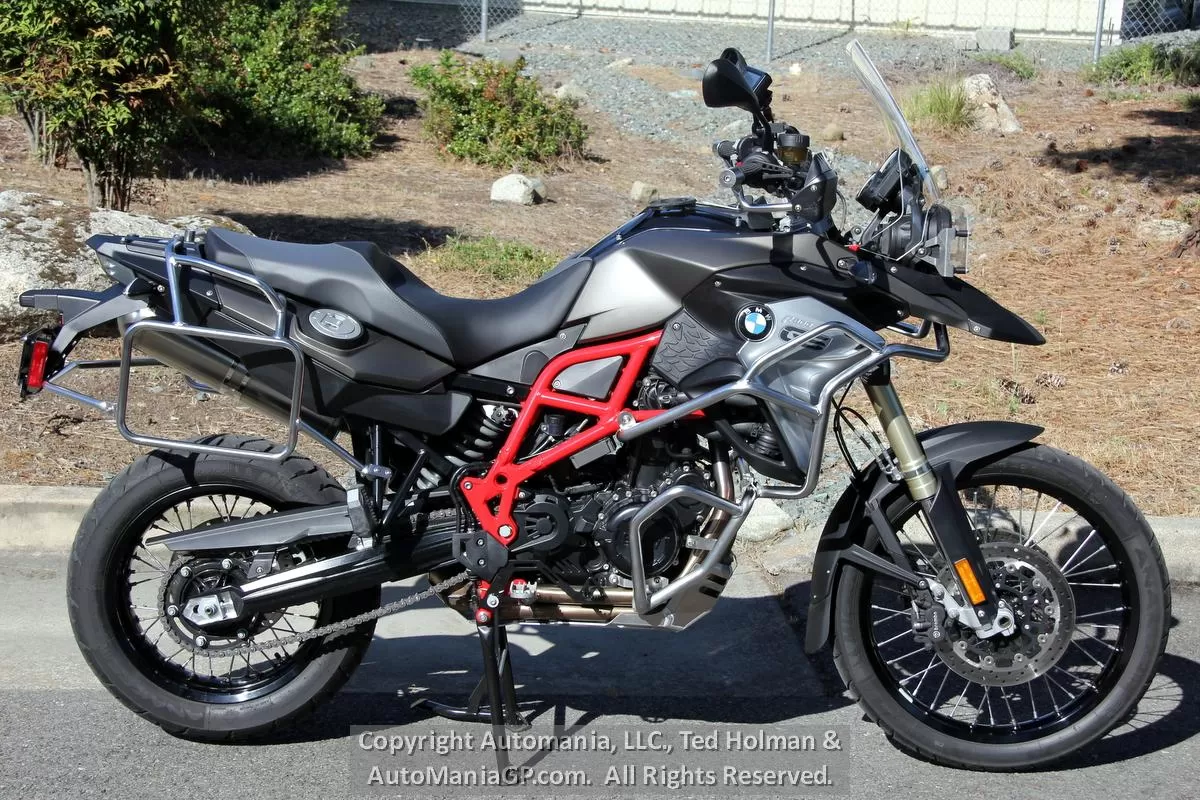 2017 BMW F800GS
Price: $10,400 USD
- PREVIOUSLY SOLD
This 2017 BMW F800GS has to be the best bike BMW is putting out at the moment for the serious nuts and bolts rider. It is the modern version of the earlier air cooled twins, bullet proof, simple and light. It has all of the modern features we have come to expect such as FI, ABS and heated grips plus real suspension without the bulk of some "Dual Purpose" Teutonic wonders on the market today. Every time I get a chance to ride one of these, Gonzaga Bay in Mexico comes to mind and about how great it is there in January.

First things first. The miles are 724 from new. Not a typo. It was discovered after being purchased from Hansen's BMW in Medford that in fact, the chassis is too short for two Adults, the rider and a passenger. I am not saying that two 135 pound people could not be happy two up, but the reality is that I do not hang out with people that small anymore. Time has caused a bit of bulking up and spreading out that makes the bike outstanding for one up riding, but too damn small for two of me (my passenger). The owner and his riding partner quickly realized this and now have on order a brand new R1200GS.

So the bike is for sale. It has everything a F800GS should have, ESA, Heated Grips, ABS Brakes and a multi riding Mode Control that adjusts throttle response for Rain, Road, Enduro and Enduro Pro. Accessories that were added at time of sale were the BMW Navigator V GPS, Expandable Tail Trunk and Head Light Shield. Out the door, the cost was $16,850.

Miles are 1075 and the VIN# is WB10B1703H596733. The selling price is $10,400. For other interesting bikes and collectable vehicles, visit our web site http://www.automaniagp.com 541 479 8888 or come by and see us at 895 SE Gladiola Drive, Grants Pass, Oregon, 97526. Oregon Dealer DA1287.

[click on a thumbnail below to view a larger photo - IF you don't see thumbnails then your browser is blocking them.
You can either turn off ad-blocking or try clicking on the top graphic in order to thumb through the photos.]