2004 Moto Guzzi V11 Sport Champion Escort Sidecar Grants Pass, Oregon 97526 For Sale
THIS ITEM HAS BEEN SOLD!
Please click "back" or on the top menu for other listings.


[click on the image below or scroll to the thumbnail images at bottom to view the gallery.]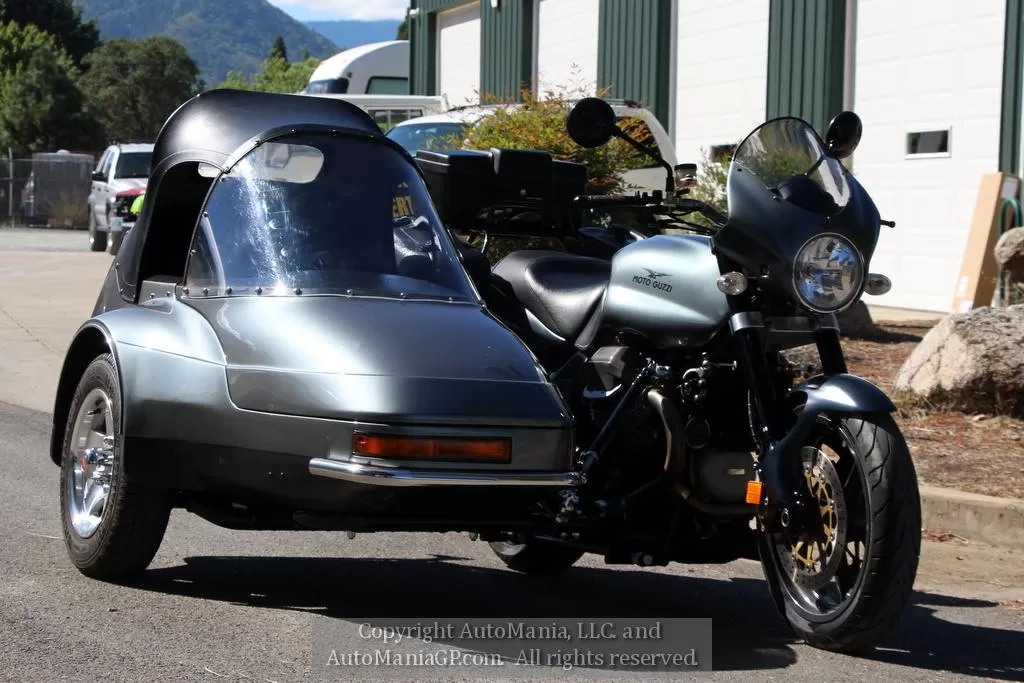 2004 Moto Guzzi V11 Sport Champion Escort Sidecar
Grants Pass, Oregon 97526
Price: $9,995 USD
- PREVIOUSLY SOLD
We recently consigned several cars and motorcycles from an estate which included this 2004 Motor Guzzi V11 Sport attached to Champion Escort Sidecar. In fact, this very bike is part of there on line web page, follow this link:

http://www.championtrikes.net/sidecars.html.

Without the owner available to explain the bike or what he had done to it, we went directly to the Champion Side Car site looking for information and the cost to build the rig. We surmise the parts and listed them below. This does not include the labor to install the rig or the cost of the original motorcycle.

Mounting Kit $920
Side Car $8330
Triple Tree $995
Paint to Match $775
Tracking Increment Leanout Technology $775
Integrated Disc Brake System $620
====
Total Parts, without Labor $12,415

The Moto Guzzi

The bike had sat for about a year, was dusty and the battery had needed to be replaced. We added Sea Foam to the tank after installing a new battery and after a couple of tries, it fired up and settled into a "Guzzi" idle, rocking a bit (not too much attached to the Champion). Checking the air pressure I took the bike for a ride on Foothill towards Rogue River. Sidecars are a learned technique, that is a fact. Gas it and it turns right, brakes on, it turns left. Nothing violent, but a familiar trait to experienced riders of "Hacks". The trip back on the Freeway was equally enlightening, once I relaxed a bit, running with traffic was almost comfortable for me. Give it a 1,000 miles and it would become second nature.

Cosmetically the rig is extremely nice, the tires appear to be at least 80%. There is one thing for sure, you will not see the same bike anywhere you travel or visit when you are out and about. It is one of the most unique motorcycles we have had in the shop, one that would probably cost over $25,000 to recreate.

The selling price is $9,995. The VIN# is ZGUKTCO264M11229 and miles are 12,343. Please come by and see it at Automania LLC, 895 SE Gladiola Drive, Grants Pass, OR 97528. http://www.automaniagp.com 541 479 8888 Oregon Dealer DA1287.

Automania LLC is a Consignment Oregon Dealer selling quality, privately owned vehicles including Aprilia, Buell, BMW, Citroen, Ducati, Harley Davidson, Honda, Hummer, Kawasaki, Moto Guzzi, MV Agusta, Nissan, Ossa, Piaggio, Suzuki, Triumph, Vespa, Classic Hot Rods, Buick, Dodge, Ford, Chevrolet, Lamborghini, MG, Packard, Porsche, Rover, Shelby, Toyota, Triumph, Volkswagen and any other vehicle of interest.

[click on a thumbnail below to view a larger photo - IF you don't see thumbnails then your browser is blocking them.
You can either turn off ad-blocking or try clicking on the top graphic in order to thumb through the photos.]