Bultaco Frontera For Sale
THIS ITEM HAS BEEN SOLD!
Please click "back" or on the top menu for other listings.


[click on the image below or scroll to the thumbnail images at bottom to view the gallery.]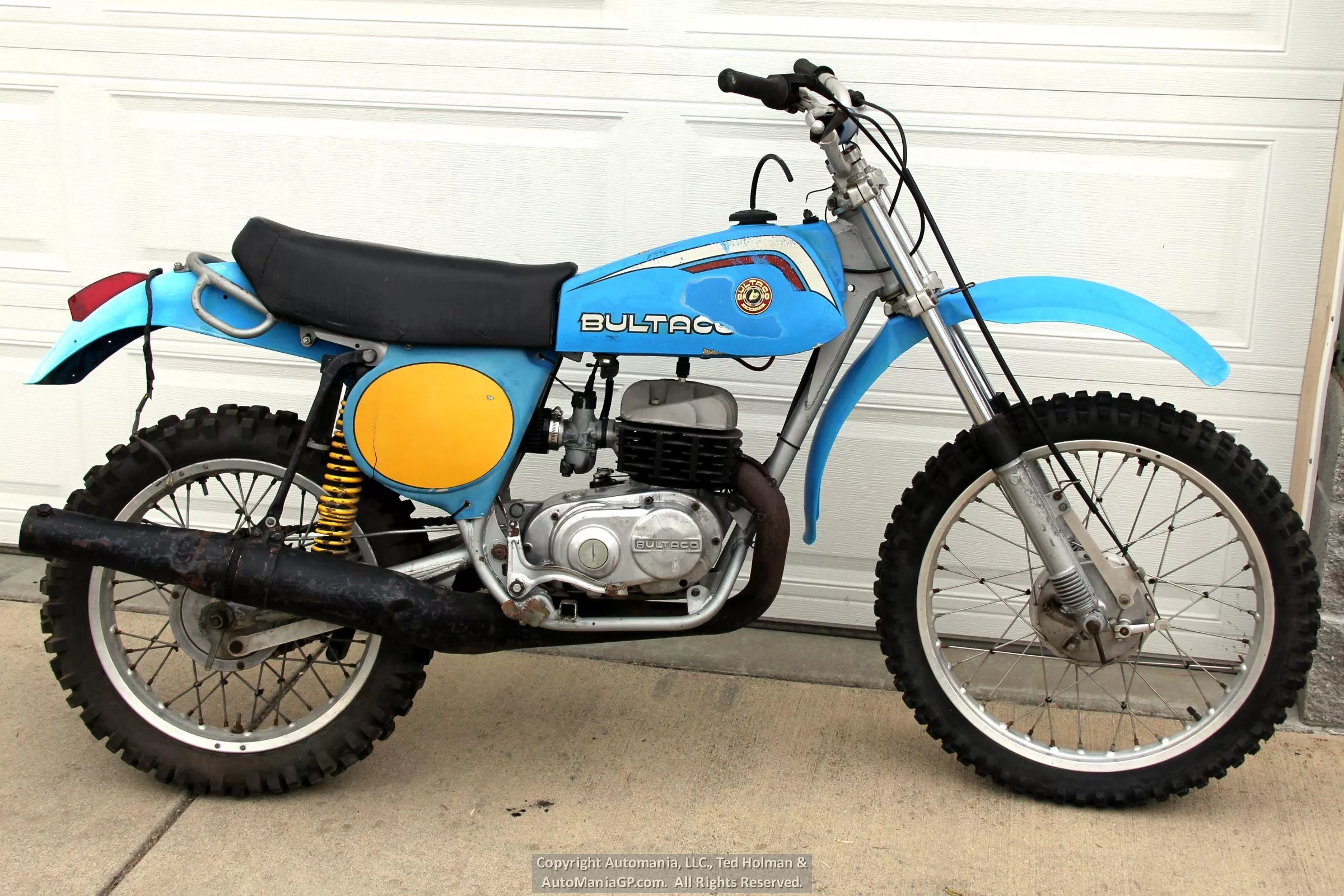 Bultaco Frontera
Price: $1200 USD
- PREVIOUSLY SOLD
Ten years ago I purchased a huge collection of disassembled Bultacos here in the Rogue Valley. Enough to fill a 24 foot enclosed trailer 3 times. I had help loading and unloading the haul from my good buddy Dave and in return, gave him one of the few assembled bikes.

The Huge collection was sold to a dealer in Montana, which is another half-hatched plan of delivering the first half to a compound down 4 miles of dirt road on the out skirts of Helena.

Dave came by with the bike this week, which he had planned on restoring, and waved his hands in the air, telling me to sell the bike. It had never left his shop and he finally needed the room.

That is everything I know for a fact. What model the bike is and what year is going to be a guess. The chassis visually appears to be a Frontera but the motor, according to the internet, came out of a Pursang MKV111 360 with a corresponding gas tank. If you are looking at this bike seriously, you should know everything about it rather than my guessing the Year and Model. I have no information concerning the mechanical or cosmetic condition other than the images we took. The tires are rotted.

We never received a title for the bike from the seller ten years ago. It will be sold with a bill of sale reflecting the VIN showing on the frame and engine case.

The selling price is $1200. The VIN stamped on the Steering Head is PB18000622. The engine case # is JM13600806. Please come by and see at Automania LLC, 895 SE Gladiola Drive, Grants Pass, OR 97526. AutomaniaGP.com. 541-479-8888. Oregon Dealer DA1287.

Automania LLC is a Consignment Oregon Dealer selling quality, privately owned motorcycles and cars of interest.

[click on a thumbnail below to view a larger photo - IF you don't see thumbnails then your browser is blocking them.
You can either turn off ad-blocking or try clicking on the top graphic in order to thumb through the photos.]