1936 Ford 3 Window Coupe For Sale
THIS ITEM HAS BEEN SOLD!
Please click "back" or on the top menu for other listings.


[click on the image below or scroll to the thumbnail images at bottom to view the gallery.]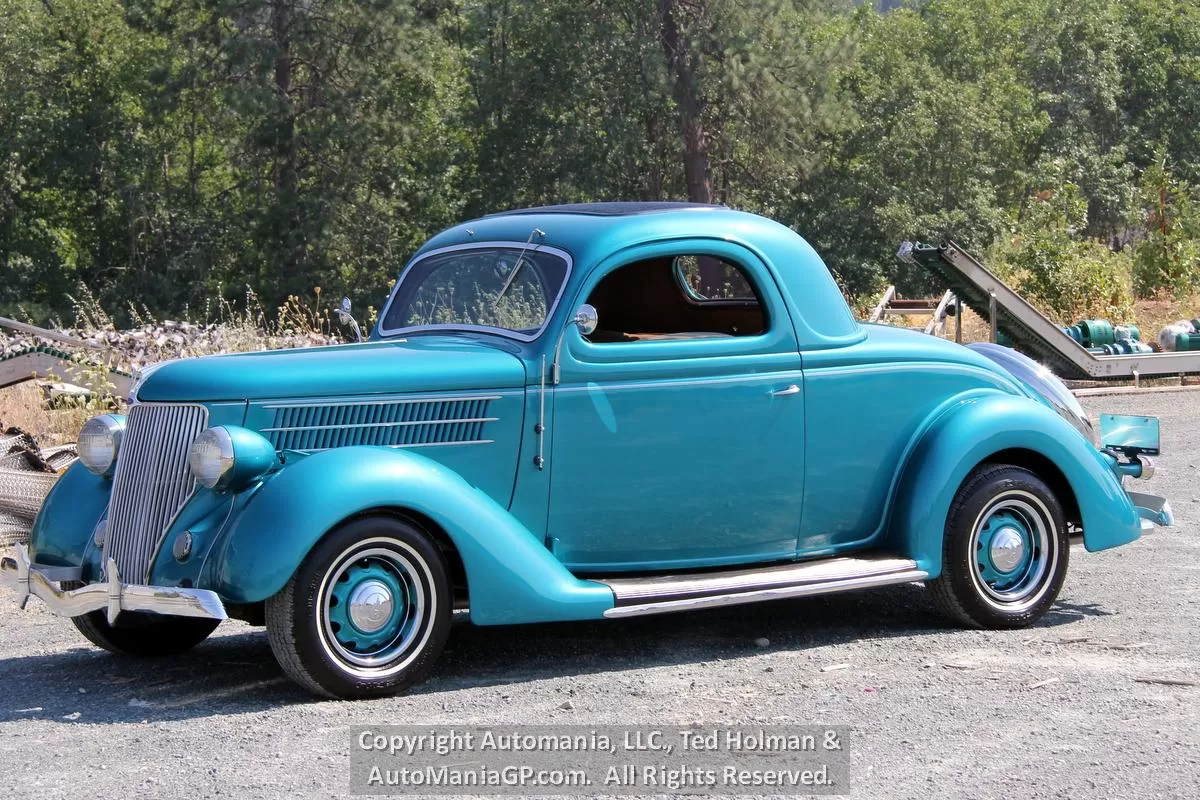 1936 Ford 3 Window Coupe

This has to be one of the prettiest Fords of all time, besides being a rare 1936 3 Window Coupe (we use to call them Business Coupes when gas was 32 cents a gallon). The unknown restorer was obviously in love with the car but not as excited about the stock '36 Drive-Train. He set about cosmetically restoring the car to a stock condition, leaving the front windshield cowl in place, not smoothing the drip rails over the doors.

The frame appears to be stock. In fact looking at the underside, there are still wooden support stringers under the front seat area. A Ford Mustang Front Suspension set was expertly incorporated to the front frame rails which included Disk Brakes along with the front cross member. The Ford 9" rear axle was again expertly incorporated into the 1936 stock Ford Trailing Arm as you can see in the images. The welds are professional and clean. What is most surprising is the total lack of rust showing. The car was obviously sound before the work was undertaken.

The engine is a Carbureted GM V6 back by an Automatic Transmission. Without question, it possibly twice the Horse Power of the stock Flat Head V-8 it replaced. After driving the car locally, it was amazing how normal it felt to drive. It went well and stopped without fuss. Having had several Flat Head cars over the years, the difference in drivability is night and day. Sort of balances the swap if you are looking for a car you can drive just about anywhere and make it home.

The interior is almost completely stock including the roll up rear window. There is a stock radio and overhead speaker still in place and the leather and cloth interior is extremely well done even with a bit of time on it. Besides the stock gauges in the dash, there are a full set of modern gauges to monitor fuel, charging and oil pressure.

As I mentioned above, this is a great driver, a car you can go on a run and return home without being covered in grease with busted knuckles.

It is a "Mike" car if I ever drove one.

3,763 miles are showing, assumed from when the build might have been finished. The selling price is $39,995. The VIN is 48183295868. Please come by and see at Automania LLC, 895 SE Gladiola Drive, Grants Pass, OR 97526. http://www.automaniagp.com 541 479 8888 Oregon Dealer DA1286.

Automania LLC is a Consignment Oregon Dealer selling quality, privately owned motorcycles and cars of interest.



[click on a thumbnail below to view a larger photo - IF you don't see thumbnails then your browser is blocking them.
You can either turn off ad-blocking or try clicking on the top graphic in order to thumb through the photos.]