1932 Ford '32 Roadster For Sale
THIS ITEM HAS BEEN SOLD!
Please click "back" or on the top menu for other listings.


[click on the image below or scroll to the thumbnail images at bottom to view the gallery.]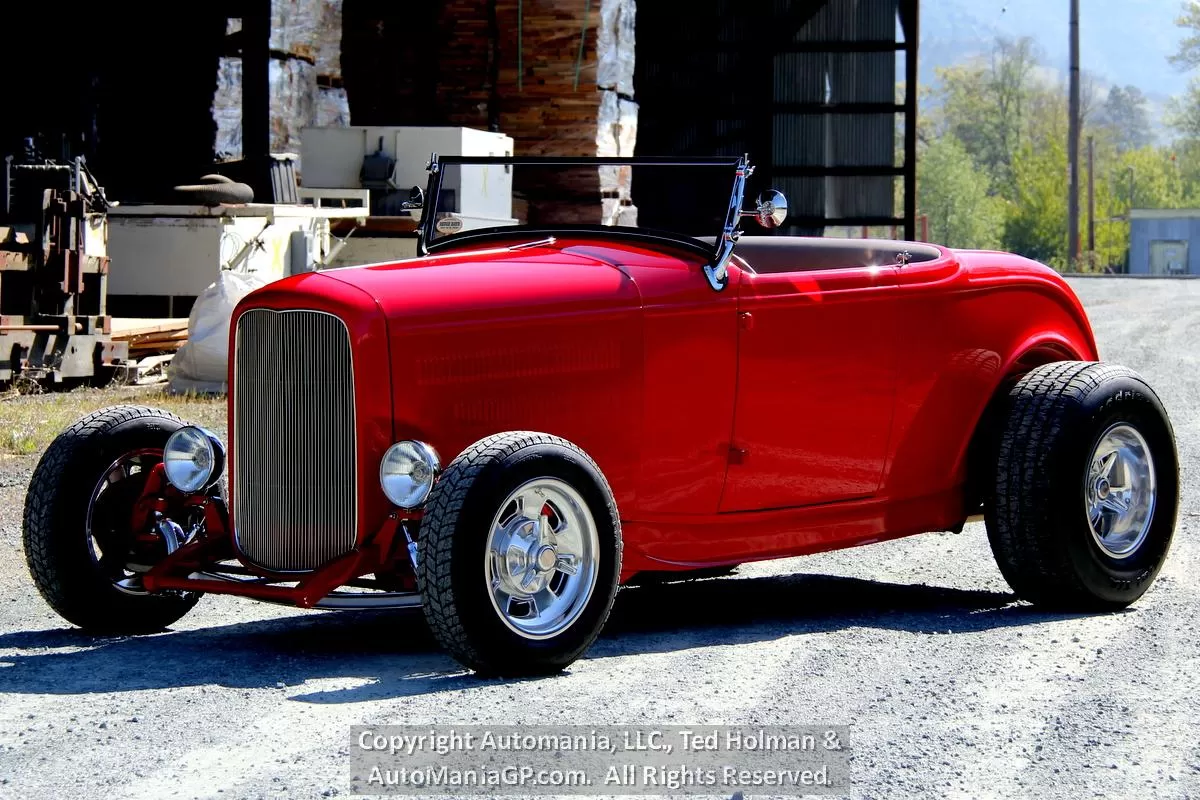 1932 Ford '32 Roadster
Price: $39,995 USD
- PREVIOUSLY SOLD
This has to be one of the nicest '32 Roadster's I have seen in recent years and a visual treat to have here at the shop. After a billizon years of presenting Street and Hot Rods here at the shop I have seen a litmus test of what customers are attracted to sitting on the shop floor. If it is the first thing they walk towards and stare it, regardless of why they came by the shop, it is going to be a success story getting it sold.

Enter this 1932 Ford Roadster with it's Wescott Body on a Barry Lobek V-8 Chassis. It is almost linear the way customers have walked through the door and right to the car, the Acura Red Paint is almost flawless despite the car being built over eighteen years ago, collecting more than 13,000 miles on Rod outings as far north as Vancouver and Victoria BC. It is has been a family heirloom that only now is being sold as down sizing is taking over.

The lineage to the Lobeck look is in the design and style that Barry made famous over the years. It is often referred to as the "Ohio" look and made popular over the years of Barry manufacturing and producing his Chassis's. The following segment was written recently about the builder after his early passing in 2011 by Hot Rod Magazine:

"What exactly is this "Lobeck look"? Most people talk about the right rake, but it also means the right chop, traditional wheels and tires, and those cool V'd spreader bars. Traditional, simple, tasteful, elegant, timeless,-those words only begin to define it. Luckily, they don't have to; the cars define themselves"

With information supplied by a detailed build book and diary, there is everything you could possibly want to know about the car and it's construction. As mentioned previously, it is a Wescott Fiberglass Body. The Front End is a Magnum Chrome 4" Drop I-Beam Front Axle and Disk Brakes, Flaming River Steering Box and Column, Deuce Factory 4-Bar supported by original Halibrand wheels. The Rear Axle is a polished Winters Championship Quick Change supported by Aldan Coil Over's (with 250# springs) located by Jake and Pete's rear Suspension, again with beautiful, original Halibrand rims. The interior was completed by M & M Custom Upholstery, one of the more respected Upholstery Shops found on the East Coast.

The engine is a Small Block 350 Chevy, bored 0.60 over, running Flat Top Pistons for a 9.0-1 compression. Less than 100 miles ago, a Edelbrock Upper Top End Kit that included new Aluminum Cylinder Heads, Intake Manifold, Camshaft and Push Rods. The owner opted for Roller Rocker Arms, topped the manifold with a Holly Carburetor and an MSD Electronic Ignition. A 350 Turbo Automatic bolts up to the back of the motor, rebuilt about 5,000 miles ago.

The car drives beautifully, the one piece top comes of in a straight forward procedure (no it does not fold up and away). The season is upon us, what a great way to start off the end of the "Great Close Down" by cruising in a Red '32 Roadster!

The selling price is $39,995. The VIN# is AB128132RB and miles are 13,231. For other interesting bikes and collectible vehicles, visit our web site http://www.automaniagp.com 541-479- 8888 or come by and see us at 895 SE Gladiola Drive, Grants Pass, Oregon, 97526. Oregon Dealer DA1287.

Automania LLC is a Consignment Oregon Dealer selling quality, privately owned vehicles including Aprilia, Buell, BMW, Citroen, Ducati, Harley Davidson, Honda, Hummer, Kawasaki, Moto Guzzi, MV Agusta, Nissan, Ossa, Piaggio, Suzuki, Triumph, Vespa, Classic Hot Rods, Buick, Dodge, Ford, Chevrolet, Lamborghini, MG, Packard, Porsche, Rover, Shelby, Toyota, Triumph, Volkswagen and any other vehicle of interest.





[click on a thumbnail below to view a larger photo - IF you don't see thumbnails then your browser is blocking them.
You can either turn off ad-blocking or try clicking on the top graphic in order to thumb through the photos.]

John and his 1932 Ford Roadster