1990 Gallina Hayashi Quattro 750 L.E. Grants Pass, Oregon 97526 For Sale
THIS ITEM HAS BEEN SOLD!
Please click "back" or on the top menu for other listings.


[click on the image below or scroll to the thumbnail images at bottom to view the gallery.]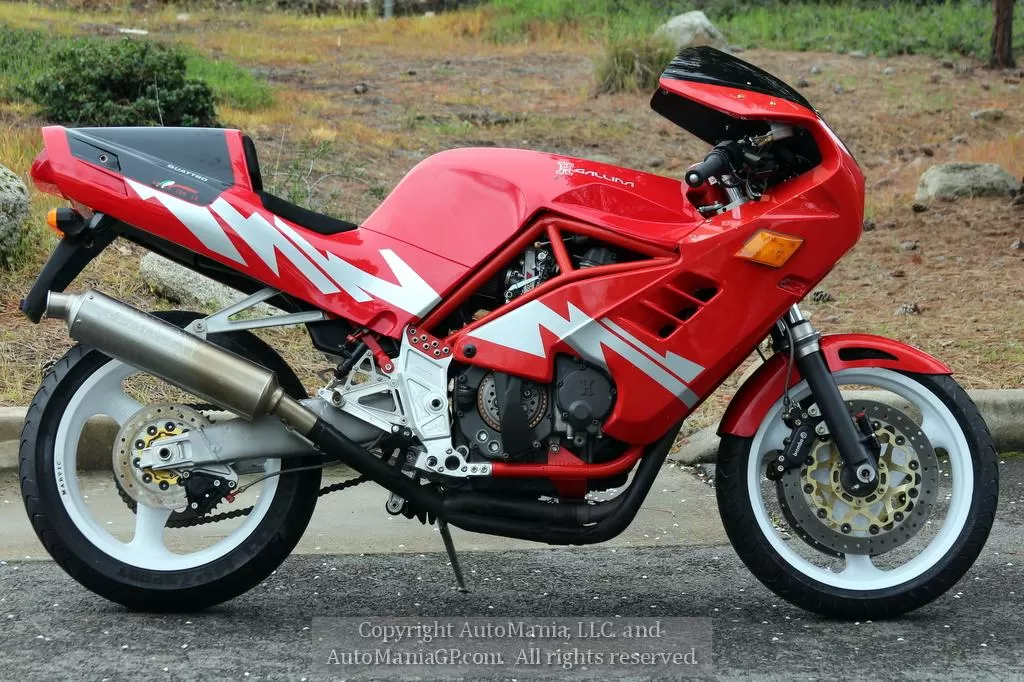 1990 Gallina Hayashi Quattro 750 L.E.
Grants Pass, Oregon 97526
Price: $30,000 USD
- PREVIOUSLY SOLD
Amongst all of Mike Canepa's motorcycles, the most exotic and best storied bikes are the two Hayashi Gallina Quattro 750 L.E.'s that he purchased from Rob Iannucci over 20 years ago.

A brief back story of Roberto Gallina includes him as a team rider in the day for Benelli, Ducati and Laverda followed by team management in GP and Endurance Racing and onto design and production of numerous one off Superbikes and Race bikes out of his factory in La Spezia, Italy.

Yoshiyuki Hayashi was a Japanese well funded investor, owner of the Fuji Track, with deep support of different Japanese motorcycle and car teams, his own Grand Prix Motorcycle Collection. His dream became designing and producing his own motorcycle, turning to Gallina in Italy to express his vision. A quote of his was,

"Everyone is free to have a dream, however big it can be. How can a man without a dream be attractive? Once you, however, speak of it in the presence of others, you must make it come true with your efforts"

His is a fascinating story and for another time. This is about the motorcycles they created together, two of ten motorcycles which they created that sit in our shop today for sale, the Hayashi Gallina 750. Their mission, to create a motorcycle that 'must be faster than the Japanese bikes and more fascinating than Italian motorcycles in old days'. Things were humming along very well when the Japanese economy collapsed in the "Great Recession" of 1990. Hayashi was deeply affected and was forced to withdraw his financial backing immediately, leaving only ten motorcycles completed before the program imploded. The immediate effect was causing Roberto Gallina financial devastation which he never recovered from, even to this day at age 78.

It is a pretty involved story about the creation the design and technical aspects of the bike and to be frank, I am not up to the task. There is a very well written article by Alan Cathcart in the November, 1990 issue of what I assume is a European publication that covers all of this in detail. We have a copy of the article that will go along with the bikes. To be frank, we are selling the bikes and in that context, history and details are too time consuming for our purpose. Buy the bikes, get the articles for free, become the experts!

So, the bikes ended up with Rob Iannucci of Team Obsolesce back in the early 1990's. Rob had been involved with Gallina with his own MV Augusta bike and was asked his opinion of the bike as it was being developed. According to Rob, the bikes were all prototypes and their mechanical reliability was not completely sorted out. In fact Rob has told me that before anyone fires these engines up, they should be disassembled and inspected as there were issues in the day. The bikes were imported by Rob, but in transit, the controls and instruments were stolen off of both bikes during shipping. Rob found used parts out of Canada to replace them, which explains the high miles on bike A00007. Mike bought the bikes with the idea of sorting them out after he got them. I would assume that is why Carey Andrews was involved. I have not spoken to Carey as of yet.

I have a bill of sale hand written on a scrap of paper showing frame number A00002 being sold for $60,000 in 1994. I do not know if that is when Mike got the bike and frame A00007 is not reflected anywhere in any of the paperwork that we have. What I was told by Mike was that he took A00007 to Carey Andrews in California and had Carey install the Gallina design dry clutch and flat slides. The odometer shows 18,064 kilometers. The A00002 bike shows 178 miles. These figures are not actual reflections of the miles on these motorcycles.

What I can see and know about the bikes is that the engine was based on an air cooled Suzuki 750 with chain driven camshafts. Gallina recast the cases in magnesium, along with the cylinders and the head, converting the camshaft drive to gear drive instead. The Trellis frame is obvious but the low mount rear shock with rising rate spring has to be seen by looking under the motorcycle. Looking over the images you can see all of the billet, machine components on the frame and steering assembly. After all, these were hand made, one off motorcycles. The best way to know what the bike is about is to look over the images.

And now they are for sale. A brief history since Mike owned them. They were not carefully stored. Nothing Mike had was carefully stored. The body work is scared and chipped from being moved around his shops over the decades. We spent some time cleaning A00007 but did not touch A00002. A00002 is missing the throttle control and front master brake cylinder and the body work is in rougher shape then A00007. Also, the ECM is held to the rear sub frame by electrical tape. Neither bike has a battery nor have we made no effort to start them. The fuel tanks smell terrible and we have no idea of the oil's condition. What also comes with the bikes is a spare set of cases, cylinder and head as can be seen in the images. Everything that is included with the bike is shown, nothing more is available that we are aware of.

Each bike has an Oregon title of ownership reflecting the VIN number stamped in the frame by Gallina. A00002 and A00007. I have no idea of the mechanical condition or if all of the parts that make up these motorcycles are all here. What is being sold is what is being shown. Stated mileage is what is being read off of the gauges mounted to the bikes and we are not stating that to be actual or accurate. What we are stating for a fact is that we have two of the ten bikes ever built for sale. You be the judge of what is here and what it is going to take to make the bikes whole and running again. But what an opportunity, once in a life time chance to own something this special, this rare and this beautiful. The task is not for everyone, only for someone who knows what he is looking at, knows what has to be done and has the dream like Hayashi-san to make it happen.

The selling price for both bikes and the spare parts is $30,0000. Oregon titles of ownership will be supplied. For other interesting bikes and collectible vehicles, visit our web site http://www.automaniagp.com 541-479- 8888 or come by and see us at 895 SE Gladiola Drive, Grants Pass, Oregon, 97526. Oregon Dealer DA1287.

Automania is a Consignment Oregon Dealer selling quality, privately owned vehicles including Aprilia, Buell, BMW, Citroen, Ducati, Harley Davidson, Honda, Hummer, Kawasaki, Moto Guzzi, MV Agusta, Nissan, Ossa, Piaggio, Suzuki, Triumph, Vespa, Classic Hot Rods, Buick, Dodge, Ford, Chevrolet, Lamborghini, MG, Packard, Porsche, Rover, Shelby, Toyota, Triumph, Volkswagen and any other vehicle of interest.

[click on a thumbnail below to view a larger photo - IF you don't see thumbnails then your browser is blocking them.
You can either turn off ad-blocking or try clicking on the top graphic in order to thumb through the photos.]