2023 Janus Halcyon 250 For Sale
[click on the image below or scroll to the thumbnail images at bottom to view the gallery.]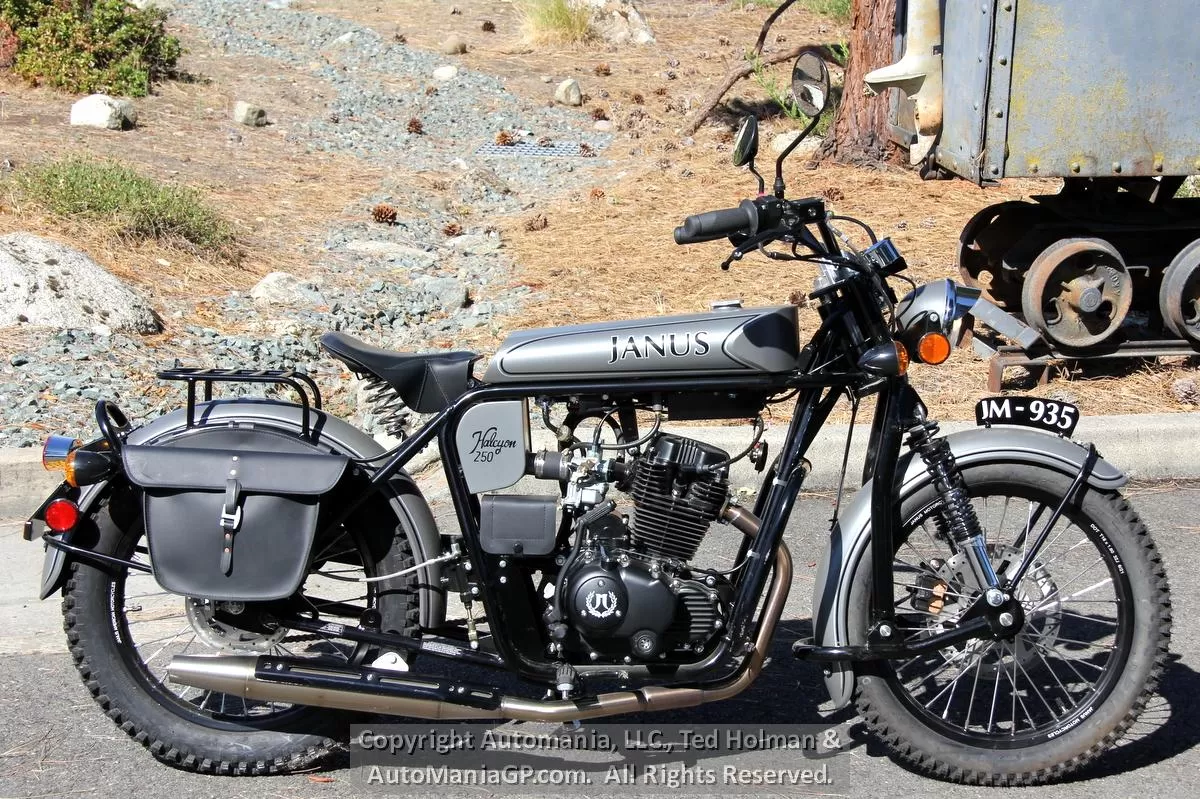 2023 Janus Halcyon 250
Price: $8,695 USD

I have read about the Janus Halcyon for a couple of years and thought the idea was outstanding. An "Old" motorcycle with a modern drivetrain and a disk brake which did not leak oil or refuse to start while leaving the coffee stand with a crowd looking on.

So it is a surprise that there was one in the Rogue Valley, much less with 28 miles on the odometer. A long time customer ordered the bike from the factory and while waiting for it to be delivered fell and broke their hand. The bike was finally delivered but with the injury and the permanent loss of flexibility there was no way it could ridden despite waiting for physical therapy to do its wonders.

The Halcyon 250 is made by Janus in Goshen, Indiana. The engine is a 224cc Single Four stroke with both an electric and kick starter. It is carbureted with Electronic Ignition and a 5-Speed manual transmission. Quoting from Janus describing the design and purpose of the bike is the following:

"Classically styled, the Halcyon 250cc motorcycle is no replica, but its design is inspired by some of the best in motorcycling history. Starting with the classic featherbed frame, the Halcyon highlights a classic approach to a pared-down design and hearkens the golden age of motoring with cues of form and function from brands such as Zenith, Brough-Superior and Indians among other marks in motorcycle history."

The new cost of the motorcycle with it's factory accessories was $9,600 plus $900 for shipping. Registration, title, 4-years of tags, plates and the Oregon Luxury Tax was about another $775 for a grand total final cost of about $11,275. The factory warranty that comes with the bike is 4 years from date of delivery and so there is quite a bit of coverage left with Janus.

Miles are 28 from new and the sell price is $8,695. The VIN is 1P9H10147PG700025. Please come by and see at Automania LLC, 895 SE Gladiola Drive, Grants Pass, OR 97526. http://www.automaniagp.com 541 479 8888 Oregon Dealer DA1286.

Automania LLC is a Consignment Oregon Dealer selling quality, privately owned motorcycles and cars of interest.

[click on a thumbnail below to view a larger photo - IF you don't see thumbnails then your browser is blocking them.
You can either turn off ad-blocking or try clicking on the top graphic in order to thumb through the photos.]