2010 Honda Goldwing GL1800 Touring Grants Pass, Oregon 97526 For Sale
THIS ITEM HAS BEEN SOLD!
Please click "back" or on the top menu for other listings.


[click on the image below or scroll to the thumbnail images at bottom to view the gallery.]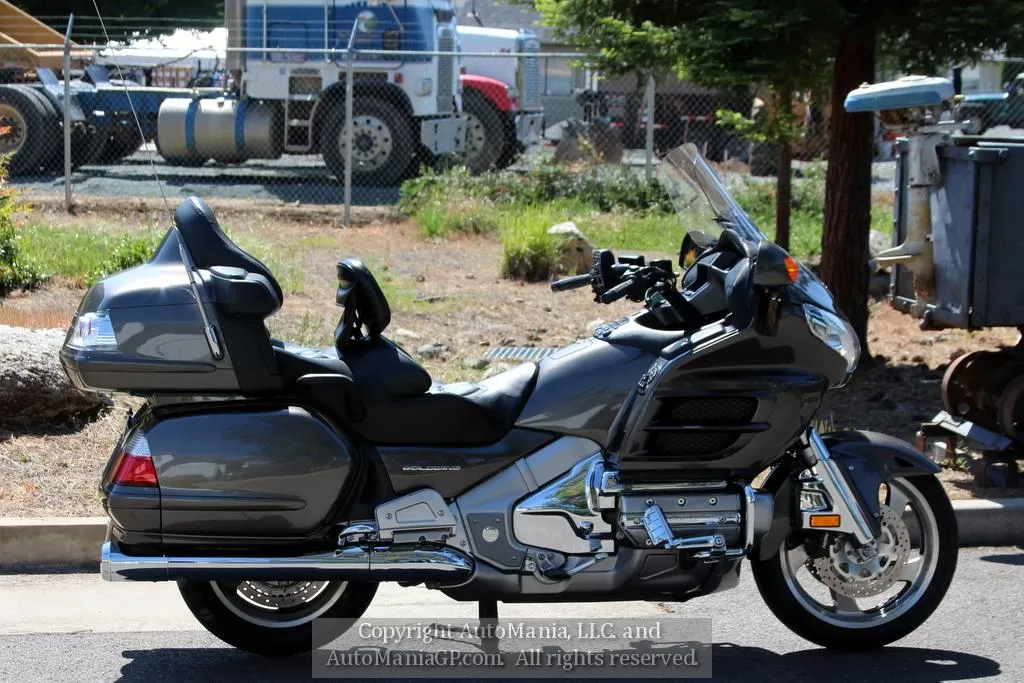 2010 Honda Goldwing GL1800 Touring
Grants Pass, Oregon 97526
Price: $9,495 USD
- PREVIOUSLY SOLD
This 2010 Honda Goldwing GL1800 came well equipped with almost everything offered by Honda in 2010 except for the Air Bag. It is amazing that all of these features are installed in a motorcycle. All you have to do is understand the owner's manual and learn the controls! This is great, but I wondered how the bike rode and handled with even the "kitchen sink" thrown in.

What a surprise. I rode to Rogue River on I-5 with the cruise set, the incredible NAV System Screen on and the Radio playing Willie Nelson as clearly as if I was in my truck. The pocket behind the wind screen was the same at 45 mph as it was at 75 mph. There was no additional buffeting, no more noise and other then the Speedo reading, no sense of the speed I was traveling.

The return trip was the long way home, alongside I-5 on Foothill. Having owned a 2003 Goldwing for a total of 775 miles before selling it, I expected nothing. Wrong. This bike is smooth and a responsive handling bike, great brakes and very predicable behavior. I found it some what sporting and enjoyable to be off the Freeway at a reasonable pace. It is was no Multistrada, but 400 miles on the Ducati in one day would be a push, 500-600 miles on the Goldwing would be a great day.

So on to the list of features I found. It appears to have the Package Option One which includes Premium Audio, Comfort, and Tire Pressure Monitoring System (TPMS). I saw the Navigation receiver in the trunk but no CD Stacker or CB receiver while looking the bike over. There is a brand new Dunlop rear tire, recent brake pads and oil change. The bike is ready to go as soon as you can load your stuff in the Saddle Bags and Tail Trunk. Oh, don't forget to add gas and time off from work.

Our selling price of the motorcycle is $9,495. VIN# 1HFSC47H7AA900446 and miles are 39,103. For other interesting bikes and collectable vehicles, visit our web site http://www.automaniagp.com , 541 479 8888 or come by and see us at 895 SE Gladiola Drive, Grants Pass, Oregon, 97526. Oregon Dealer DA1287.

Automania LLC is a Consignment Oregon Dealer selling quality, privately owned vehicles including Aprilia, Buell, BMW, Citroen, Ducati, Harley Davidson, Honda, Hummer, Kawasaki, Moto Guzzi, MV Agusta, Nissan, Ossa, Piaggio, Suzuki, Triumph, Vespa, Classic Hot Rods, Buick, Dodge, Ford, Chevrolet, Lamborghini, MG, Packard, Porsche, Rover, Shelby, Toyota, Triumph, Volkswagen and any other vehicle of interest.

[click on a thumbnail below to view a larger photo - IF you don't see thumbnails then your browser is blocking them.
You can either turn off ad-blocking or try clicking on the top graphic in order to thumb through the photos.]