2016 Honda GL1800GA GL18HPNAMGT Grants Pass, Oregon 97526 For Sale
THIS ITEM HAS BEEN SOLD!
Please click "back" or on the top menu for other listings.


[click on the image below or scroll to the thumbnail images at bottom to view the gallery.]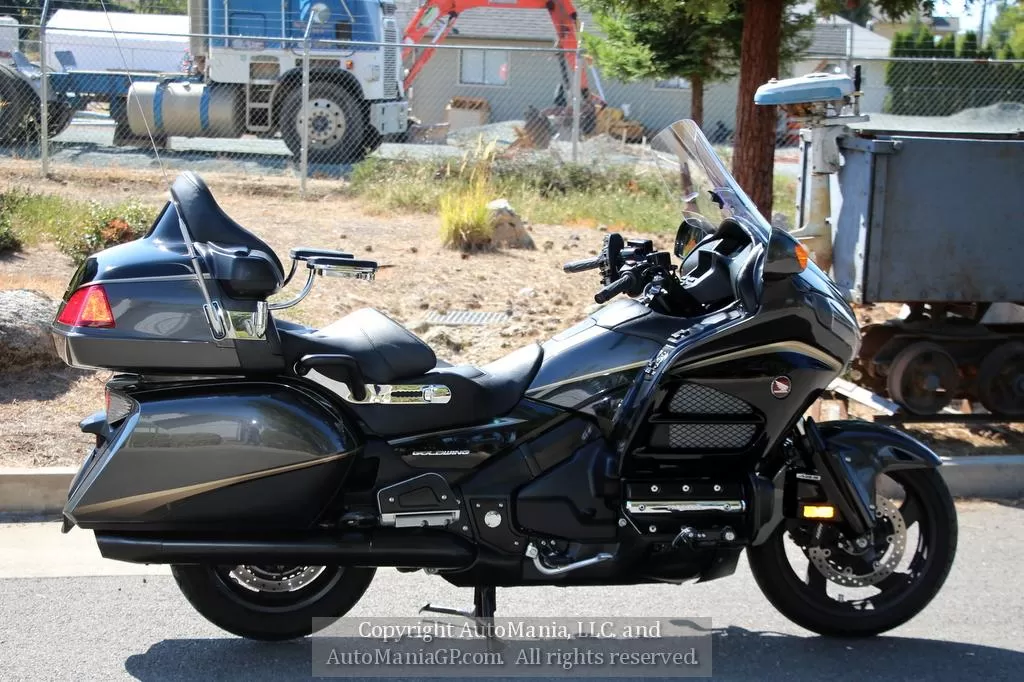 2016 Honda GL1800GA GL18HPNAMGT
Grants Pass, Oregon 97526
Price: $18,995 USD
- PREVIOUSLY SOLD
One of the first things I saw on this 2016 Honda Gold Wing GL1800GA GL18HPNAMGT was the large ABS label on the right side of the front fender. ABS! Doing research on the model, there seems to be four levels of trim of which this particular bike is Level 3, ABS / Navigation / Audio / Comfort / XM Radio but without the Airbag. To be fair, it is probably only a Honda dealer who could tell you exactly what the bike has and is. But it does not have an Airbag, so with the other features listed above, it should be a Level 3 motorcycle.

Bikes without the Airbag come equipped with Heated Seats, Handlebars and foot warming system. As most Gold Wing owner's are aware, the bike has electric reverse, a handy feature when you pull into a sidewall parking spot with a slopping gutter. Cruise Control is a must for those long highway stretches when knocking down 600 mile days. The windscreen is adjustable for height, great for rain (and or snow) or just cold days of riding. As far as luggage capacity, there is nothing like it short of four wheels. Bring your ironing board, I am sure it will fit in one of the side cases, trunk or storage pockets that surround the cockpit. This is just the standard stuff!

The owner has moved permanently into a Toy Hauler and the bike is too large to carry along. He is moving onto a bike that is half the weight and dimensionally much smaller. His loss is going to be someone else's gain, an almost new bike for $6000 less than he paid recently.
The selling price is $18,995. The VIN# is JH2SC68N6GK200017. Miles are 3,383. Please come by and see it at Automania LLC, 895 SE Gladiola Drive, Grants Pass, OR 97528. http://www.automaniagp.com 541 479 8888 Oregon Dealer DA1287.

Automania LLC is a Consignment Oregon Dealer selling quality, privately owned vehicles including Aprilia, Buell, BMW, Citroen, Ducati, Harley Davidson, Honda, Hummer, Kawasaki, Moto Guzzi, MV Agusta, Nissan, Ossa, Piaggio, Suzuki, Triumph, Vespa, Classic Hot Rods, Buick, Dodge, Ford, Chevrolet, Lamborghini, MG, Packard, Porsche, Rover, Shelby, Toyota, Triumph, Volkswagen and any other vehicle of interest.



[click on a thumbnail below to view a larger photo - IF you don't see thumbnails then your browser is blocking them.
You can either turn off ad-blocking or try clicking on the top graphic in order to thumb through the photos.]