2002 Honda XR650R Grants Pass, Oregon 97526 For Sale
THIS ITEM HAS BEEN SOLD!
Please click "back" or on the top menu for other listings.


[click on the image below or scroll to the thumbnail images at bottom to view the gallery.]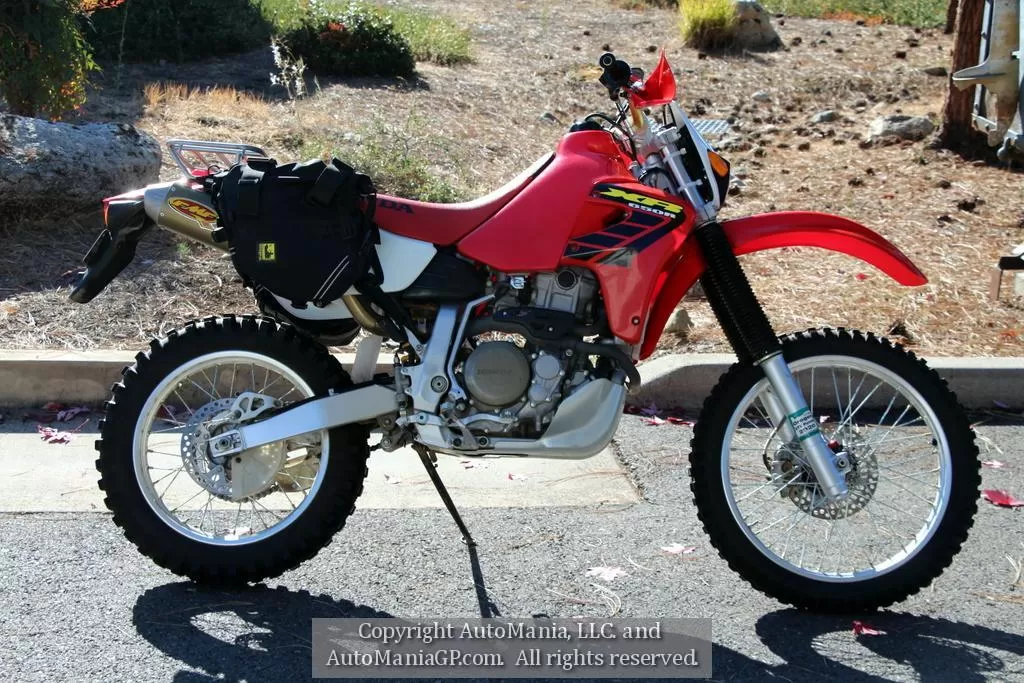 2002 Honda XR650R
Grants Pass, Oregon 97526
Price: $3,995 USD
- PREVIOUSLY SOLD
Earlier this year we sold this 2002 Honda XR650R to a friend of the shop that had always wanted this particular model of motorcycle, much less one that had a license plate hanging on the back. The original owner of the bike had purchased it new, ridden three or four times and never used it again. It had set in his shop all of this time until recently when he sold his ranch and needed to clear the barn, so to speak. When the bike was sold recently, about six months ago, it was barely broken in. Looking under the bike at the skid plate, there was barely a mark on it. He claimed to have ridden at the most 4 times.

So, we sold the bike immediately to a line mechanic at a local BMW motorcycle shop and who immediately out fitted it to suit his new perceived purpose, Adventure Riding and Camping. He bought a 4.2 gallon Clarke Fuel Tank, Tusk Handle Bar Adapters, Pro Taper CR High Bars, Vapor Trail Tech Computer/Speedometer, TCI Rear Rack, and Wolf Man Enduro Bags.

A couple of trips in, he realized it was more bike than he was looking for and got a late model KTM "What ever" Enduro to replace it. The next move was a call to us to find a new home for this warrior of a motorcycle.

The selling price is $3,995. The VIN# is JH2RE010X2K300151. Please come by and see at Automania, 895 SE Gladiola Drive, Grants Pass, OR 97526. http://www.automaniagp.com 541 479 8888 Oregon Dealer DA1287.

Automania is a Consignment Oregon Dealer selling quality, privately owned vehicles including Aprilia, Buell, BMW, Citroen, Ducati, Harley Davidson, Honda, Hummer, Kawasaki, Moto Guzzi, MV Agusta, Nissan, Ossa, Piaggio, Suzuki, Triumph, Vespa, Classic Hot Rods, Buick, Dodge, Ford, Chevrolet, Lamborghini, MG, Packard, Porsche, Rover, Shelby, Toyota, Triumph, Volkswagen and any other vehicle of interest.

[click on a thumbnail below to view a larger photo - IF you don't see thumbnails then your browser is blocking them.
You can either turn off ad-blocking or try clicking on the top graphic in order to thumb through the photos.]