2005 Ducati 749R Grants Pass, Oregon 97526 For Sale
THIS ITEM HAS BEEN SOLD!
Please click "back" or on the top menu for other listings.


[click on the image below or scroll to the thumbnail images at bottom to view the gallery.]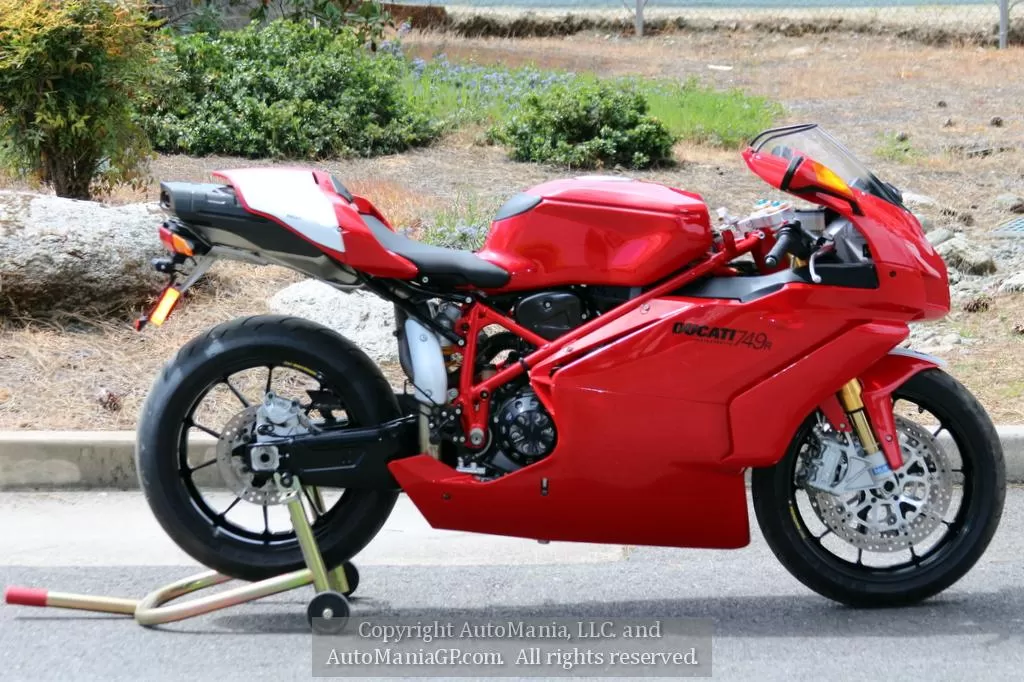 2005 Ducati 749R
Grants Pass, Oregon 97526
Price: $10,596 USD
- PREVIOUSLY SOLD
Back in the mid nineties, Ducati introduced what is arguably one of the best handling motorcycles they have ever produced, the 749R. In an area before electronic aids that shadow and mask engineering issues, this bike was the benchmark for everything that had come before it. I rode one at Willow back in 2005 and remember thinking that it had the best front end of any bike I had ridden up to that point, one that you could trust to keep you out of trouble and through the corner no matter how hot you had come in. Yeah, I think it was probably one of the best bikes they ever made. Too bad it is so small and I am so darn big (and old)..

The standard 749 was a so-so bike but with all of the upgrades and changes they made in the R, it turned it into a giant killer. The engine was where most of the money went, titanium connecting rods, magnesium alloy valve covers, a shorter stroke, increased bore and larger valves, a super-lightweight crankshaft and high strength aluminum alloy pistons which allowed it to make more power and torque at higher RPM. The timing belts had Carbon Fiber covers designed for better cooling and the FI was modified to make the most of the changes. The stock 749 had 108HP, the R was rated at 121HP in 2005. The R also had a larger fuel tank and slipper clutch standard. The chassis had an adjustable steering head and it was reputed to have over 20mm of longitudinal adjustment of the seat to tank distance. The body work as usual is stunning in Ducati Red. On the suspension end of things, the latest model of the Ohlins Front Forks were backed up with an Ohlin Rear Shock along with an Ohlins Steering Damper.

This bike, number 74 of at least 500 produced to meet FIM homologation regulations. Along with the retail cost of $21,995, the owner then opened up his wallet for a set of Sato Rear Set and a Paulimoto Vented Clutch Cover. The exhaust is stock Ducati, most likely the only stock muffler on a Ducati in the world.

What we have here on the showroom floor is one of the best handling Ducatis ever produced, renowned for it's super precise, nimble handling. Adjustable Steering Head rake angle, great top end power with Race Exhaust, quiet and smooth with Stock Exhaust. It has an amazing transmission, gorgeous body work with original paint. It is arguably the greatest middleweight twin ever made, fantastic fun as a street bike or track day bike. The best part is that coming from a private collection, showing 774 miles from new. The bike was recently at Hansen's for new timing belts and tires for close to $1200, so the part everyone will ask about has been looked after. It has 1 miles since the work was completed.

The selling price is $10,595. VIN# ZDM1UB3T35B009303. Please come by and see it at Automania LLC, 895 SE Gladiola Drive, Grants Pass, OR 97528. http://www.automaniagp.com 541 479 8888 Oregon Dealer DA1287.

Automania LLC is a Consignment Oregon Dealer selling quality, privately owned vehicles including Aprilia, Buell, BMW, Citroen, Ducati, Harley Davidson, Honda, Hummer, Kawasaki, Moto Guzzi, MV Agusta, Nissan, Ossa, Piaggio, Suzuki, Triumph, Vespa, Classic Hot Rods, Buick, Dodge, Ford, Chevrolet, Lamborghini, MG, Packard, Porsche, Rover, Shelby, Toyota, Triumph, Volkswagen and any other vehicle of interest.

[click on a thumbnail below to view a larger photo - IF you don't see thumbnails then your browser is blocking them.
You can either turn off ad-blocking or try clicking on the top graphic in order to thumb through the photos.]