2006 Ducati ST3 Grants Pass, Oregon 97526 For Sale
THIS ITEM HAS BEEN SOLD!
Please click "back" or on the top menu for other listings.


[click on the image below or scroll to the thumbnail images at bottom to view the gallery.]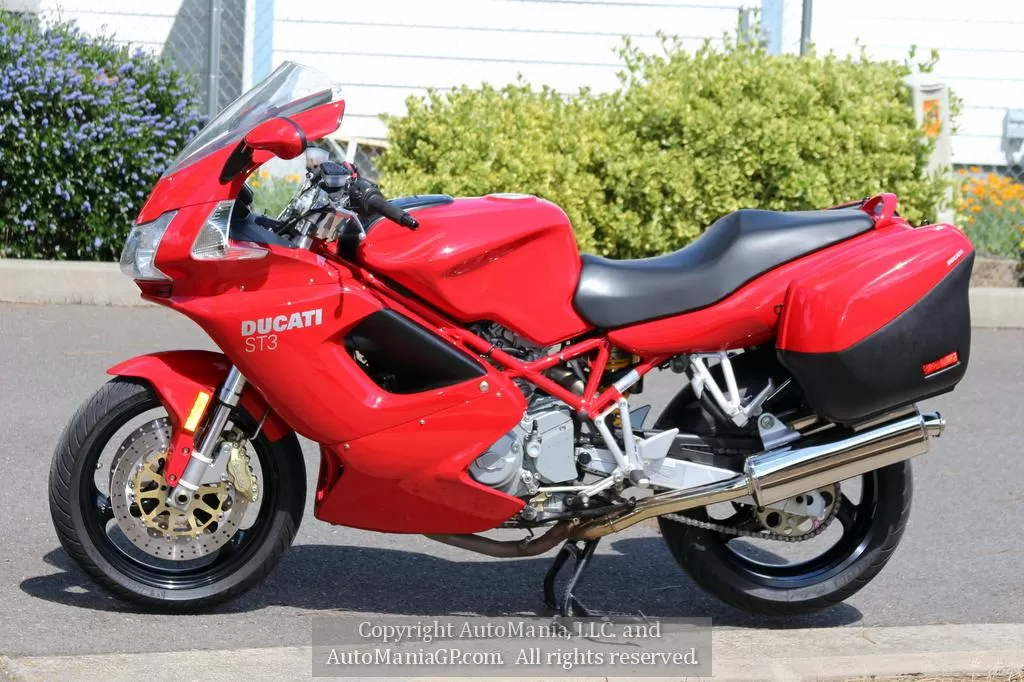 2006 Ducati ST3
Grants Pass, Oregon 97526
Price: $4695 USD
- PREVIOUSLY SOLD
The 2006 Ducati ST3 three valve head was designed to rationalize the ST4 four valve head motorcycle and make a usable mount for normal street use. It succeeded beyond expectations, eliminating the abruptness and overwhelming power delivery of the ST4 to make for one Ducati's best Sport Touring Motorcycles ever. Amongst Ducatisti the bike was without peer and any other mount was a sign of epic disrespect.

The problem still was the riding stance was way to far forward and a couple of hours in the saddle and it was off to the chiropractor for multiple sessions. The solution came from Cyclecat (now out of business) which were their bar backs as installed on our bike. The riding stance was rationalized and 300 and 400 mile days were again within reach. The factory hard bags are a snap to open and remove from the bike, giving enough room to hold a single helmet per side.

This particular bike is a one owner, bought from Hansen's BMW new and serviced there it's entire life. A set of Staintune Mufflers (with removable inserts) were installed before the bike was delivered and the stock mufflers, never used on the street, accompany the bike. I can safely say that this motorcycle is one of the cleanest, best kept motorcycles I have seen in decades. The only other bike that comes close to this condition is the 999 of his which we will also be selling. The bike appears almost new.

The selling price is motorcycle is $4,695. VIN# ZDMITBBS76B004456 and miles are 29,730. For other interesting bikes and collectable vehicles, visit our web site http://www.automaniagp.com , 541 479 8888 or come by and see us at 895 SE Gladiola Drive, Grants Pass, Oregon, 97526. Oregon Dealer DA1287

Automania llc is a Consignment Oregon Dealer selling quality, privately owned vehicles including Aprilia, Buell, BMW, Citroen, Ducati, Harley Davidson, Honda, Hummer, Kawasaki, Moto Guzzi, MV Agusta, Nissan, Ossa, Piaggio, Suzuki, Triumph, Vespa, Classic Hot Rods, Buick, Dodge, Ford, Chevrolet, Lamborghini, MG, Packard, Porsche, Rover, Shelby, Toyota, Triumph, Volkswagen and any other vehicle of interest.

[click on a thumbnail below to view a larger photo - IF you don't see thumbnails then your browser is blocking them.
You can either turn off ad-blocking or try clicking on the top graphic in order to thumb through the photos.]