1932 Ford A Roadster Grants Pass, Oregon 97526 For Sale
THIS ITEM HAS BEEN SOLD!
Please click "back" or on the top menu for other listings.


[click on the image below or scroll to the thumbnail images at bottom to view the gallery.]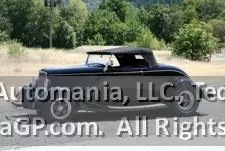 1932 Ford A Roadster
Grants Pass, Oregon 97526

Automania is stepping into the rarified world of Rod Art with the first of several metal sculptures from a builder with decades of hand forming and designing period Hot Rods from the 30's, 40's and 50's. There is a limited field of high grade custom fabricated cars set apart by their uniqueness, craftsmanship and form which set these cars apart from others by their immediate and first appearance. These cars offer us a chance to see what is possible given the skill and experience of decades in the industry.

This 1932 Ford Roadster steel body, by Brookville, was modified using only medal without regard to the challenge of design, but as a vision of what the builder wanted to own and drive many years ago. We are going to make an attempt to describe the work and components, but as we looked over the car for several hours with the builder, he was constantly stating, "Oh, I forgot about this.." in reference to the custom fabrication and modifications he created doing the build.

As I said, it was a steel body. It has a stock and original Grill and Insert but the Head Light Bar was modified before the Guide Headlights and with Park and Turn Signals were added. He added Cowl Vents from a 30's Chrysler Roadster and added rear Body Corners to the back of the car. He Frenched the early style License Plate in his signature surround and built the Tail Light Stands which hold '37 Ford Assemblies. He created the Hinge Pin external Rear View Mirrors which are one of a kind. Behind the seat, the metal was smoothed and modified to complete the look desired. The Duvall windshield sits on top of a smoothed cowl and is perfect for the car. The body work is absolutely straight with not a seam or panel out of place. It is a sight to behold.

The '32 frame was powder coated after being boxed and prepared for the drivetrain. The Front Drop Axle was chromed and then powder coated after it had been drilled and polished. Stainless steel Hairpins, Batwing Spring Perches, Tie Rods and Drag links were used to support the front end. A Single Leaf Front Spring was Chromed. The steering is a Vega Style Steering Box which directs 12" Lincoln Zephyr Front Brakes that are equipped with Chromed and Powder Coated Backing Plates. The rear Brakes are modified to fit the Banjo Rear Ford Bendix Style Backing Plates which are fitted with parking brake.

The Drive Train is a complete chapter into it's self. The engine is a 1956 "RED RAM" Hemi 270 Cu In which as been fitted with Jahns Pistons and adjustable rocker arms. Modern Moon adjustable Fuel Injection is inhaled through "97 Carburetor" throttle bodies which makes living with and operating the motor as close to effortless as possible. These sit on top of a polished Offenhauser Intake Manifold. Ignition is handled by a Hunt Style Magneto. The Water Pump, Timing Cover and supporting hardware are all of polished Aluminum matched with a chromed Alternator. The engine is supported and attached with custom made mounts that appear to be sculpted in their form. Cooling is by modern Walker radiator.

The 200 R Automatic Transmission is controlled with a floor mounted shifter which then runs to a 3:37 rear end. The Banjo Style rear differential is equipped with 28 Spline Axles and has also been converted to an open style driveshaft. A beautiful set of 16" Artillery Wheels with 5 ½ X 5 bolt pattern were modified to accept Ford Button V8 Hub Caps. They were then powder coated to resemble a Porcelain finish and then had period style Firestone Tires mounted.

The interior does not disappoint the rest of the car. Beautiful woolen carpet encompasses the interior where no expense of time or money was spared. The entire upholstered interior and trunk are leather with the monogram V8 raised on the back panel of the rear of the trunk. The seat is incredible to sit in as well as being simply gorgeous to look at. The '37 Ford Steering Column Drop holds a Chrome Steering tube and is topped by a Ford Banjo Steering Wheel. The dash is completely custom with two operating glove boxes, one on each side. An Auburn Dash Panel holds Steward Wagner Old Style Gauges. Stainless steel '37 Ford Dash Knobs were custom fitted taking an incredible amount of time and effort to fit. By the way, take a peak at the Cigarette Lighter, one of a limited number built locally by one our more talented fabricators. The early Guide Turn signal switch operates lights hidden in the head light and the car has the rare feature amongst Hot Rods, working electric windshield wipers.

The craftsmanship demonstrated in this car is without fault. What parts that were not custom fabricated by the builder are all top shelf. All of the components were chosen specifically to make the statement the builder intended. If you recognize the work and appropriateness of the chosen components, you can not argue that this is an unbelievable masterpiece of work.