1988 Classic Roadsters Austin Healey Sebring MX 5000 For Sale
[click on the image below or scroll to the thumbnail images at bottom to view the gallery.]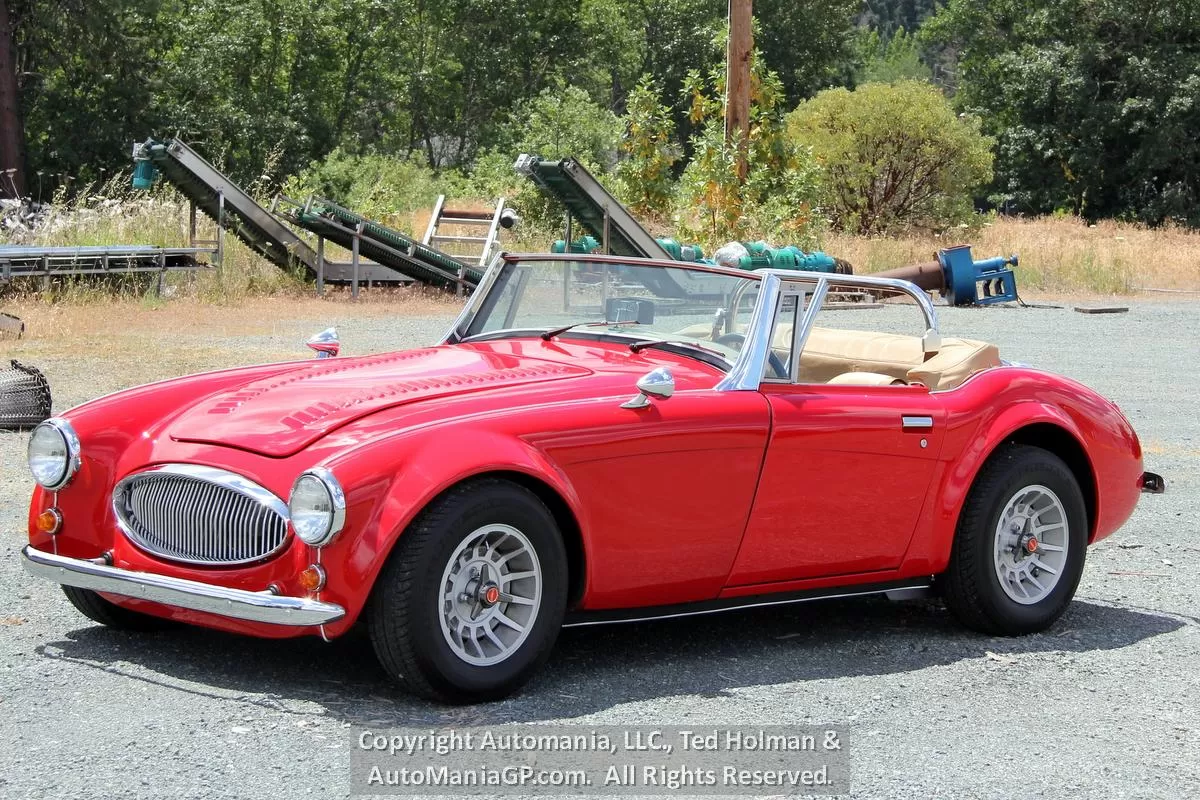 1988 Classic Roadsters Austin Healey Sebring MX 5000
Price: $20,995 USD

Two years ago we got a call from an estate needing to sell a 1988 Austin-Healey Sebring MX 5000 which had been sitting for a bit. It was run through a shop to check for issues and delivered back to Automania LLC on a morning. That very same day, one of Grants Pass's oldest real estate brokers came by saw the car and had to have it. Two years later, the low seat is more than he thought it would be and the car is back to be sold.

The history of the manufacture, Classic Roadster LTD of Fargo North Dakota, started in 1979 with mostly Volkswagen powered replica kit cars, an MG, a SS100 Jaguar, a Mercedes SSK, even the Austin-Healey 3000 was made to accept a Air Cooled VW engine and transmission. What followed next were front engined replicas including the Austin-Healey MX and Cobra MX, both models set up to accept Ford and Chevrolet power plants. A series of new company owners followed, the last producing the Badlands RT, a Hummer Replica Car in Minnesota.

This Sebring MX 5000 was equipped with a 350 Chevrolet motor and 2 Four-Barrel Carburetors backed by a Turbo 400 Automatic Transmission and Ford 9" Rear Diff. A Mustang 11-style front end included Rack and Pinion and front Disk Brakes. The car has 11,602 miles showing on the Speedometer mounted in the hardwood wooden dash. There is a B&M Console Shifter with it's unique reverse lockout system. There is a Convertible Top which comes with the car with matching material to the two front seats.

I drove the car to take images and there is no doubt about the V-8 and the car not weighing much. If a person were so inclined, it is in a mild state of tune that might be upgraded if the need developed. Miles are assumed since the car was assembled, there are no receipts or records covering the drivetrain, but it runs pretty darn well!

11,602 miles are showing and the selling price is $20,995. The VIN is 1RMCB911XHF000360. Please come by and see at Automania LLC, 895 SE Gladiola Drive, Grants Pass, OR 97526. http://www.automaniagp.com 541 479 8888 Oregon Dealer DA1287.

Automania LLC is a Consignment Oregon Dealer selling quality, privately owned motorcycles and cars of interest.

[click on a thumbnail below to view a larger photo - IF you don't see thumbnails then your browser is blocking them.
You can either turn off ad-blocking or try clicking on the top graphic in order to thumb through the photos.]