1977 MG B For Sale
THIS ITEM HAS BEEN SOLD!
Please click "back" or on the top menu for other listings.


[click on the image below or scroll to the thumbnail images at bottom to view the gallery.]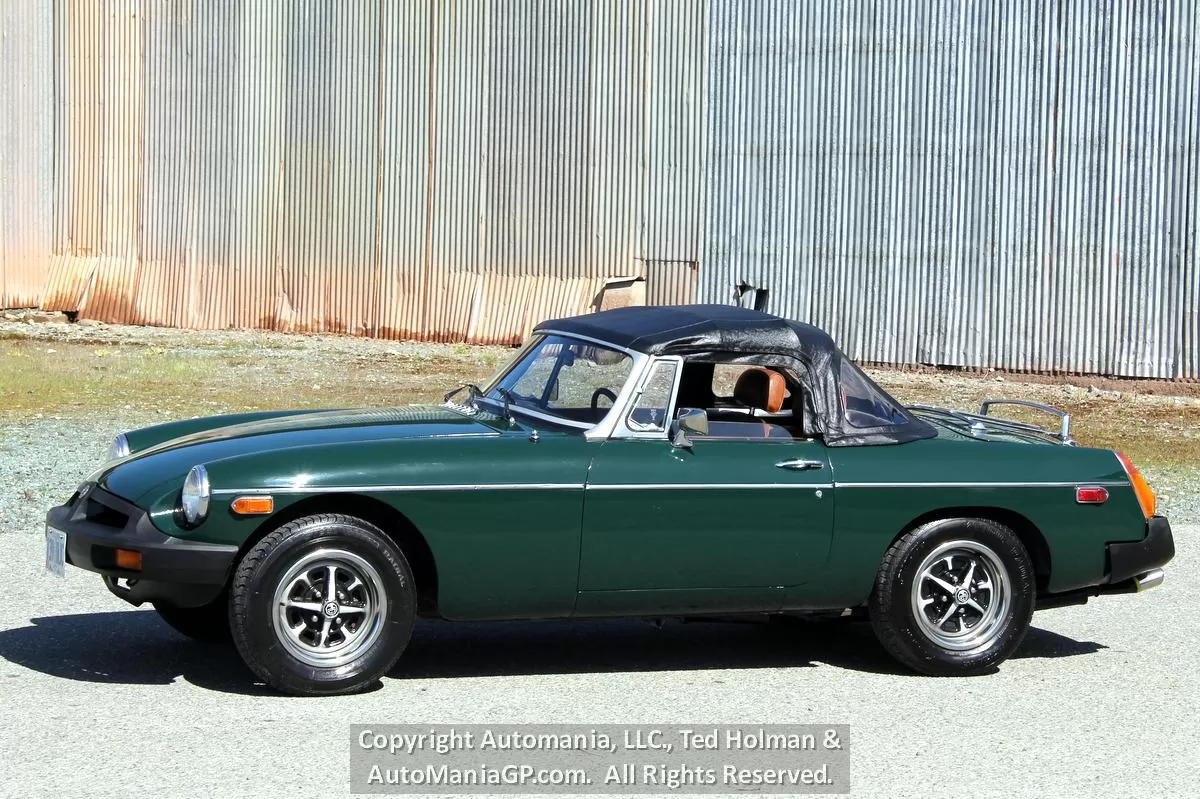 1977 MG B
Price: $6,495 USD
- PREVIOUSLY SOLD
It would have to be assumed you are reading about this 1977 MG MGB because you are not too prejudiced, that any English Car is to be avoided, it is possible you understand the joys and enrichment owning a fifty year old English Classic exudes when driven. They are unlike Camay's and Hondas, these cars express character through personality, flaws and quirks that make the experience not entirely suitable for everyone. But if you are someone who loves cars, loves to drive and loves the involvement of the experience, you are the probably the one reading about this MGB.

All early sports cars driven require squinting your eyes a bit to see past character flaws and imperfections that could drive normal people to distraction. At their time, it was a pleasure to know these limits and excitement of driving. Not that new cars are undesirable, but ABS, Traction Control, Rear Facing Cameras and Air Bags are not exactly romantic.

And this particular car. It drives well, everything works smoothly in a 70's era way. It has been in the family for a long time, mostly not driven except on weekends. Moving it to Southern Oregon and parking it for years caused deferred maintenance to rear its head and John's Auto in Medford was recently given the task of putting it safely back on the road. Looking at the engine compartment and underneath, it appears that a Weber Carburetor Kit and Manifold were installed along with the Stainless Steel Header and Pace Setter Exhaust. An ignition tune up was completed and after driving the car, everything worked great.

There is no sign of rust penetration under the car though there is some surface corrosion on the chassis. Is the paint perfect? No, but from the driver's seat it looks great and it was well applied. It is definitely entertaining to drive and to be seen in. It is going to be hard not to love, the few foibles and all..

The images tell the story better than I can, please come by and take a look for yourself. Everyone needs to own something British at least once. It will give you something to share for years to come.

The selling price is $6,495 and the VIN# is GHN5UH416611G. Miles showing are 53,651. For other interesting bikes and collectible vehicles, visit our web site http://www.automaniagp.com 541-479- 8888 or come by and see us at 895 SE Gladiola Drive, Grants Pass, Oregon, 97526. Oregon Dealer DA1287.

Automania LLC is a Consignment Oregon Dealer selling quality, privately owned vehicles including Aprilia, Buell, BMW, Citroen, Ducati, Harley Davidson, Honda, Hummer, Kawasaki, Moto Guzzi, MV Agusta, Nissan, Ossa, Piaggio, Suzuki, Triumph, Vespa, Classic Hot Rods, Buick, Dodge, Ford, Chevrolet, Lamborghini, MG, Packard, Porsche, Rover, Shelby, Toyota, Triumph, Volkswagen and any other vehicle of interest.

[click on a thumbnail below to view a larger photo - IF you don't see thumbnails then your browser is blocking them.
You can either turn off ad-blocking or try clicking on the top graphic in order to thumb through the photos.]