2002 ARGO Bigfoot Grants Pass, Oregon 97526 For Sale
THIS ITEM HAS BEEN SOLD!
Please click "back" or on the top menu for other listings.


[click on the image below or scroll to the thumbnail images at bottom to view the gallery.]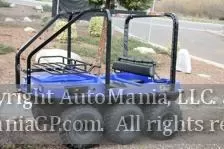 2002 ARGO Bigfoot
Grants Pass, Oregon 97526
Price: $4,995 USD
- PREVIOUSLY SOLD
This is another of the Argos sold in 2002, a 6x6 Bigfoot. Paul became an Argo dealer in 1997 until the market changed about three years ago He sold units all around the Northwest. The Bigfoot was intended to hold 2 persons on water and up to 4 on land with a top speed of 24mph when out of the water. The speed in the water was 2.5mph without the optional outboard mount and engine.

Paul sold this Bigfoot with all of the boxes checked on the order sheet from Argo. It came equipped with the Briggs & Stratton Vanguard Engine rated at 18HP. It came with folding windshield, bilge pump, Roll Over Protection System Kit (ROPS) and a custom front rack. This unit was expensive as a base unit, but if you find a catalog, you can see how much more was spent on top of that.

Cosmetically it is in good condition and has been dealer serviced. The fuel was stabilized when it was being used and the usual carb issues are not present. The tires look to have at least 50% of their tread showing and there no signs of impact or contact on the roll cage. The engine starts immediately and runs smoothly with no stumbles or hesitation. The Track Options, additional wheels and spacers are available if the new owner is interested.

The selling price is $4,995, way less then half of what was spent in 2002 when it was new. Don't even ask what they are selling for today. Please come by and see it at Automania, 895 SE Gladiola Drive, Grants Pass, OR 97528. http://www.automaniagp.com 541 479 8888 Oregon Dealer DA1287.