1998 Jeep Cherokee Sport XJ Grants Pass, Oregon 97526 For Sale
THIS ITEM HAS BEEN SOLD!
Please click "back" or on the top menu for other listings.


[click on the image below or scroll to the thumbnail images at bottom to view the gallery.]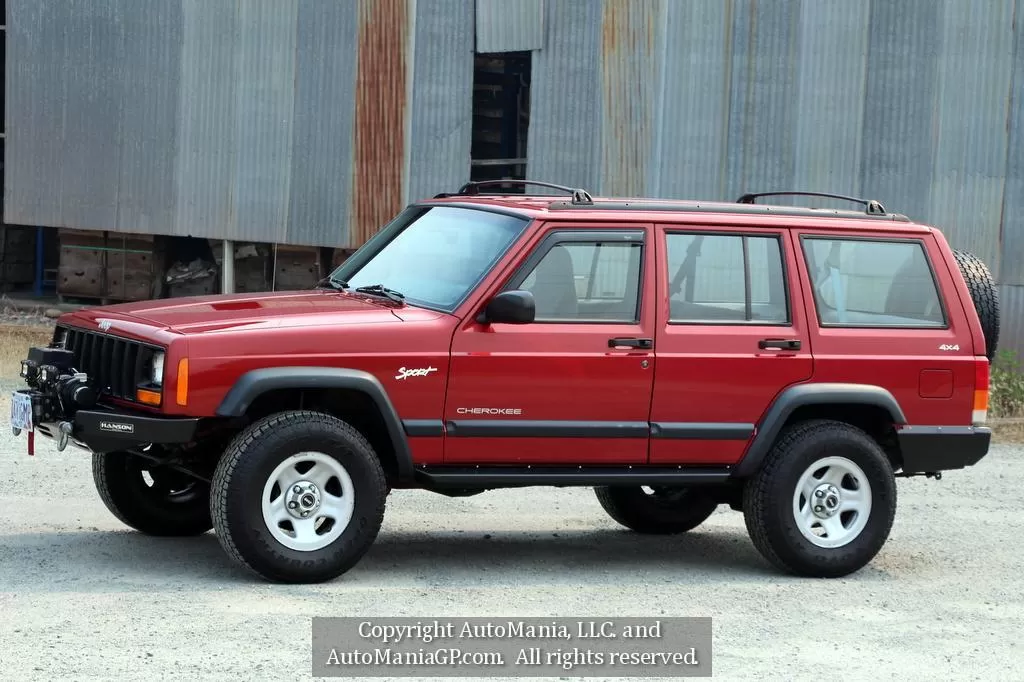 1998 Jeep Cherokee Sport XJ
Grants Pass, Oregon 97526
Price: $7995 USD
- PREVIOUSLY SOLD
Having graduated from Suzuki Sidekick wagons a decade or so ago, the go to "reliable" replacement has always been the Jeep Cherokee Sport with the famed 4.0 Liter in-line 6. But finding a XJ that had not been abused within an inch of its life and with 250,000 was always a hold up for my search.

This 1998 Cherokee Sport was a one owner XJ that I found six years ago. It was absolutely bone stock and probably never had the transfer case put in 4WD except for those rare times it snowed. Showing 105,000 miles at the time, it ran almost perfectly but suffered from those minor Jeep issues that chases all XJ's, minor electrical switches not working, no reverse lights and blinkers that did not blink. What I found immediately and to my surprise, everything was in stock at our local parts store, no going to the dealer for anything! This is when I truly became a Cherokee fan, bullet proof, readily available parts anywhere in the country and reasonable fuel mileage, about 20mpg freeway traveling at 65mph.

Over the years I did some very minor changes. A set of Hansen Bumpers front and rear were added along with their Rocker Guards and Rear Fender Guards. A Warn 8000# Winch was added along with a couple of small LED Driving Lights. Using a spacer under the front springs and shackles in the rear, the Jeep was lifted 1 ½ inches. I keep the stock bumpers just in case and they are included with the truck.

Along the way, regular service was done with all of the boxes having their fluids changed regularly. All of the U-Joints were replaced, from front axles to rear driveshaft. The rear Driveshaft was lengthened ½ inches due to the minor lift and new Rear Shocks installed with a bit of longer travel. The front shocks were replaced recently and a new battery installed this spring. What I expected of the Jeep was to go where it was pointed and return without a fuss. It never caused a moment of hesitation exploring BC and the Pacific Northwest and that part is going to be missed.

What I finally found is that I need a bit more headroom getting in and out of the Truck. There is plenty of room inside, but the four door models are a bit low in height. Time to move on.

The selling price is $7,495. The VIN# is IJ4FJ6851WL208552 and miles are 143,050. Please come by and see at Automania, 895 SE Gladiola Drive, Grants Pass, OR 97526. http://www.automaniagp.com 541 479 8888 Oregon Dealer DA1287.

[click on a thumbnail below to view a larger photo - IF you don't see thumbnails then your browser is blocking them.
You can either turn off ad-blocking or try clicking on the top graphic in order to thumb through the photos.]