1991 Jeep Comanche For Sale
THIS ITEM HAS BEEN SOLD!
Please click "back" or on the top menu for other listings.


[click on the image below or scroll to the thumbnail images at bottom to view the gallery.]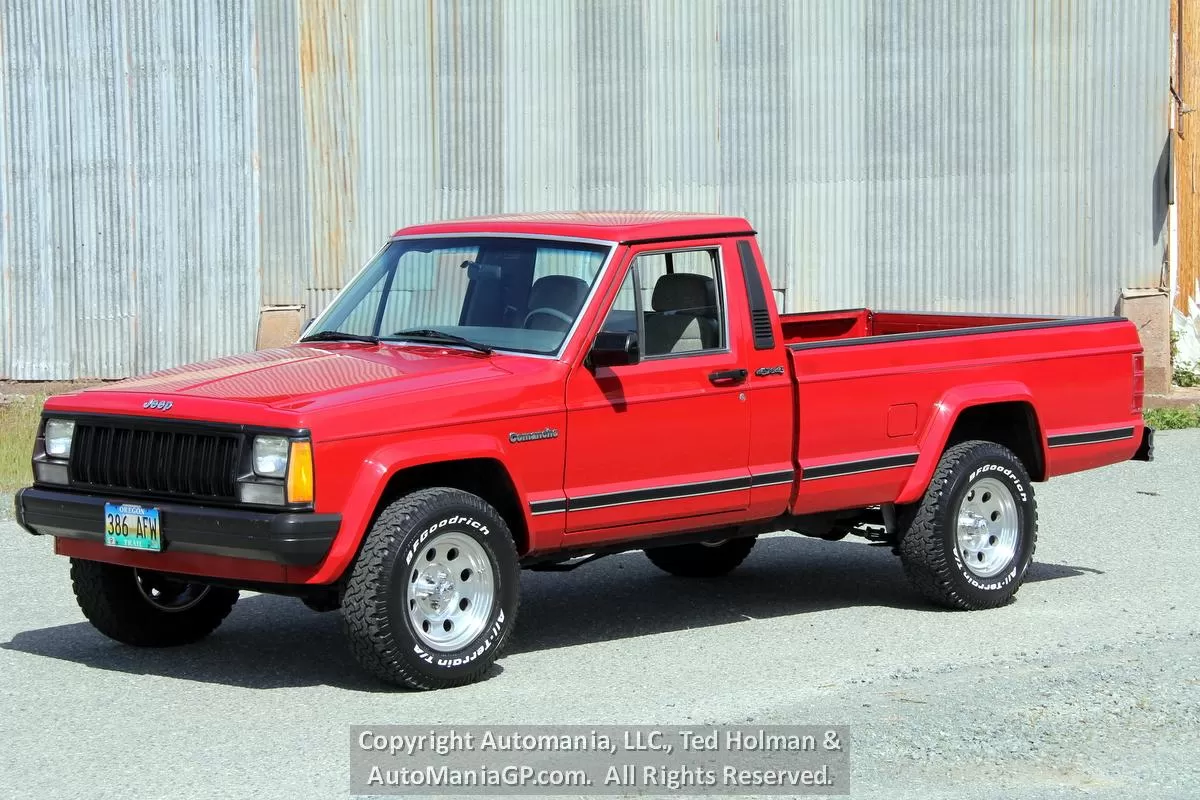 1991 Jeep Comanche
Price: $14,495 USD
- PREVIOUSLY SOLD
As a long time Jeep Cherokee owner, the Comanche Pickup version of the model line always had an appeal based on how stout and reliable the 4.0 Cherokee's had been over the years for me.

So when John brought his 1991 Jeep in to sell, I started doing a bit of research on them. Actually it is very interesting. From what I read, the cab forward part of the truck is UniBody like the Cherokee with a stout ladder frame behind it under the bed. The best engine specifications were the 1991-1992 models rated at 190hp. Johns has the Aisin AX-15 5 Speed Manual transmission, again the best of the sticks that were previously Peugeot sourced.

John has had the truck about five years and as usual, chased after every defect and issue during his tenure. It has some clear coat peeling and there was some minor body work on the driver's door. John loves to make thing straight and chased the cosmetics down. The only thing he did not finish was the engine hood, it has signs of being over polished and the paint is thin as you can see in the images. Speaking of which, I took quite a few and they do a better job describing the truck than I can here. Please do look over them.

The truck did not have AC when John got it so he order a used setup from a wreaker and installed it. He also wanted power windows and found a kit he installed. You can hear John talk about all of this in the video on the web page. In fact, everything I just covered he talks about in detail if you are interested.

The selling price is $14,495. VIN# 3JB2GEG4XKJ002496, miles are 159,446. For other interesting bikes and collectible vehicles, visit our web site http://www.automaniagp.com 541 479 8888 or come by and see us at 895 SE Gladiola Drive, Grants Pass, Oregon, 97526. Oregon Dealer DA1287.

Automania LLC is a Consignment Oregon Dealer selling quality, privately owned vehicles including Aprilia, Buell, BMW, Citroen, Ducati, Harley Davidson, Honda, Hummer, Kawasaki, Moto Guzzi, MV Agusta, Nissan, Ossa, Piaggio, Suzuki, Triumph, Vespa, Classic Hot Rods, Buick, Dodge, Ford, Chevrolet, Lamborghini, MG, Packard, Porsche, Rover, Shelby, Toyota, Triumph, Volkswagen and any other vehicle of interest.


[click on a thumbnail below to view a larger photo - IF you don't see thumbnails then your browser is blocking them.
You can either turn off ad-blocking or try clicking on the top graphic in order to thumb through the photos.]