1937 Ford Coupe Grants Pass, Oregon 97526 For Sale
THIS ITEM HAS BEEN SOLD!
Please click "back" or on the top menu for other listings.


[click on the image below or scroll to the thumbnail images at bottom to view the gallery.]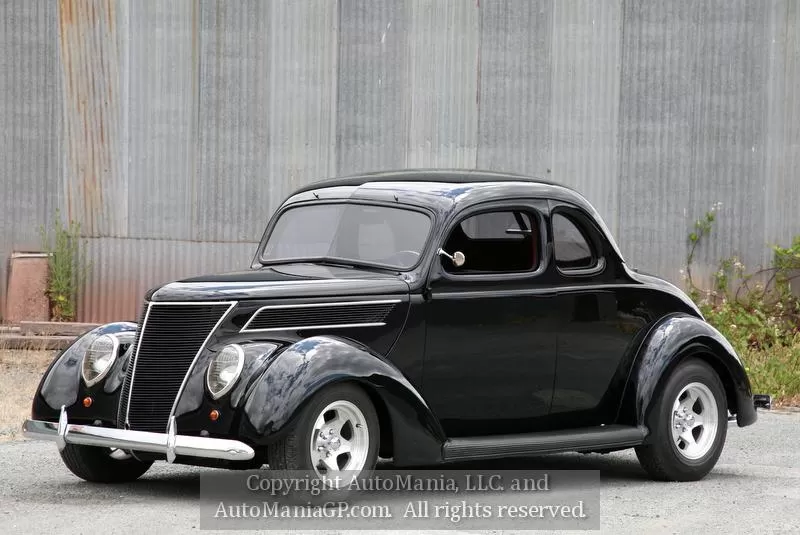 1937 Ford Coupe
Grants Pass, Oregon 97526
Price: $45,895 USD
- PREVIOUSLY SOLD
Over the years, we have had and sold numerous custom cars built by some of the most creative and talent fabricators in the area. Most have been beautiful and artistic, but often times drove more like a school bus then a sports car. This summer, we have been asked to sell this beautifully built 1937 Ford Coupe from a local owner. The chance to drive it gave light on cars can be designed to not only look great, but provide an equally satisfying experience on the road. Not only did it drive well, the AC blew so cold, I had to leave it on low the week it got into the 90's here in town.

The car was built several years ago before the present owner bought it. He has no records of the build or who preformed it, but it did come from the LA area. Maybe someone will recognize the car. The body work is absolutely stunning, the black shows no blemishes and there are almost no signs of the 12,000 miles the car has covered. Everything works, there are no rattles and it gave no second thoughts about jumping in and heading to Daytona. It is so solid and comfortable, I just wanted to burn the fuel up in the tank!

The drivetrain starts with a 327 Chevrolet V8 that starts and drives without hesitation. As you can see in the images underneath, there are no oil leaks or fluid showing anywhere. The rear main does weep very slightly, but that is what 327's do. The transmission works perfectly, the Front End is Mustang 11 and the rear end a Ford 9". Brakes are Four Wheel Disk and are adequate. For 12,000 miles of driving, the shots show what a great driver it is.

The interior is completed in Ultra Leather and is unbelievably soft and comfortable. The dash was finished in the material and metal surfaces painted to match. Again, the images do the best job of describing the work. The Dash is Dakota Digital Gauges and does the job of providing information in a clear and accurate manner, the AC Vintage Air.

I wish we could provide the built specs and fabricators, but there are no records. The car is titled and registered in Oregon as a 1937 Ford. This is a car that deserves to be seen, deserves to be driven and deserves to provide a great summer and years more of driving.