2004 Chrysler Crossfire For Sale
THIS ITEM HAS BEEN SOLD!
Please click "back" or on the top menu for other listings.


[click on the image below or scroll to the thumbnail images at bottom to view the gallery.]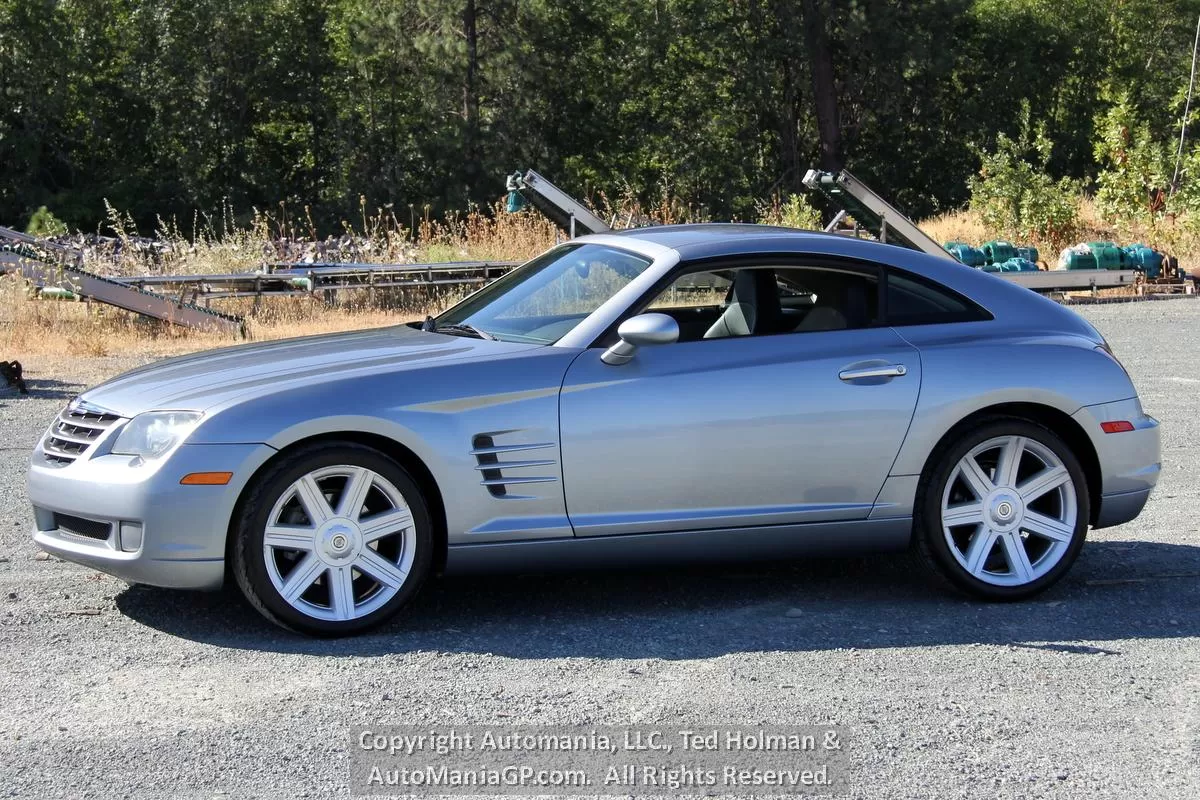 2004 Chrysler Crossfire
Price: $8,495 USD
- PREVIOUSLY SOLD
I have lusted after the Crossfire since the first came out almost twenty years ago. I learned enough that, despite it coming from Chrysler the newly formed corporate bond with Mercedes Benz had been the basis for the car's mechanical sophistication and drivability. After decades of Caravans and K-Cars, there was a shining light over Detroit with the German companies' mechanical input. Priced at $35,000 for a base car in 2004 dollars it was always going to be out of my reach in the day.

Our car is a one owner vehicle that has been serviced regularly over the years with the most recent work repair orders scanned and shown on the webpage. During that service any deferred work or issues from not being driven regularly the past few years were attended too. The owner wanted the car to be as close to being without fault when it was sold as possible without regard to the cost of doing so. Those invoices are attached to the images on our site. Along with these is also a thick folder of every service invoice from day one of owning the car. Also included is the optional factory Chrysler Crossfire fitted luggage that fits in the rear trunk area, again as seen in the images.

I drove the car around town for the detail and taking images. I have to say that I could find nothing negative to talk about and I now understand why that they were well built and expensive in the day. Concerning this car, my opinion is that if someone is now wanting to experience owning a Chrysler Crossfire today you would be hard pressed to find a better car. Proper inspections are always welcome.

The price is $8,495 and the VIN 1C3AN69L84X013439. Miles are 64,736. Please come by and see at Automania LLC, 895 SE Gladiola Drive, Grants Pass, OR 97526. http://www.automaniagp.com 541 479 8888 Oregon Dealer DA1287.

Automania LLC is a Consignment Oregon Dealer selling quality, privately owned motorcycles and cars of interest.

[click on a thumbnail below to view a larger photo - IF you don't see thumbnails then your browser is blocking them.
You can either turn off ad-blocking or try clicking on the top graphic in order to thumb through the photos.]