1989 Volkswagen Dune Buggy For Sale
THIS ITEM HAS BEEN SOLD!
Please click "back" or on the top menu for other listings.


[click on the image below or scroll to the thumbnail images at bottom to view the gallery.]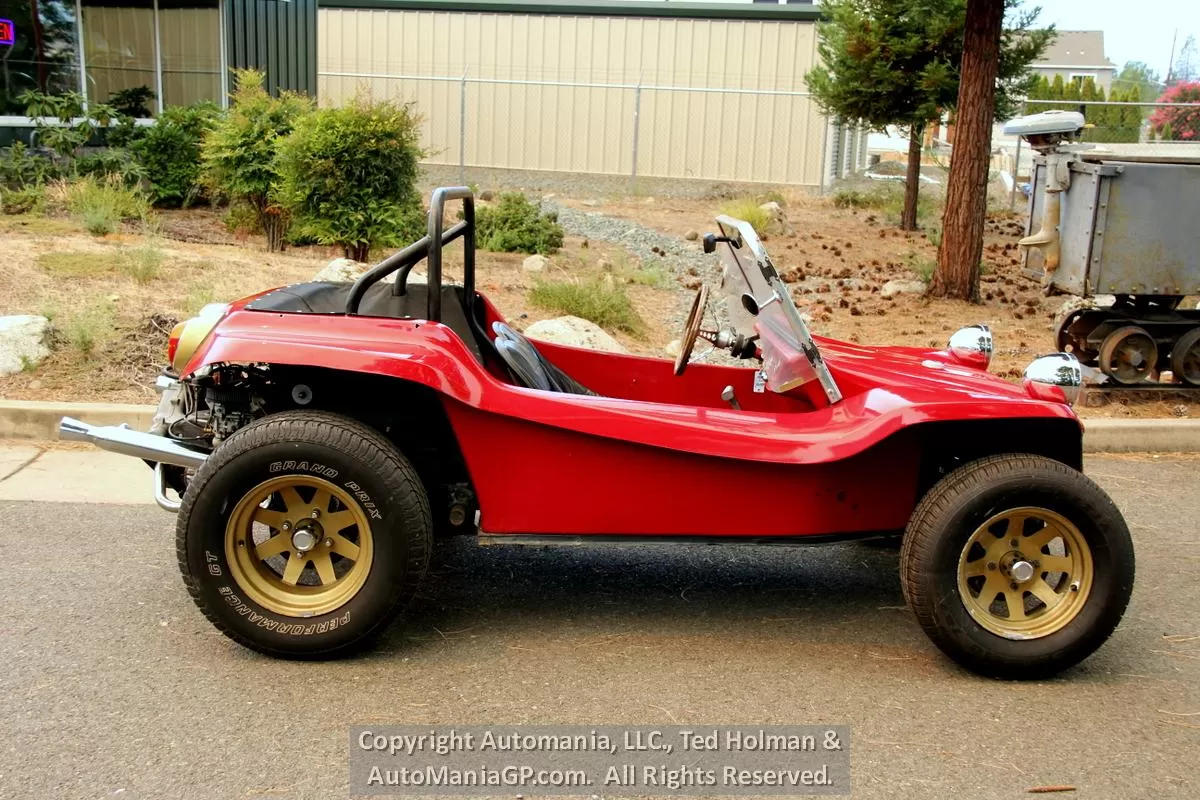 1989 Volkswagen Dune Buggy
Price: $4,295 USD
- PREVIOUSLY SOLD
It has been decades since I last rode in a short wheel base Dune Buggy but this "1989" Swing Axle, King-Pin based Volkswagen, "Asmbl" Titled rig took me way, way back to the 70's when everyone was cutting up perfectly good Bugs and making them into Sand Buggies.

The Type 3 Engine stars instantly and along with the short shift gearshift lever, make driving it a piece of cake. The two front seats are Fiberglass Shells whose covers have seen better days. Hopefully you know someone with a sewing machine. Wheels are mounted on adapters.

There is a hardtop that comes with it but the owner said that after he added the roll bar, it no longer fits. Also included is a tow bar that attaches to the lower suspension beam. It is wired to be towed with a disconnect switch for the lights on the dash.

There is plenty of work to be done here or you can just drive it the way it is. We have not run it through a shop for an inspection, a good idea if you are going to continue driving right away. I noticed a bit of oil under the breather cap on the oil filter tub when it was parked, but nothing leaked when it was running. Sort of odd.

With 13,323 miles showing the miles have to be unknown. The selling price is $4,295, the VIN is AZ149001. Please come by and see at Automania LLC, 895 SE Gladiola Drive, Grants Pass, OR 97526. http://www.automaniagp.com 541 479 8888 Oregon Dealer DA1287.

Automania LLC is a Consignment Oregon Dealer selling quality, privately owned vehicles including Aprilia, Buell, BMW, Citroen, Ducati, Harley Davidson, Honda, Hummer, Kawasaki, Moto Guzzi, MV Agusta, Nissan, Ossa, Piaggio, Suzuki, Triumph, Vespa, Classic Hot Rods, Buick, Dodge, Ford, Chevrolet, Lamborghini, MG, Packard, Porsche, Rover, Shelby, Toyota, Triumph, Volkswagen and any other vehicle of interest.



[click on a thumbnail below to view a larger photo - IF you don't see thumbnails then your browser is blocking them.
You can either turn off ad-blocking or try clicking on the top graphic in order to thumb through the photos.]