1967 Ford Gerhardt Ford Indy Car Grants Pass, Oregon 97526 For Sale
THIS ITEM HAS BEEN SOLD!
Please click "back" or on the top menu for other listings.


[click on the image below or scroll to the thumbnail images at bottom to view the gallery.]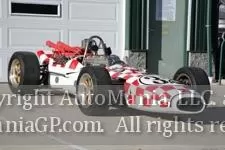 1967 Ford Gerhardt Ford Indy Car
Grants Pass, Oregon 97526
Price: $182,500 USD
- PREVIOUSLY SOLD
More then a few would argue the 60's were one of the greatest explosions of improvisation and rebirth of Indy Car racing since WW11. Some felt that the Roadsters which had dominated the starting line up for fourteen years prior to the 1961 running of Cooper's T54 brought a sense of complacency to the iconic event. It was arrival of the rear engined T54 driven by Jack Brabham that introduced the first successful rear engined chassis, opening the door to fabricators from Colin Chapman's Lotus to Mickey Thompson to try every engine type and layout imaginable. A tire war between Firestone and Goodyear, the backdoor reentry of Ford and GM to motorsports, fuel wars and the like brought sponsorship money that changed the racing industry from dye in the wool fabricators and race car drivers who had raced for the love of the sport to big business and big money. It was a time of terrible tragedies and amazing successes. It was a Golden Era of Indy.

By the time the 1967 Indy Race came about, the patterns were set once again. Most cars being constructed were based on either the Lotus 34 or Cooper derivatives with race shops producing similar chassis running mostly either the 255 cu in DOHC Ford, stock block Chevys or the latest competitive reinvention of the 4 Cylinder Offy that had started off in 1939 designed by Harry Miller. Fred Gerhardt's Commercial Truck Body of Fresno California had been building successful Midget Racers since the mid thirty's and produced their own custom Indy Car chassis that were being run in the 60's. The count of chassis they produced between 1965 and 1970 is 37, this car was one of 7 built in1967.

Almost every part of the chassis was either made by Gerhardt or built for him. Brake calipers were a simplified Girling style, made by Gerhardt. Uprights, spindles, brake rotors, were cast or forged in Fresno, machined by Gerhardt. Half-shafts were a custom combo of Chevy U-joints with early Mopar CVs. Control cables were "off the shelf" marine units. Bought in parts were tough and cheap, like USAF surplus rod ends and misc hardware, Monroe shocks, Halibrand (to Gerhardt spec) wheels and transaxle, Schroeder rack, even BAP/Geon master cylinders. Many parts can be found today at a local Napa store, fitting Chey 11's to current year Ford large size sedans hydraulic parts.

The history of the DOHC Ford 255 (first referred to as the Fairlane Motor) is several books in its self. If you have the time, it is almost cloak and dagger intrigue how it came about. Cubic dollars by Ford after it's potential success made it the favored engine in the first years. Ford lost money on each engine it sold, but made it up for by winning Indy and then as the base engine for the first GT40s, gaining sales successes by winning on Sunday, selling on Monday.

This particular car was owned by Cleaver Brooks (Wally Weir) and was entered to be raced in 1967 by F1 driver Lorenzo Bandini. Tragedy struck at Monaco when he was killed at Harbor Chicane, the exact spot that the film "Grand Prix"' had James Garner take a plunge into the Mediterranean Sea the year before (which Bandini had driven in). Al Miller, an Indy veteran who had placed as high at 4th in 1965, was hired to replace Bandini. The car qualified 33rd at 162.602 mph and ran as high as 16th before retiring with a failed oil cooler. The race was overshadowed by the Granatelli's STP Lotus Turbine car leading all but the last 2 laps of the event, another game changing entry whose presence created another colorful chapter in Indy history. The car was again entered in the 1968 Indy race, again driven by Al Miller, but did not qualify. During practice for the 1971 Indy race, driven as the "30 St Louis Special" by Bill Puterbaugh, it impacted the wall and was parked until being purchased by Pete Schomer and Jim Brokensha.

After posting the car on our website (automania dot com), I got the following e-mail from Trevor Cole which shed some further history on the car.

"I was curious the other day about what happened to an old Indy Racecar that I helped restore back some years ago, I ran across your website & there it was the 67 Gerhardt #32. This car was purchased by an old friend of mine (who since has passed away) by the name of Jimmy Brokensha from Nt h Vancouver BC Canada. The car was damaged when he purchased it from the States & in several pieces .I helped Jim who was a brilliant machinist repair & reconstruct several parts of the car inc engine covers etc ,Jim was a perfectionist with everything he did & I feel it showed in the final result of the car when he had it, even if he was Australian ( I myself from New Zealand) & the final paintwork was performed by a Brit (from London).So the car was reconstructed by an Aussie a Kiwi & a pom with help from several other folks in Nth Vancouver B.C. Canada. As far as I know it was never raced & I lost track of the car when I moved out of the area."

Today this Gerhardt Chassis, Ford DOHC engine, now with a Hewland 5 speed Transaxle, has a colorful history. It was purchased by Pete Schomer and Jim Brokensha of Vancouver BC from Chuck Haines in Missouri as a roller chassis needing repairs approximately twenty years ago. Pete and Jim Brokensha formed a loose partnership to repair and recreate the car as raced in 1967. When looking for the FORD DOHC engine Pete drove south to San Diego with cash in pocket when he heard Judd Phillips had a rebuilt Ford Engine he was willing to sell. Phillips had impounded the engine from a race team that had gone under for unpaid work he had done, a common course of events when the only things left were tools or car parts.

Story has it that Judd showed Pete the engine sitting under a work bench. When asked how much it took to own the engine, Judd slowly moved it out from under the counter in $5000 increments. First the front of engine, then half the block, then more and finally at $20,000, exposed the whole thing. When questioned where the Bundle of Snake Exhaust System was, another $5000 answered the question. Pete and Jim hauled the engine back to Canada in the back of a truck and mated it to the car. The car at the time had the off-set Indy suspension in place and because Pete wanted to compete in his newly formed HIRC Series, a trip to see Fred Gerhardt was made. Fred initially wanted nothing to do with Pete, but it turned out they both had a liking for Jack Daniels and after 2 bottles consumed starting at 3 in the afternoon, Fred offered Pete, his newest bosom buddy, anything that was inside of two rusty old Cargo Containers on the property for the taking. Pete got the equal length control arms and the reverse drive Starter Motor that is also rare, the only way to start the engine (and a headache too boot).

The present owner of the car purchased it from Jim Brokensha completely repaired and has had it since. He had the 2 speed Halibrand Transaxle (which is included with the car) swapped out for the Hewland unit by Louie Shefchik of J&L Fabrication in Puyallup, WA approximately 6 years ago when it was being prepped for Vintage Racing. The car was "crack checked" at that time and a great deal of time and money went into the preparation including upgrading the fuel cell, installing a fire retardant system and legal roll bar. When Louie had the car he pickled the drivetrain (Methanol Fuel is brutal if left for any period of time in the system) after the work was completed. The car has sat unused in the owner's shop after being prepared for use and not used. The owner is accepting that it is not going to happen for him and the car should be sold.

Also included is the Gerhardt Race Car trailer, possibly the first built and only one known to exist. According to legend, it has hauled every Gerhardt Indy Car built and raced at Indy cross country from California. When describing it to Pete I mentioned it looked a little rough for wear. He told me it looked that way when had it. That was funny.

I have spoken to Louie Shefchik and asked him what would be needed to race the car in vintage events. His answer is that the car would have to be serviced once again before use and that would be approximately a weeks worth of time at his shop. He also offered to do a pre-purchase inspection of the car for $1000 if it was requested by the perspective new owner, again at his shop. I also was contacted by Pete Schomer, now an international dealer specializing in Grand Prix Car, who wants the car entered into the Goodwood Festival of Speed this year. That would be the ticket, owning the car and getting a chance to participate in the Hill Climb!

The selling price is $182,500. See at Automania, 895 SE Gladiola Drive, Grants Pass, OR 97526. http://www.automaniagp.com 541 479 8888 Oregon Dealer DA1287.