2013 Harley-Davidson Electra Glide Ultra Limited with Tilting Motors Trio Front End For Sale
THIS ITEM HAS BEEN SOLD!
Please click "back" or on the top menu for other listings.


[click on the image below or scroll to the thumbnail images at bottom to view the gallery.]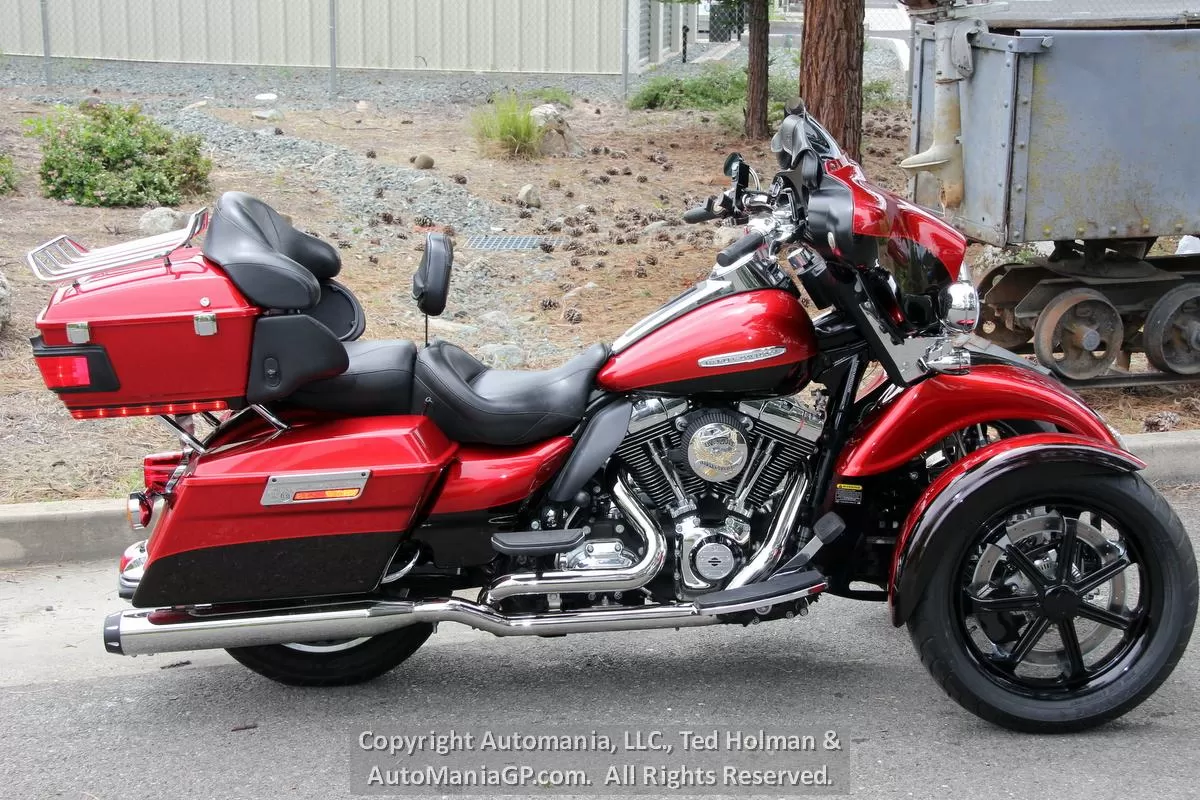 2013 Harley-Davidson Electra Glide Ultra Limited with Tilting Motors Trio Front End
Price: $23,995 USD
- PREVIOUSLY SOLD
This 2013 Harley Davidson Electra Glide Ultra Limited, equipped with it's Tilting Motor Works Trio with Tiltlock Front End and it's CVO paint scheme, will most likely turn more heads than any other custom Harley at any gathering of bikes.

Obviously there is a lot to understand about the front end of the bike, but the FLHTK it is mounted to is absolutely beautiful with other amenities that need mentioning to see the entire package. Besides the Trio Front End, a Motor Trike Mechanical Reverse was installed, both less than 500 miles ago. The cost for Reverse unit and installation was over $3,300. The Trio and installation cost, with the custom CVO paint scheme was $17,595. It is expensive to be having this much fun! The bike is fully equipped from Harley including their Travel Pack along with all of these standard FLHTK features:

• Twin Cam 103™ engine with Electronic Sequential Port Fuel Injection (ESTI) with heated O2 sensors and Electronic Throttle
Control (ETC)
• Integrated oil cooler
• 6-speed Cruise Drive® transmission with integrated Isolated Drive System (IDS)
• Dunlop® "Multi-Tread" rear tire construction extends tire life by 25 percent
• Brembo® 4-piston front and rear caliper with dual front rotor brake system
• Air-adjustable rear shocks
• Full-length rider footboards
• Height-adjustable passenger footboards
• Six-gallon fuel tank
• Anti-lock Braking System (ABS)
• Harley-Davidson® Smart Security System with hands-free security fob
• Electronic cruise control

Then there is the Motor Trike Reverse and Trio Front End with it's two Front wheels and tires. The owner of the bike had balancing issues developing the past few years and landed on these options to keep his motorcycle career rolling on, giving him stability when he came to a stop and being able to back the bike up when he physically could not.

First was the Tilting Motor Works Trio Front End which was custom painted in the COV trim. What an eye full of mechanical, custom parts that adds an additional front tire for stability at full stops without detracting from the leaning and turning action of the motorcycle when in motion. I am unable to explain how it all works but I would take up Tilting Motor's (in Eugene Oregon) offer of free classes to anyone who wants to learn how to use the bike. I did ride it for a short distance and there will be an obvious short learning curve for sure but if felt like a motorcycle when in motion. When coming to a stop, flip the switch on the left handle bar and the comes to center within seconds. WOW!!!

The Motor Trike Reverse gear set up was an obvious choice to a bike with the Trio Front End and the weight of the stock Harley. It is mechanical and easy to operate once you have read the owner's manual which comes with the bike.

All and all, this motorcycle is the perfect alternative to a Trike which is not completely a motorcycle experience while still providing mechanical assistance with slow speed and stopping maneuvers.

The VIN # is 1HD1KEM10DB681140, miles are 22,975 and the selling price is $23,995. Please come by and see at Automania LLC, 895 SE Gladiola Drive, Grants Pass, OR 97526. http://www.automaniagp.com 541 479 8888 Oregon Dealer DA1287.

Automania LLC is a Consignment Oregon Dealer selling quality, privately owned vehicles including Aprilia, Buell, BMW, Citroen, Ducati, Harley Davidson, Honda, Hummer, Kawasaki, Moto Guzzi, MV Agusta, Nissan, Ossa, Piaggio, Suzuki, Triumph, Vespa, Classic Hot Rods, Buick, Dodge, Ford, Chevrolet, Lamborghini, MG, Packard, Porsche, Rover, Shelby, Toyota, Triumph, Volkswagen and any other vehicle of interest


[click on a thumbnail below to view a larger photo - IF you don't see thumbnails then your browser is blocking them.
You can either turn off ad-blocking or try clicking on the top graphic in order to thumb through the photos.]

Harley cold starting and Trio Front End operating.