1975 GMC High Sierra 15 For Sale
THIS ITEM HAS BEEN SOLD!
Please click "back" or on the top menu for other listings.


[click on the image below or scroll to the thumbnail images at bottom to view the gallery.]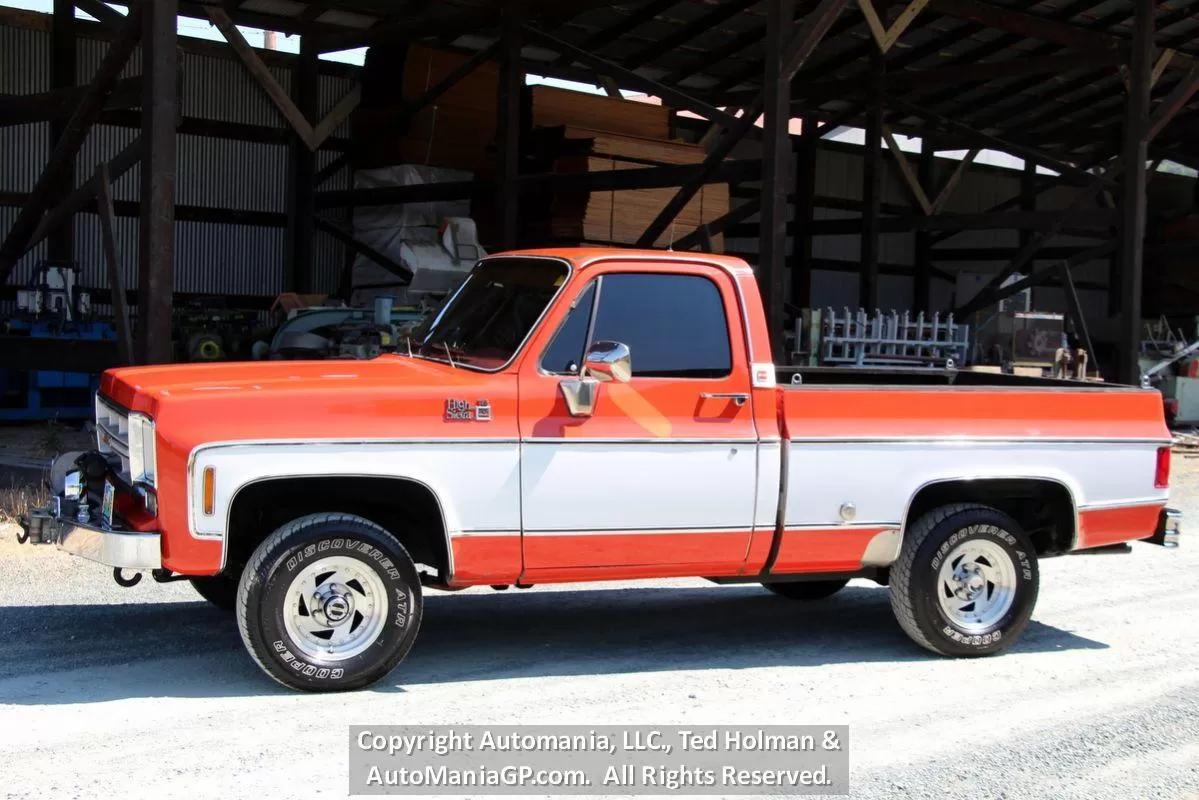 1975 GMC High Sierra 15
Price: $17,995 USD
- PREVIOUSLY SOLD
The past decade has been a gift to older pickups that might have never received the attention and care they deserved to maintain their original condition. Trucks were bought to be worked and working never did any of them any good. That was their intended purpose and wearing out is a natural event. To find an early truck that is in good working order with original finishes has made the few left that survived highly sought after. Which needs the story of how a 1975 High Sierra 15 ended up at Automania LLC.

This 1975 GMC High Sierra 15 was sold new here in Grants Pass at Menasco Motors to Gene Crawford, general manager and bookkeeper at the time. His tenure ended when Ross Roe took over in 1983 at which point he went to work for Lonnie Leonard's Caveman Towing. While employed there, Lonnie made him an offer on the truck he could not say no too and now after 35 years of his ownership, it has come time to let the truck go.

Lonnie has, since beginning of time, kept everything he owned and operated in as new condition as was reasonably possible. His tow trucks, his service station, even the lawn in front of the business never even had a blade of grass out of place. He has always been a maintenance fanatic and the GMC was shown no less attention than his big rigs. I scanned the log book and completed service records which are included with the images I took of the truck.

Two details need to be shared that do not show up with the records. Some time back, while passing the local Burger King, a driver pulled out and struck the passenger side front fender and door. Both were replaced at the Siegel Chevrolet body shop decades ago. The second thing is that the bed was lined about 15 years ago and what ever material they used for the liner either wicked moisture or held it in place. There is surface corrosion on the bed floor and tail gate. I did not see any perforations or holes when I was underneath.

The great part is that all of the paint on the rest of the truck is original, excluding the passenger side front fender, door and possibly the hood. It had running boards on it at one time and there are mounting screw holes in the sill if you look from under the truck. It has not been damaged or hit anywhere other than the passenger side incident. The Warn Winch was on the truck when Lonnie bought it 35 years ago as was the front bumper. The interior was redone awhile ago and has held up well.

I drove the truck and was impressed at how smoothly it ran, how quiet it was, the lack of rattles and how well it steered and stopped. Almost as good as when it was a couple of years old or newer. There is nothing the truck needs to continue on at this point. Lonnie always had the truck ready to go anywhere, he had to as part of his job supervising Caveman Tow's thirty tow rigs. The last engine install was a Chevrolet Crate Motor, the Transmission was rebuilt and any mechanical issues always dealt with as recently as Spring of 2020. Just look at the records. Amazing and refreshing at how well the truck was kept.

Selling price is $17,995. The VIN# is TKM145Z512248. Miles are 27,304, assume over 100,000 miles. For other interesting bikes and collectible vehicles, visit our web site http://www.automaniagp.com 541-479- 8888 or come by and see us at 895 SE Gladiola Drive, Grants Pass, Oregon, 97526. Oregon Dealer DA1287.

Automania LLC is a Consignment Oregon Dealer selling quality, privately owned vehicles including Aprilia, Buell, BMW, Citroen, Ducati, Harley Davidson, Honda, Hummer, Kawasaki, Moto Guzzi, MV Agusta, Nissan, Ossa, Piaggio, Suzuki, Triumph, Vespa, Classic Hot Rods, Buick, Dodge, Ford, Chevrolet, Lamborghini, MG, Packard, Porsche, Rover, Shelby, Toyota, Triumph, Volkswagen and any other vehicle of interest.


[click on a thumbnail below to view a larger photo - IF you don't see thumbnails then your browser is blocking them.
You can either turn off ad-blocking or try clicking on the top graphic in order to thumb through the photos.]