2005 Subaru Impreza WRX STi Grants Pass, Oregon 97526 For Sale
THIS ITEM HAS BEEN SOLD!
Please click "back" or on the top menu for other listings.


[click on the image below or scroll to the thumbnail images at bottom to view the gallery.]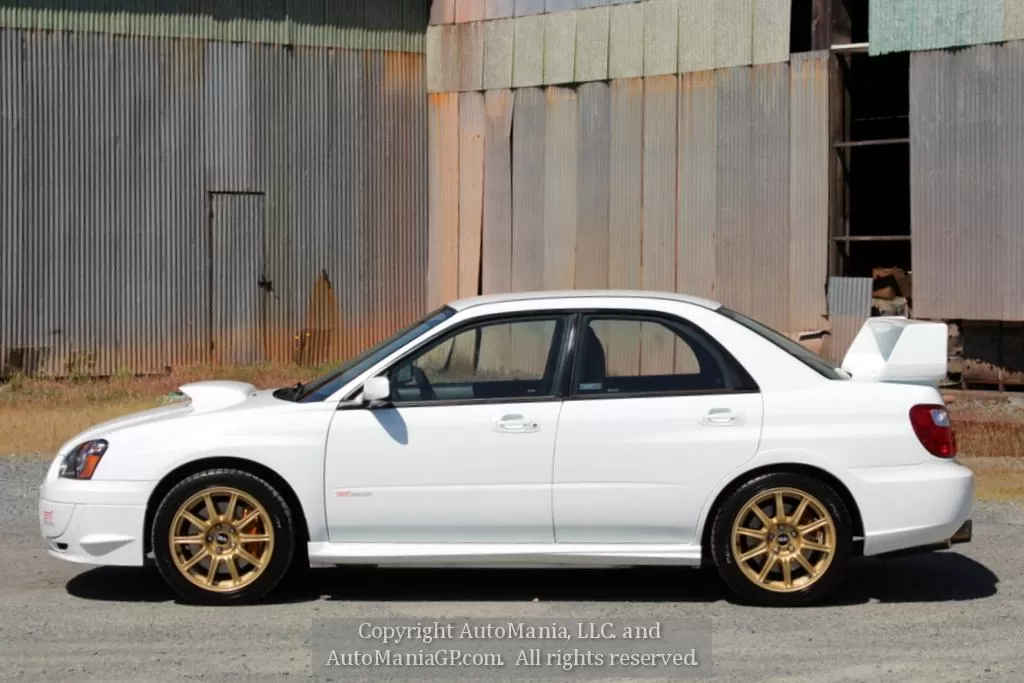 2005 Subaru Impreza WRX STi
Grants Pass, Oregon 97526
Price: $25,695 USD
- PREVIOUSLY SOLD
Well, it never gets boring down here at the shop. A long time, geriatric customer bought this 2005 WRX STI from another geriatric owner with about 27,000 miles showing on the clock last year. In that year, he managed to add another 2,000 miles and realized that this was the car he always dreamt about, thirty years ago. And that was thirty years ago. Today looks totally different and being pushed back in the seat and having his eyes roll back into his skull does not have the same sort of thrill imagined back in the day. Now it is just uncomfortable. Bitch getting old and cranky.

The Subaru Impreza WRX STi (for Subaru Tecnica International) is 300 horsepower of unimpeded fun. The STi gets the 2.5 liter engine, bigger intercooler, driver-activated water sprayers system, forged 17-inch BBS wheels, and Bridgestone Potenza RE070s designed specifically for this model. Gold finished Brembo brakes are front and rear. STi's trickest bits is its Driver Controlled Center Differential. In automatic mode, it maintains a 35/65-percent front/rear power split. The driver can also select a manual mode, which, via a thumbwheel on the console, offers six levels of center differential locking (up to 50/50). There are limited-slip diffs front and rear. Dampers, bushings, and anti-roll bars are all upgraded. It would be an understatement to say the STi is considerably more than a WRX with a few bolt-ons and a bigger motor, it is the next level up the food chain over the standard WRX.

Miles are 29,000 exactly. The VIN number is JF1GD70635L513772. The selling price is $25,695, a bit more than others for sale, but find one with lower miles or not abused by a "younger" individual. For other interesting bikes and collectable vehicles, visit our web site http://www.automaniagp.com , 541 479 8888 or come by and see us at 895 SE Gladiola Drive, Grants Pass, Oregon, 97526. Oregon Dealer DA1287

Automania LLC is a Consignment Oregon Dealer selling quality, privately owned vehicles including Aprilia, Buell, BMW, Citroen, Ducati, Harley Davidson, Honda, Hummer, Kawasaki, Moto Guzzi, MV Agusta, Nissan, Ossa, Piaggio, Suzuki, Triumph, Vespa, Classic Hot Rods, Buick, Dodge, Ford, Chevrolet, Lamborghini, MG, Packard, Porsche, Rover, Shelby, Toyota, Triumph, Volkswagen and any other vehicle of interest.

[click on a thumbnail below to view a larger photo - IF you don't see thumbnails then your browser is blocking them.
You can either turn off ad-blocking or try clicking on the top graphic in order to thumb through the photos.]