1949 International KB1 For Sale
THIS ITEM HAS BEEN SOLD!
Please click "back" or on the top menu for other listings.


[click on the image below or scroll to the thumbnail images at bottom to view the gallery.]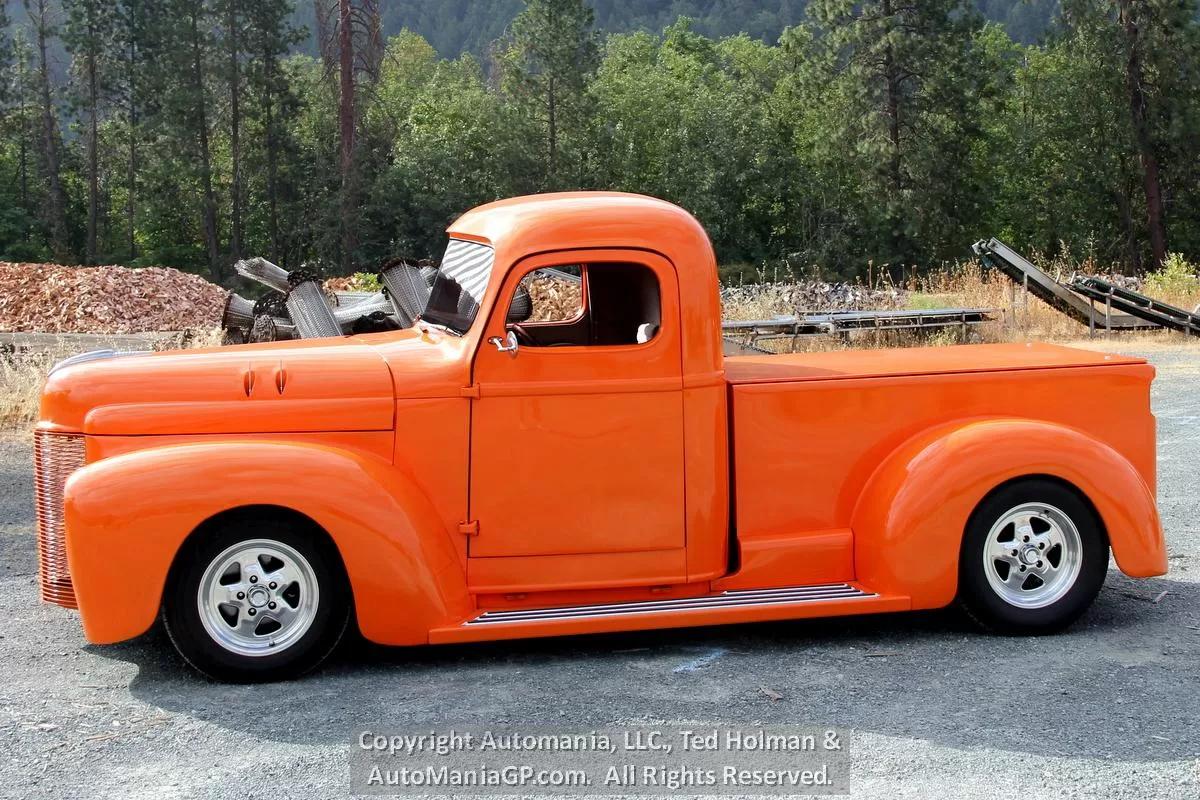 1949 International KB1
Price: $26,995 USD
- PREVIOUSLY SOLD
Trying not to sound like every other BS artist out there while talking about this 1949 International KB1, I was not able to get very much information about the truck or the build from the executor of the estate selling the truck.

What I was told is that the build was done at least 25 years ago and that the owners had the International for the past fifteen years, taking it to shows and doing cruises with it. Along the way they collected a bunch of Trophies and Participant Plaques they would display at shine and show events in Northern California.

Of course they had to make their own truck but the rear Tail Lights and Fiberglass Rear Fenders were on the truck when they purchased it. You can see some of the work that was done in 2008. The doors have the handles shaved with Electric Poppers operated by concealed buttons. The engine is a big block GM 454 with Power Steering and Air Conditioning (working!). The transmission is an Automatic.

The frame appears to be a Camaro front Clip to the stock International Truck frame as you can see in the images. What ever the truck might be, it does drive really well. The estate's representative drove the International from Redding to Grants Pass on a warm day and reported the truck drove well and was cool for the 180 mile drive after dropping it off at the shop to be sold.

The best way to judge what and how the truck was built is to look at the images on the site. This is everything I can tell anyone about it. Accompanying the truck is a small photo album while the truck was being built with about 20 pictures in it.

8,548 miles are showing and the VIN is 100529. The selling price is $26,995. Please come by and see at Automania LLC, 895 SE Gladiola Drive, Grants Pass, OR 97526. AutomaniaGP.com 541 479 8888 Oregon Dealer DA1287.

Automania LLC is a Consignment Oregon Dealer selling quality, privately owned motorcycles and cars of interest.

[click on a thumbnail below to view a larger photo - IF you don't see thumbnails then your browser is blocking them.
You can either turn off ad-blocking or try clicking on the top graphic in order to thumb through the photos.]

Walk around and starting the 1949 International KBI